ClearCube is a leader in creating innovative virtual desktop and centralized computing solutions. Many of the world's largest financial services companies, healthcare organizations, and government agencies rely on ClearCube to equip users with secure, efficient and manageable computing resources.
ClearCube Technology CD8815
CD8815 Cloud Desktop Industrial Thin Clients are ruggedized thin clients powered by Intel® Atom™ E3845 (Bay Trail) quad-core, 1.91-GHz processors to provide a PC-like user experience in virtualized environments. The CD8815 includes an extensive set of I/O ports for industrial devices and sensors; supports ClearCube Cloud Desktop OS, Windows® 10 IoT, and Linux® operating systems; and is optimized for all major remote connectivity protocols.
ClearCube Technology CD8826
CD8826 Cloud Desktop thin clients are powered by AMD® Embedded R-Series (Merlin Falcon) dualcore processors with AMD Radeon™ graphics for powerful 4K, UHD multimedia capability and PC-like user experience. CD8826 thin clients feature two DisplayPort® connectors and one HDMI connector for three high-resolution monitors (3840 × 2160), with an additional option for a fourth display via DisplayPort (1920×1800). CD8826 thin clients provide support for Intel® Trusted Platform Module (TPM 2.0) to enhance enterprise security, especially in the government sector.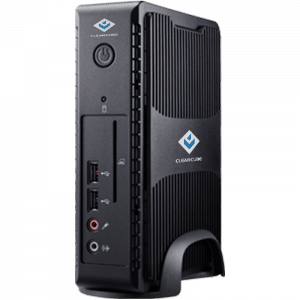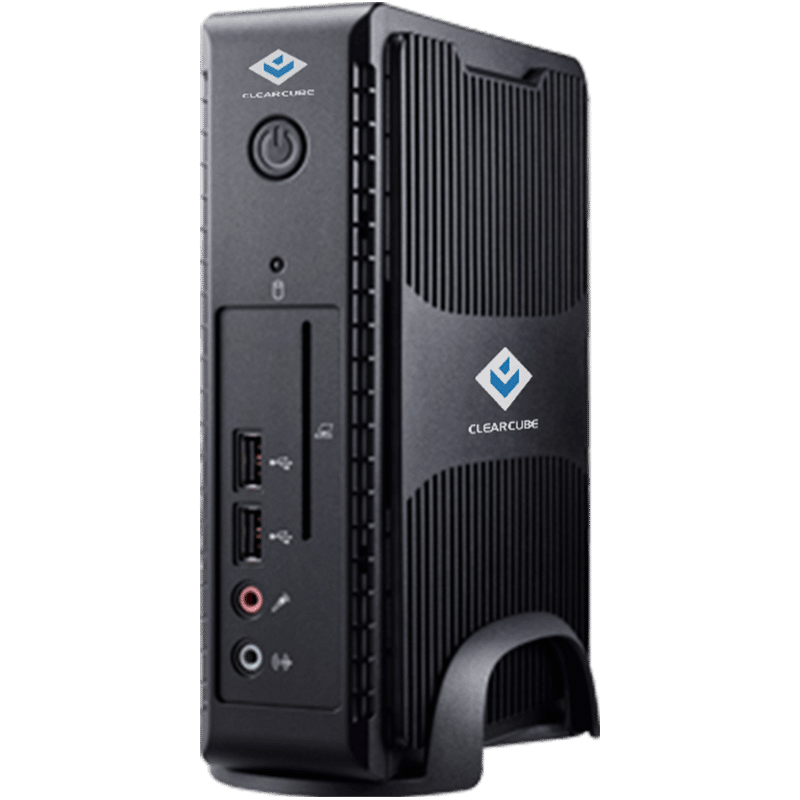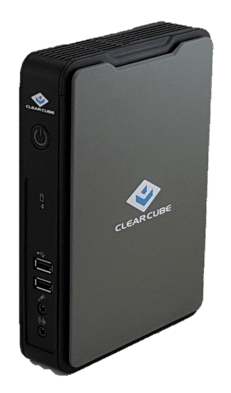 ClearCube Technology CD8831
CD8831 Cloud Desktop thin clients are powered by Intel® Celeron® J1900 quad-core processors with Intel® HD graphics to provide exceptional multimedia capabilities, a PC-like user experience, and power consumption low enough to meet the ENERGY STAR® 6.1 and 2013 ErP standards. CD8831 thin clients include two DVI® ports to provide two HD displays (up to 1920 × 1200 resolution), two USB 3.0 ports, and five USB 2.0 ports. Designed for users with multimedia needs in virtualized environments, CD8831 thin clients provide Intel® HD Graphics, support DirectX 11, and are optimized for all major remote connectivity protocols.
ClearCube Technology CD8841
CD8841 Cloud Desktop thin clients deliver three high-resolution displays, seven USB ports, and the security of Intel® TPM 2.0 in a sleek, compact design featuring a solid-aluminum chassis. The CD8841's quad-core CPU and high-performance graphics makes an ideal thin client for office work and mid-range engineering work. Providing a path forward for almost any user or use case, CD8841 thin clients support remote connections to physical and virtual desktops using all major remote connection protocols.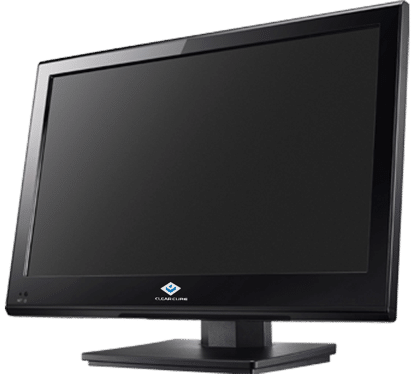 ClearCube Technology CD8851
CD8851 thin clients include a 21.5-inch diagonal LED display, one DVI-D port, and one VGA port to enable up to two HD displays (up to 1920 × 1200 resolution). One USB 3.0 port, three USB 2.0 ports, one internal speaker, and 3.5 mm microphone and headphone jacks provide peripheral and audio connections. The adjustable stand lets users configure the integrated display, and display controls are conveniently located on the top edge of the display bezel. Designed for users working in virtualized environments, CD8851 thin clients are optimized for all major remote connectivity protocols (VMware® Horizon® , Citrix ® ICA/HDX® , Microsoft® RDP, and many more).
ClearCube Technology CD8801
CD8801 thin clients features one DVI and one HDMI connectors, and supports up to two displays at 1920 × 1200 resolution. These dependable thin clients are designed to meet all the demands of task and knowledge workers—even in VDI environments—in the banking, healthcare, government and manufacturing sectors. While the features and performance of CD8801 thin clients benefit users, the thin client's low power requirements benefit your organization's bottom line. CD8801 thin clients comply with the ENERGY STAR® 6.1 standards, and average power consumption is less than five watts.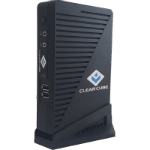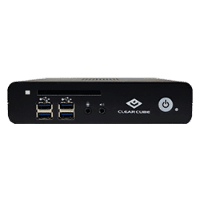 ClearCube Technology CD7012/14
CD7012/7014 ZERO+ Clients are small hardware zero clients that enable users to work on powerful computers that are remotely located in secure datacenters. The CD7012/7014 ZERO+ Client delivers hardware and firmware implementations that enhance zero client data security, while delivering ultra-high definition graphics in any VDI environment.
The ClearCube C4Pi Thin Client is powered by the Raspberry Pi® 4 computer, a high-performance device in a package about the size of your computer mouse. This small, low-cost endpoint device is the remote computing solution for organizations needing high-performance configurations in VMware Horizon and other VDI deployments.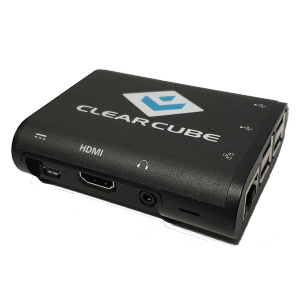 Subscribe to our newsletter: