Benefit from one standardized, secure, and powerful VDI/DaaS endpoint environment with Stratodesk NoTouch Desktop. Easily deploy Stratodesk software via Live Boot, local boot via USB Stick/CD-ROM or PXE/Network Boot instantly. Seamlessly manage all devices from the convenience of one location, regardless of make model or manufacturer.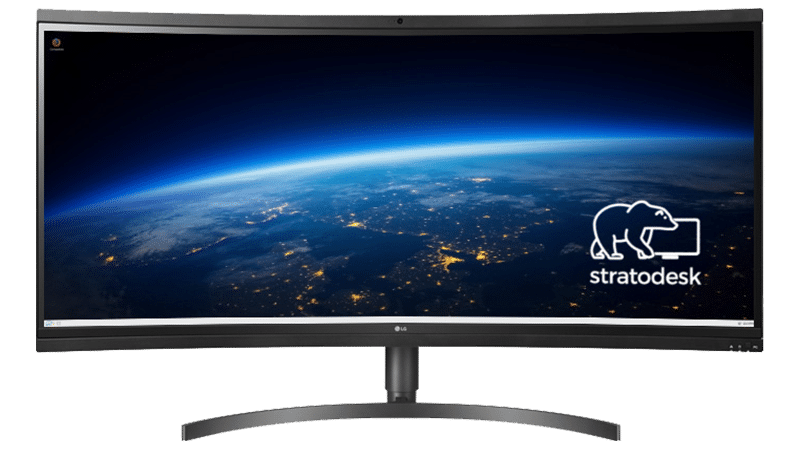 38″ class Curved UltraWide Thin Client Monitor
Are you in need of a space saving Thin Client alternative for your desks, medical carts, or shared workstations? Maybe you want to consolidate multiple devices into one? The LG All-in-One Thin Client Monitor simplifies end user experience by combining a high quality monitor with a powerful Thin Client.
Currently available as a 38-inch curved Ultrawide Thin Client Monitor, the All-in-One is uniquely designed for your office, with a built-in camera, and wireless/Bluetooth connectivity. The large, curved screen boosts productivity by giving you an experience similar to dual view while eliminating extra Windows management burden.
24″ Class Widescreen Thin Client Monitor
For more standard use cases, LG provides the 24-inch Widescreen Thin Client Monitor. The more compact screen is perfect for workspaces with limited room or for offices that can benefit from a space saving design. Complete with built-in speaker, the 24" class Widescreen Thin Client Monitor combines your computer and monitor while delivering on security, convenience, and style.
Key Features
Easy Installation with Space Saving Design
Built-in Speaker
IPS Display
Fanless Design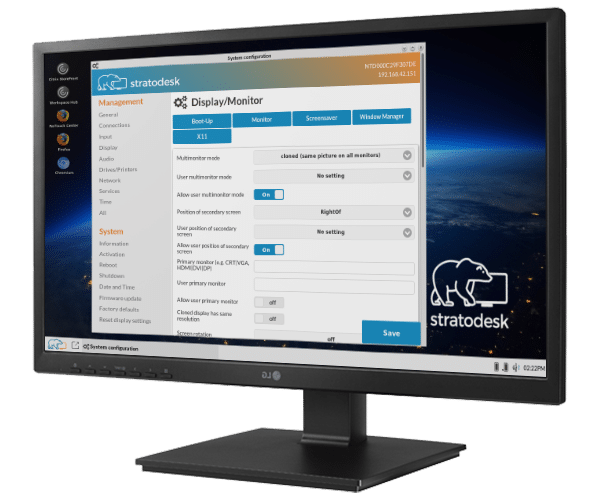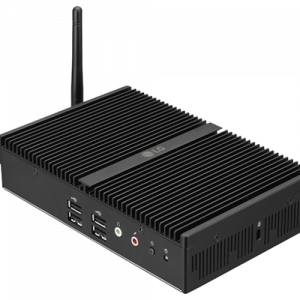 The Thin Client Control Box is another great option for any business or organization looking to scale their VDI/DaaS deployment. It mounts easily on your wall to provide extra space – your users hardly need to know it is there. At the same time, they benefit from all the apps and data they need. Additional benefits include:
Key Features
4GB RAM and 32GB SSD
Citrix, VMware, MS RDP
Wall Mount (VESA)
Quiet, cool operation (Fanless)
You can deploy Stratodesk onto LG Thin Client Monitors or any other Thin Client Monitor easily. For more information on how this is done, take a look at the video to learn more.
Who Benefits from NoTouch Desktop
Because NoTouch OS is Linux based, it is essentially impervious to common malware attacks and security threats facing x86 or Raspberry Pi devices. It also defends against third party applications, which makes it very unlikely for a security breach to occur.
Connect to all Major VDI Environments
Stratodesk Thin Clients connect to all major VDI environments including: Citrix Virtual Apps and Desktops, VMware Horizon View with Blast Extreme and PCoIP and Microsoft Remote Desktop Services. With full multimedia capabilities, enhanced security features, integrated Firefox and Chromium Browser and unbeatable peripheral support, NoTouch OS sets new standards in Thin Client computing.
Powerful, Reliable LG Hardware Driven by NoTouch OS
By combining our feature rich NoTouch OS with next generation All-in-One hardware, businesses, enterprises, and healthcare organizations have access to one of the most seamless endpoint management and user experiences available on the market.
Manage with NoTouch Center
The only management solution for both x86 and Raspberry Pi Thin Clients, NoTouch Center is the premiere browser based administration software that helps IT administrators manage, configure and update converted PCs, Thin Clients, laptops and Raspberry Pis –all from one place. By supporting inheritance of settings, groups can be easily created, configured and kept in sync. NoTouch Center supports multiple user roles, monitoring, asset management/inventory, Helpdesk, certificates, and more.
Resources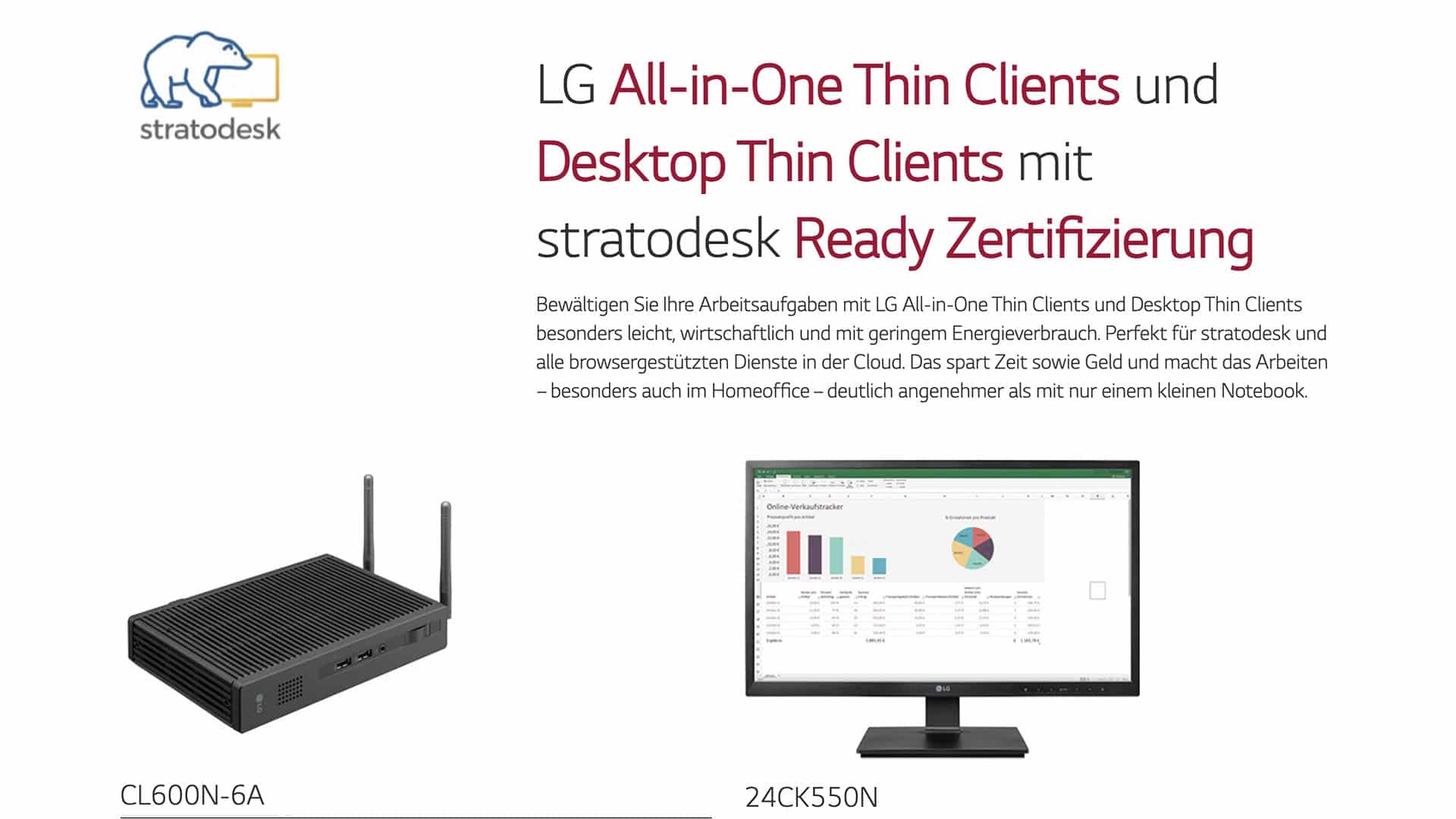 Bewältigen Sie Ihre Arbeitsaufgaben mit LG All-in-One Thin Clients und Desktop Thin Clients besonders leicht,…
NoTouch is leading the way in intelligent VDI endpoint management. Download your free trial today.