Thanks to everyone for showing up for the Citrix/Stratodesk joint webinar! We had a great turnout with attendees from all around the world.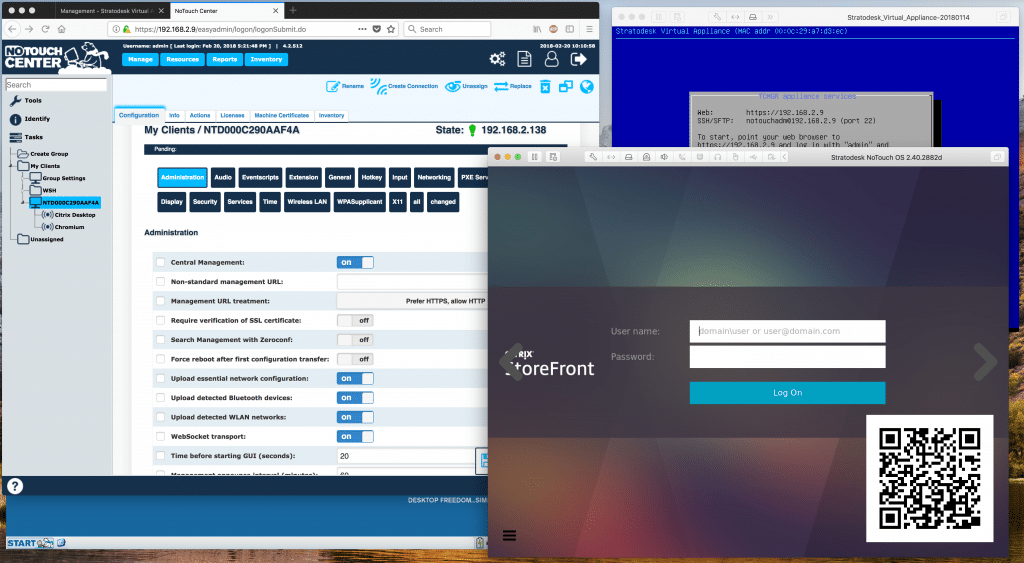 For those of you who were not able to make the webinar, you can watch the recording and take a look at these key highlights from the event below.
Stratodesk's Core Business is PC Repurposing
That hasn't changed. And it won't be changing anytime soon. But what has changed is that we've gone above and beyond our mission of creating a better VDI endpoint. Not only does NoTouch OS repurpose your existing hardware into Citrix endpoints, it now powers the new Citrix Ready workspace hub. Previously known as the HDX Ready Pi, the Citrix workspace hub has many added features and benefits that exceed a traditional Thin Client.
And it's available at a fraction of the cost.
Citrix has Made Citrix Receiver Productive on the Raspberry Pi
Chances are you've heard about the Raspberry Pi. It is the highly stable motherboard platform with over 15 million sold. But more recently, it has been incorporated into the Citrix VDI and now Citrix workspace IoT.
The workspace hub is built using the Raspberry Pi, and NoTouch OS is what powers it. We support H.264 decoder, Skype for Business, Flash Redirection, and Dual View and more. The workspace hub is capable of everything you'd expect from a traditional Thin Client and more, and is available through our partners NComputing and ViewSonic.
NoTouch OS and NoTouch Center Available at No Added Cost
What does it mean that NoTouch OS powers the Citrix workspace hub? It means that NoTouch OS is built into your Thin Client device from the get-go. No need to worry about embedding your Raspberry Pi with a third party OS. You won't even know we are there. Just plug it in, and connect to NoTouch Center, the #1 easiest to use endpoint management software. All for no added cost.
So why is it important that you know Stratodesk is what makes your workspace hub work?
NoTouch OS allows you to maintain a consistent look and feel over your entire VDI. Leverage existing hardware while incorporating Raspberry Pi based devices as well. NoTouch Center is the First and Only endpoint management software capable of doing this.
What's more, not only does NoTouch OS and NoTouch Center provide enterprise level manageability, security and scalability, we also present added opportunities for industries like Healthcare. Thanks to our partnership with Imprivata, we support features like FUS, SSO and more.
NoTouch OS is Linux Based
NoTouch OS is based on our own Linux distribution. It is always stored as one firmware image and booted from that image. This maintains consistency and prevents casual or even malicious modifications. For this reason, NoTouch OS is more similar to a Zero Client than it is to a traditional Thin Client.
By creating our own Linux distribution we maintain consistency in a way that is unseen and unmatched in the market today. It also eliminates common attack vectors. If you hear about a Linux security hole, it most likely doesn't apply to NoTouch OS.
NoTouch OS Runs on PC and ARM and is Hardware Agnostic
Not only does NoTouch OS run on both PC and ARM devices, it's also highly hardware agnostic. Stratodesk provides one operating system, NoTouch OS, based on multiple kernels. That means there is just one NoTouch, one look & feel, one management tool, one known feature set, but you can get different "firmware images" (i.e. deployable "builds" of the software) of the same OS, based on different kernel and driver sets.. By doing this, we are able to run the latest Citrix receiver on any machine, be it a 10 year old or a 10 day old device. You can install NoTouch OS on any PC out there and it will work. This flexibility sets NoTouch OS apart from any other solution out there.