Stratodesk Plus is our technology partner program providing customers complete, compatible and validated solutions across the most critical elements of their environment including: security, hardware, application delivery and management, performance, printing, analytics, peripherals, collaboration and other software applications.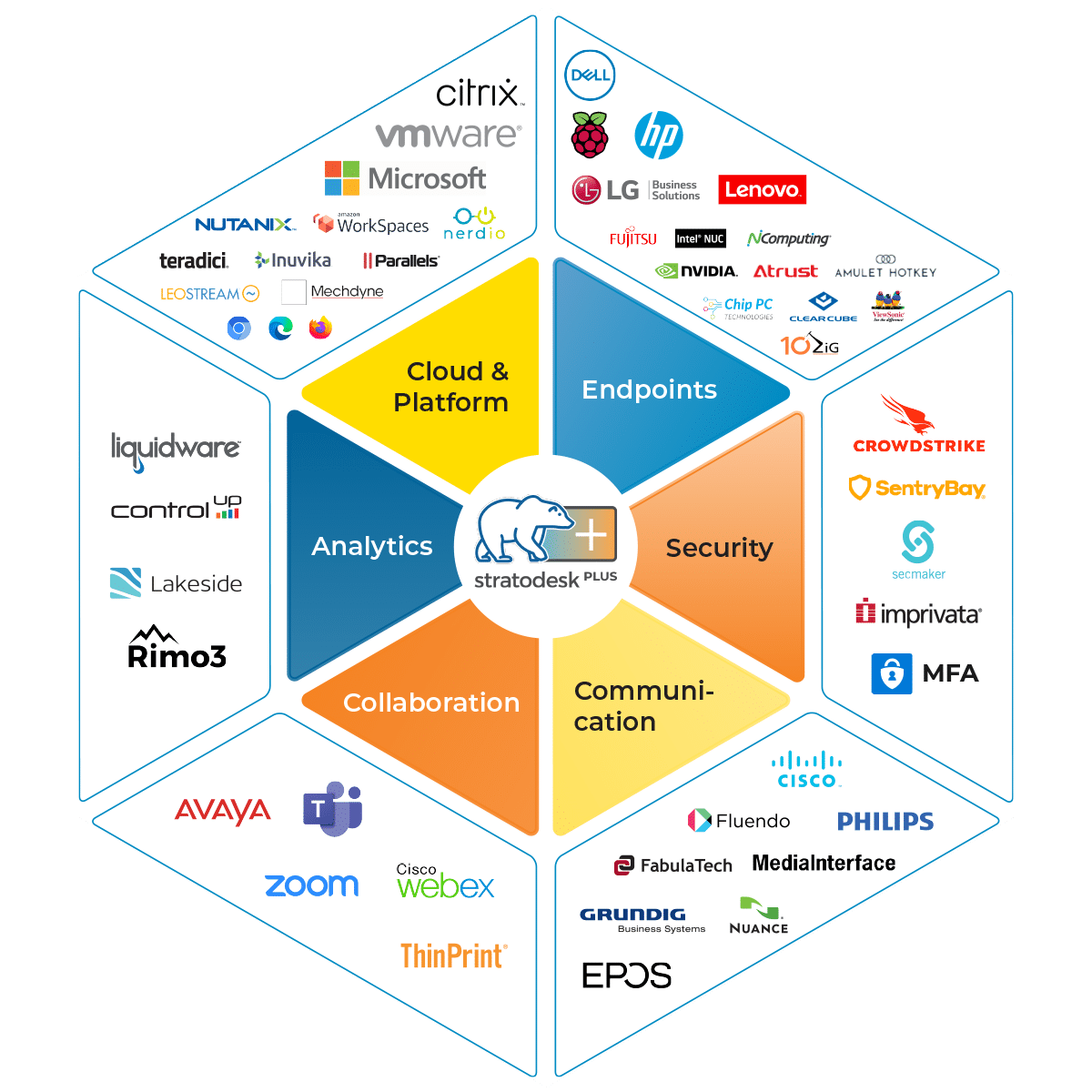 Meet our partners across the following technology areas:
Cloud & Platform
Stratodesk is committed to enhancing productivity for our customers through seamless integration with leaders in the digital workspace ecosystem. We work with these leaders to simplify the journey to a productive and modern, digital workspace. Whether it is traditional on-premises desktop virtualization, application delivery platforms on the cloud, DaaS or SaaS, together with our Cloud and Platform partners Stratodesk accelerates and simplifies the journey to deliver a modern and digital workspace that meets today's employee productivity requirements.
Endpoints
Stratodesk partners with the pre-eminent providers of client hardware around the world. Through our Stratodesk Plus program and extensive certification process for endpoint partners, customer's benefit from full compatibility, seamless functionality and faster time to value across brands, configurations, form factors, CPU architecture and more.
Integrations
Stratodesk PLUS includes an ecosystem of partners across a broad range of technologies including: security, collaboration, analytics, printing and many more. All these validated integrations are designed to increase productivity for end users while delivering agile, modern and secure workspaces.
Become a Stratodesk PLUS Partner.
Stratodesk PLUS is an exclusive program designed for cloud, hardware, software and peripheral companies desiring to develop verified, integrated solutions with Stratodesk software products. As a member of the program, you can test and validate your products and solutions to give your customers confidence that our joint solutions will work in their environment.
By joining Stratodesk PLUS's exclusive community of technology leaders, not only will you be able to test and validate products and solutions with Stratodesk NoTouch, but partners will also enjoy enhanced co-marketing opportunities, and first-look access into upcoming technology tools, resources and product updates.
The Stratodesk PLUS technology partner program enables a broader reach to new customers who are confident in your ability to seamlessly integrate with Stratodesk NoTouch.