Feature post by Stratodesk Sales Engineer, Mikael Lindholm.
This autumn Citrix has been working hard on the Citrix Workspace app (CWA) for Linux. The recent releases have made huge improvements to Microsoft Teams Optimization that was initially introduced for Linux in June this year. So if you have tried running Microsoft Teams from Citrix Virtual Apps and Desktops with CWA 2009 and CWA 2009 and encountered problems, give it another try with CWA 2012 and you will be pleasantly surprised! And of course, as usual, Stratodesk has once again been record quick to bring out the new Workspace app versions to its customers as they have become available: all NoTouch OS firmware versions greater than 3.2.668 have the Workspace app 2012 included!
But the latest CWA has more than Microsoft Teams Optimization improvements to it. Though client drive mapping isn't the most used feature in thin client solutions, the file access rights can now be set on a per store base rather than all configured stores.
What's New in Citrix Workspace App 2012
Something more tangible is the authentication enhancement that has been introduced by Citrix as an experimental feature in this release of Citrix Workspace app. Enabling this feature brings the authentication dialog box into the Workspace app, providing a much modern authentication experience compared to the previous version.
Before / current experience: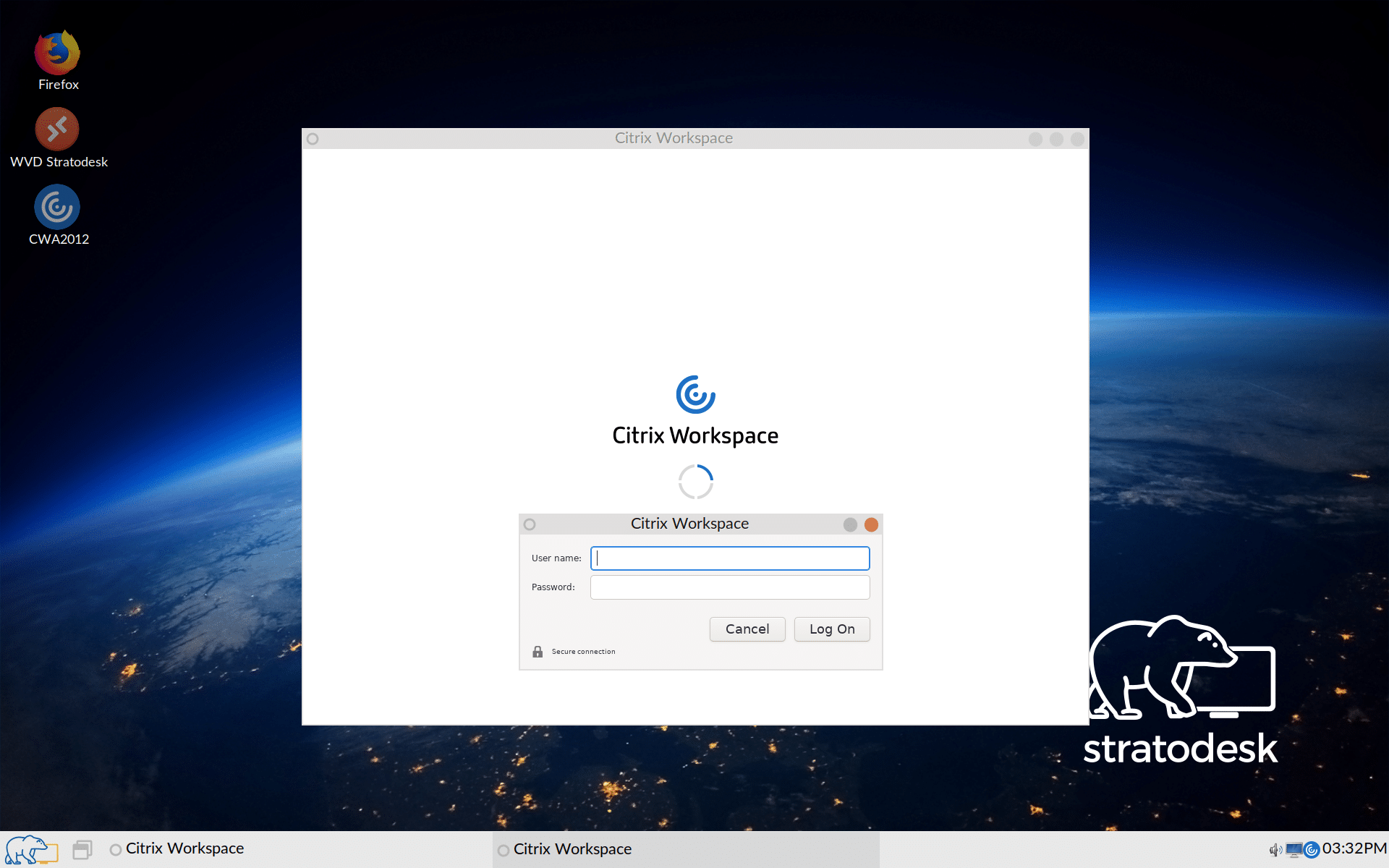 The new, experimental experience: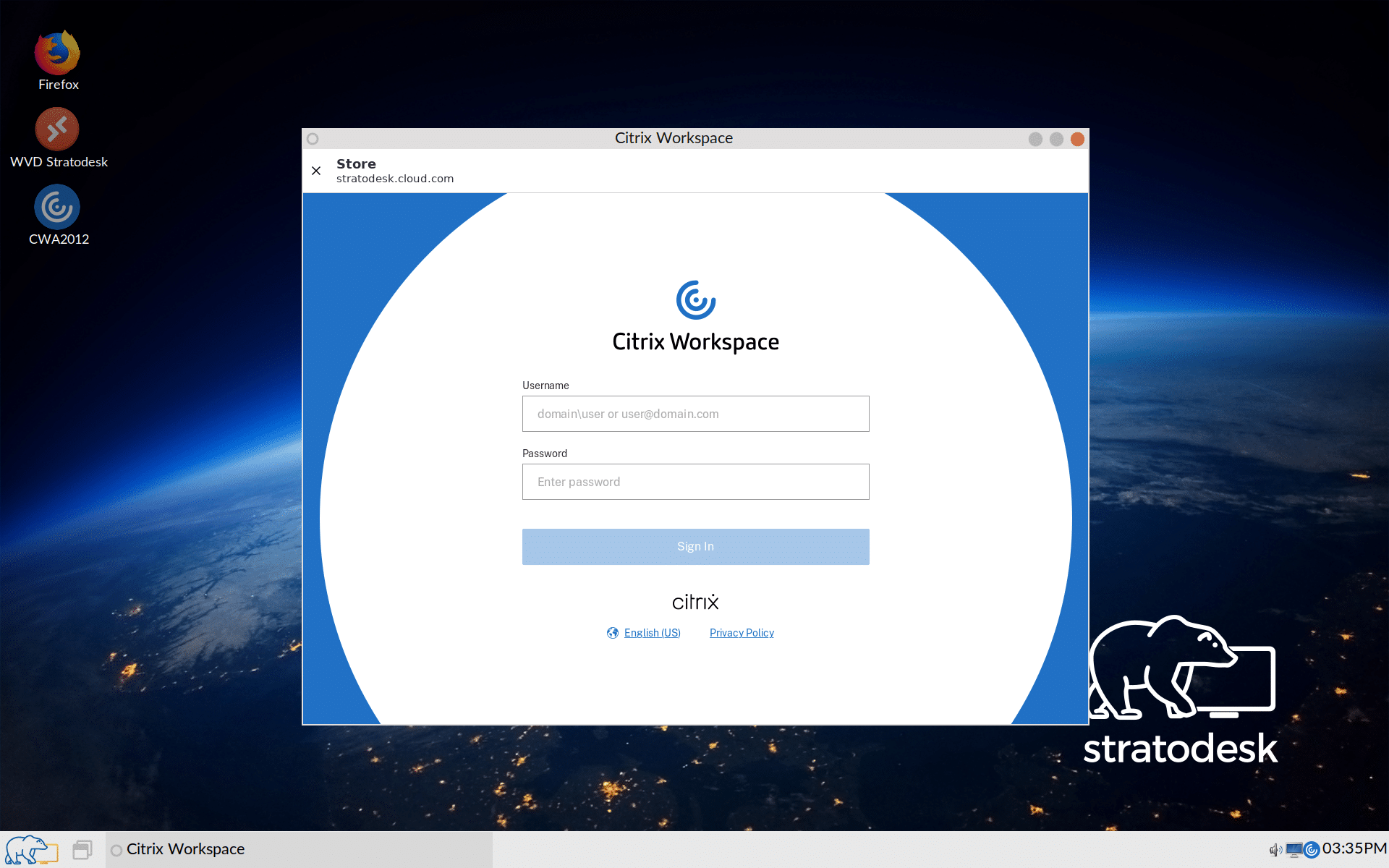 Spot the difference?
To try out this new feature in NoTouch OS you only need to turn on the "Enhanced Cloud Authentication" settings under the Workspace, and then do an announcement.
That is how easy things are with Stratodesk NoTouch Desktop!
(NOTE: This feature is only available with a Citrix Cloud Virtual Apps And Desktop -subscription and only for x64 endpoints. And remember to enable the SelfService option in NoTouch Center). 
Another improvement in the latest releases of Citrix Workspace app for Linux is the addition of the Workspace app taskbar icon, making the Citrix Workspace app experience more Windows-like.
App protection
App protection is an add-on feature that enhances security for Citrix Virtual Apps and Desktops. By encrypting the keyboard stream and preventing screenshots and screen captures to take place, confidential information is secured with an additional layer of security. 
This feature has been available for Windows and Mac endpoints for some time, and now with Citrix Workspace app 2012, Citrix is bringing it as an experimental feature to Linux endpoints as well. At Stratodesk we are currently evaluating the Linux implementation and considering different packaging options. If you have an urgent need for this technology, please reach out to us and we will work with you on a solution.
For more information about all these new Citrix Workspace app features, please look up Citrix documentation at https://docs.citrix.com/en-us/citrix-workspace-app-for-linux/whats-new.html
If you want to get your hands on Stratodesk NoTouch OS containing the CWA 2012 and a lot of other improvements download the latest Early Access Release from your customer portal, or register for the free trial and let us know you want to test the latest Citrix Workspace app!