Did you attend VMware Explore (formerly known as VMworld) in San Francisco last year? We would love for you to join us again this year for live demonstrations at our booth, a hall crawl, informative sessions, exciting giveaways, and the chance to win amazing prizes!
As an Exhibitor Plus sponsor this year, we are thrilled to invite you to our booth #209. Our booth will be filled with cutting-edge systems and experts who will showcase our EUC Endpoint Solutions for VDI, DaaS, and Cloud. Our award-winning solution, Stratodesk NoTouch is designed to empower IT teams with the necessary tools to swiftly resolve issues, proactively decrease ticket volume, and reduce costs. Don't miss out on the opportunity to visit our booth and explore our latest offerings and catch a live demo of the most recent updates and features.
Giveaways, prizes, and much more
Additionally, make sure to stop by our booth early to take advantage of our exclusive giveaway. Not only will you have the chance to pick up trucker hats and unique trinkets, but you also could score incredible prizes such as high-quality headphones, speakers, and even $100 Amazon Gift cards.
TechTarget Best of VMware Explore 2022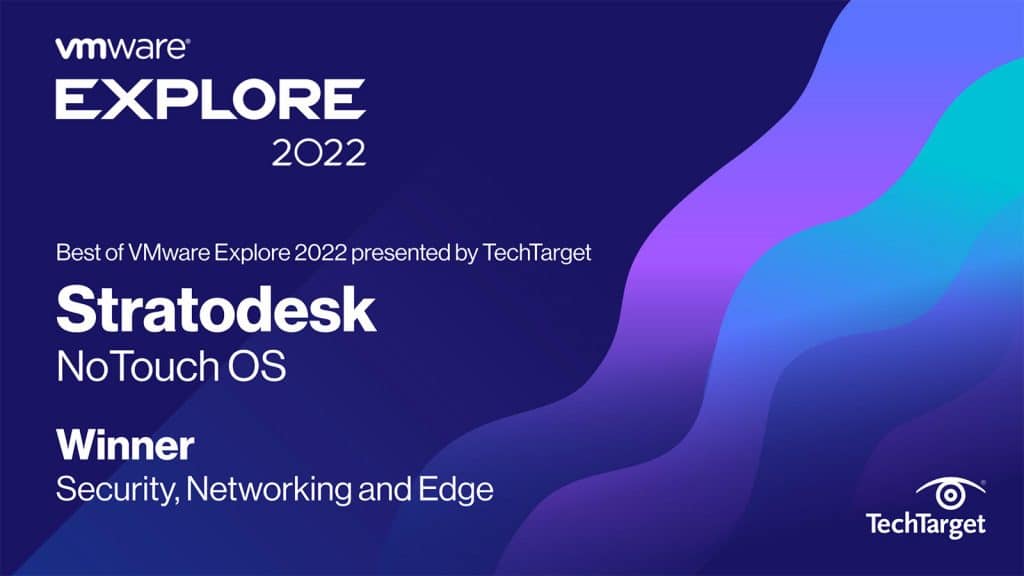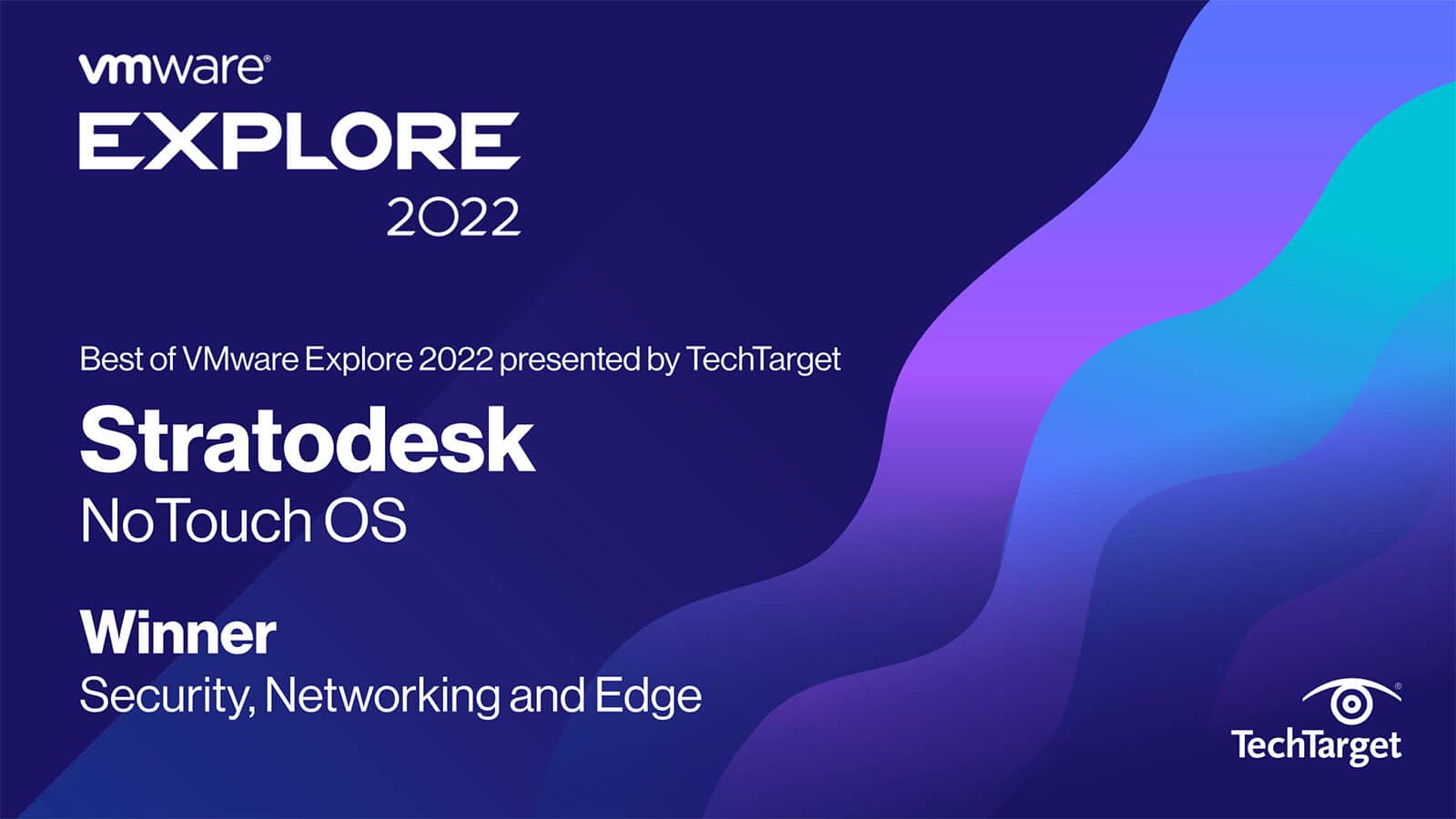 Did you know that Stratodesk received an award last year for the best of VMware Explore presented by TechTarget in the Security, Networking, and Edge category? Read here for more details on the award.
Be sure to join some of the recommended sessions
Rich Severson, VP of Global Solutions Engineering, will be presenting in a session on Retail Store Modernization (INDB1270LV).
Our partners are also going to be having some interesting sessions. See below for a complete list.
EUSB2939LVS – Close Tickets Faster for a Better Virtual Desktop Experience with ControlUp
EUS2940LVS – Troubleshooting Desktops Just Got Less Expensive, Faster, and Easier!
VMTN2833LV – Speed Up Slow Horizon Logons
VMTN2822LV – How Fat Is Your Thin Client?
Seats are limited and the catalog is live so make sure to save yourself a seat.
Passport program with partners
Join our "passport game" with LG, ControlUp, Intel, and AMD for a chance to win even more prizes. Those who visit and chat with a rep at each booth will receive a stamp or signature. After your "passport" is full, you'll qualify to win one of five grand prizes (Nintendo Switch, Bose Headphones, gift cards, and more!)
See you in Vegas!
On behalf of the Stratodesk team, we are thrilled to have the opportunity to meet you at the Stratodesk booth in the exhibition hall, during one of our sessions, or even over a one-on-one lunch at VMware Explore this year!
Stay updated on the latest happenings at Stratodesk by keeping an eye on our exclusive VMware Explore 2023 landing page or follow us on Twitter or LinkedIn.