This year was the best Citrix Synergy show to date. Here are a few of the highlights of Stratodesk at Citrix Synergy 2019 including the NVIDIA Jetson Nano, recent partnerships and innovations, and more.
Leading Up to the Show
Stratodesk garnered much attention leading up to the show. That attention was thanks to several news stories featuring the #1 endpoint OS and management solution provider and its new innovations. These included the Gaston County Success Story, the Stratodesk NVIDIA Jetson Nano debut, and the announcement of new alliances with LG and Liquidware.
The Gaston County Success Story
Gaston County's successful implementation of the Stratodesk Citrix Ready workspace hub was announced just one week before Citrix Synergy. Gaston County's success demonstrates how businesses of all shapes and sizes can leverage workspace hub technology and Stratodesk software to leverage significant cost and management benefits.
In the words of Fred Hinson, Virtualization Administrator of Gaston County, "NoTouch Desktop gives us almost effortless image and device management. With NoTouch software, we have gained the agility to reduce the average 20 user department PC/Endpoint refresh implementation from what used to take 4 business weeks to 4 business days." He also adds that "the Stratodesk Citrix Ready workspace hub will be a keystone of Gaston County's software defined secure digital perimeter. Stratodesk is now positioned to lead us into the future of work."
First to Debut VDI Integration with NVIDIA Jetson Nano
Stratodesk also recently announced their integration with NVIDIA Jetson Nano. In fact, we are the first EUC vendor to present a "thin" OS for the Jetson Nano. Powering the Jetson Nano not only shows Stratodesk software's versatility – it also demonstrates our unwavering commitment to creating reliable and useful solutions for both enterprise VDI and IoT.
What's more, this solution stands out as a truly herculean feat of technological breakthrough: it brings NVIDIA's advanced AI proficiency into the Stratodesk NoTouch ecosystem.
Alliances with Liquidware and LG Business Solutions
Lastly, Stratodesk announced its recent alliances with Liquidware and LG Business Solutions just as festivities at Citrix Synergy were getting underway. "We're excited to announce our new alliances with Liquidware and LG," said Hernan Contreras, Sales Director at Stratodesk. "Our partnership with Liquidware delivers advanced management and endpoint monitoring and diagnostics to your NoTouch ecosystem. Meanwhile, Stratodesk and Citrix customers will be glad to know that our software is now available on LG Thin Clients as well as classic and curved ultra-wide Thin Client monitors from LG Electronics."
The Jetson Nano and Stratodesk Citrix Ready workspace hub
The stage was set for a truly epic exhibit at Citrix Synergy, showing not only the power of Stratodesk software, but Stratodesk software running on and managing the workspace hub, the Jetson Nano, and more.
Although Stratodesk is a software company, we have an ecosystem of great hardware partners like LG, ClearCube, ViewSonic, NComputing and a fantastic network of technology partners including Imprivata, Liquidware, ThinPrint and beyond. Together, these alliances help us deliver Stratodesk software to the widest variety of hardware along with the best third party integrations – more so than any other solution available on the market.
Such an epic exhibit deserved epic trade show giveaways. And that's what we had. Attendees loved the "Stratodesk Puts You On the Throne" T-shirt. See it being worn by happy Stratodesk employees in the picture below.
Stratodesk at Citrix Synergy – Stars
A new addition to Stratodesk's booth this year was the "Stratodesk Stars" interview portion of the booth. Here Stratodesk conducted interviews with customers, partners and notable EUC influencers.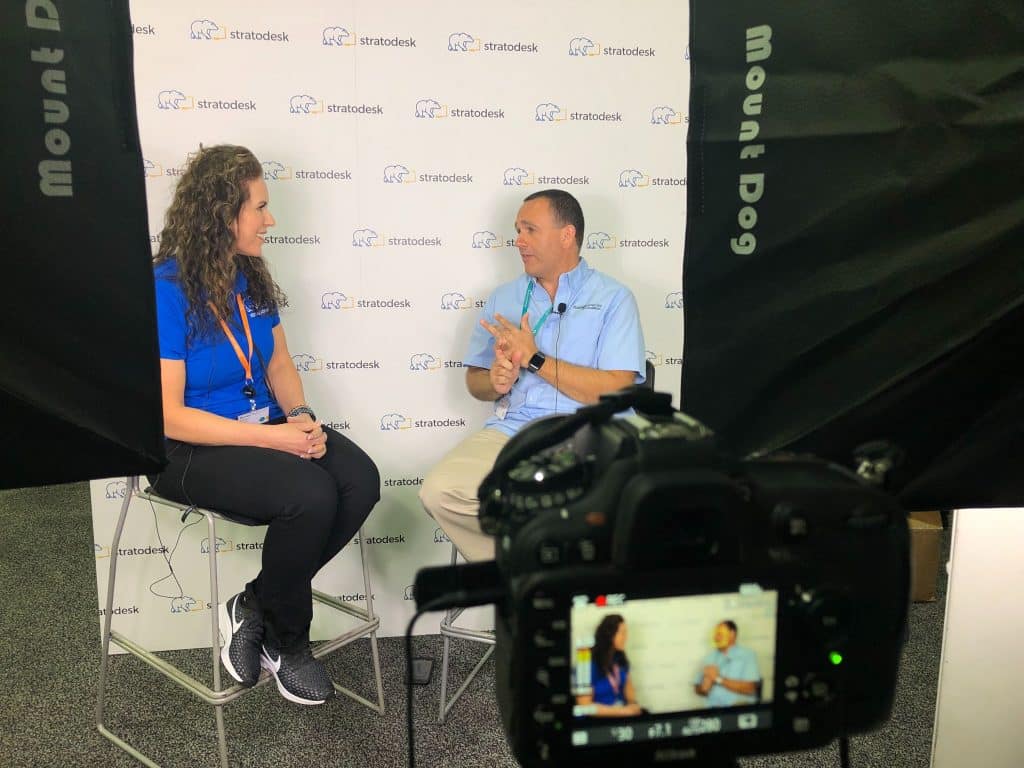 We were also able to interview our fantastic partners including ThinPrint, LG, Liquidware, and Citrix.
Look forward to watching the full interviews, coming soon! Want more of the inside scoop at Citrix Synergy? You can view the entire album from the show by clicking the link below.
What a show! Stratodesk's exhibit was well frequented by attendees, partners, and thought leaders wanting to learn more…

Posted by Stratodesk on Friday, May 24, 2019