Stratodesk loves Pi. And not just the kind your grandma makes. Not the kind your math teacher loves, either. The Pi we love is Raspberry Pi – THE Raspberry Pi – the world's favorite tiny motherboard. In fact, that very same hardware device actually reached the 25 million in sales marker this year. That's a lot of Pi!
But why are we so in love with Pi, especially of the Raspberry variety, here at Stratodesk? The answer in two words: workspace hub.
What is the the Citrix Ready workspace hub?
The Citrix Ready workspace hub is a progressive endpoint device built on the Raspberry Pi motherboard and powered and managed by Stratodesk software. Not only have we pioneered the workspace hub, we've made it productive for the enterprise, enabling Skype for Business, H.264 decoder, and 2 HD displays via the Secondary Display Adapter – all on a Raspberry Pi based device!
The Citrix Ready workspace hub also comes with exclusive Citrix Casting. You can read more about Citrix Casting on our Medium post.
But Wait – There's More!
As if the Citrix Ready workspace hub weren't enough reason to love Pi, we didn't stop there. Stratodesk is also the creator of the #1 Raspberry Pi Thin Client solution for DIY deployments, and is available via third parties such as ClearCube. The Raspberry Pi Thin Client has the potential to revolutionize the x86 Thin Client space by providing a real, tangible alternative to bloated Thin Clients. Available at a fraction of the cost of competing thin clients, Raspberry Pi Thin Clients are able to solve innovative use cases facing for every day business challenges.
Building an Ecosystem
Thanks to our innovative software solution, Stratodesk software has become the catalyst for change in the IoT endpoint management space. Additional partners have been added to the ecosystem including ThinPrint and their ThinPrint Hub. The Thin Print Hub is based on the Raspberry Pi as well, and solves printing issues facing VDI by eliminating printer drivers in remote locations obsolete.
The Pi Story Starts with You
Ultimately, we enable the Raspberry Pi to be productive for you. Saving you money, time, and hassle by providing an all in one IoT endpoint ready out of the box couldn't make us more proud, and we are excited to see the Raspberry Pi steadily growing to become the de facto enterprise endpoint device.
For those who have not yet purchased a workspace hub, or done a DIY Raspberry Pi project with Stratodesk software and would like to learn more, visit our Raspberry Pi Thin Client page.
For those of you who are already rabid fans of the most innovative EUC device, we'd love to hear more about how our solution has helped you achieve your business goals!
Special Pi Deals
For a limited time, our partners ViewSonic and ClearCube are offering special deals on their Stratodesk powered and managed, Raspberry Pi based Thin Client devices. Take a look at their deals by clicking on one of the links below.
ViewSonic is our OEM partner for the Citrix Ready workspace hub. Click here to learn how you can get 50% off on the first 10 Pis you purchase from them. This offer also works on the Secondary Display Adapter that allows you to stream 2 HD displays from the workspace hub. Learn more about the limited time offer here.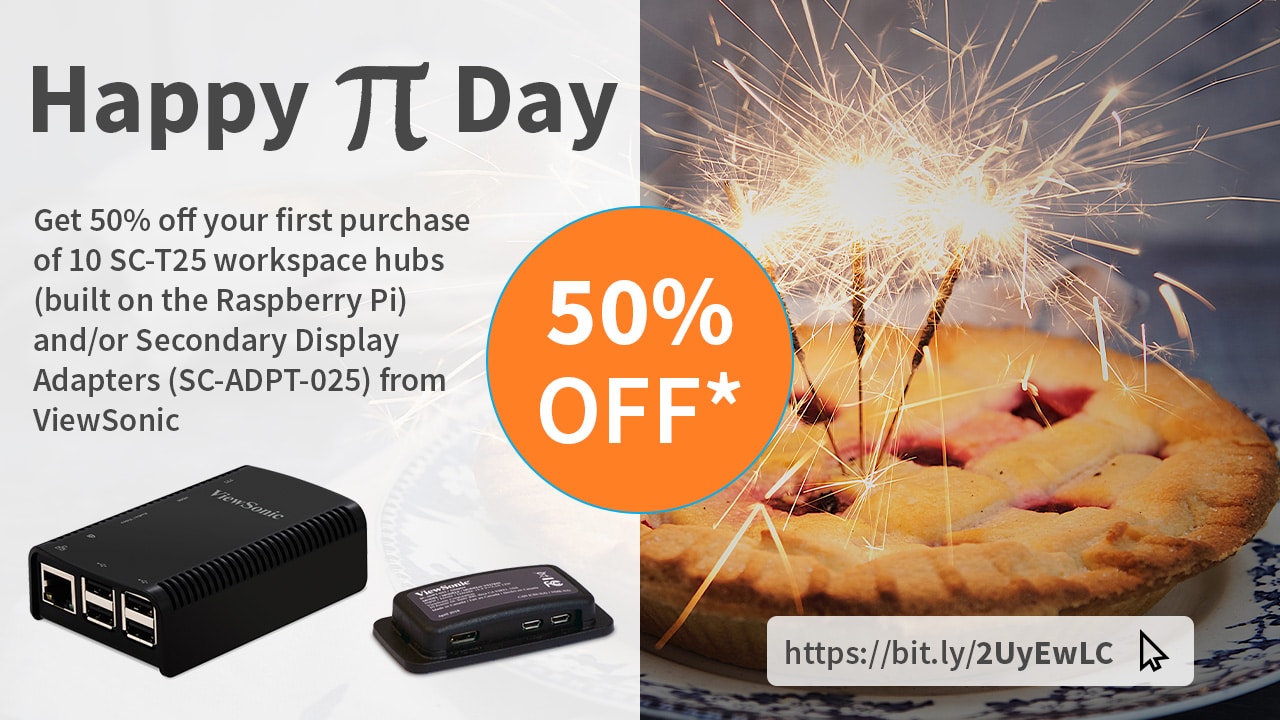 ClearCube is the creator of the C3Pi series, also powered and managed by Stratodesk software. The C3Pi is perfect for your VMware deployment. Learn more about the special deal here.

Happy Pi Day, everyone!