If you've been following us for a while, you'll know that we're quite busy with the many virtual events we've been attending. But there's a new way to connect with us now at your own convenience. It's called Clubhouse, and if you're there, we want to meet you.
What is Clubhouse?
For a while an insider-only app for Silicon Valley elite, Clubhouse has steadily grown to become one of the most promising, growing social media apps. Although invite only, the audio only platform has essentially gone viral, with millions of new users pouring in seemingly overnight.
Clubhouse is an audio only social media platform. It's sort of like social podcasting. It's also a great way to connect with our community. It gives us a casual environment that is great for discussion, and our aim is to be be the leading talk on all things EUC.
We host biweekly events on different topics facing EUC. Last week, we held a talk on innovation in EUC, and why it's so important for companies during and after the pandemic. Take a look at some of the other events we have planned for the next month below.
If you are on Clubhouse then you can connect with us via one of the following events.
Our Next Clubhouse Talk: Stratodesk Software for your WVD Deployment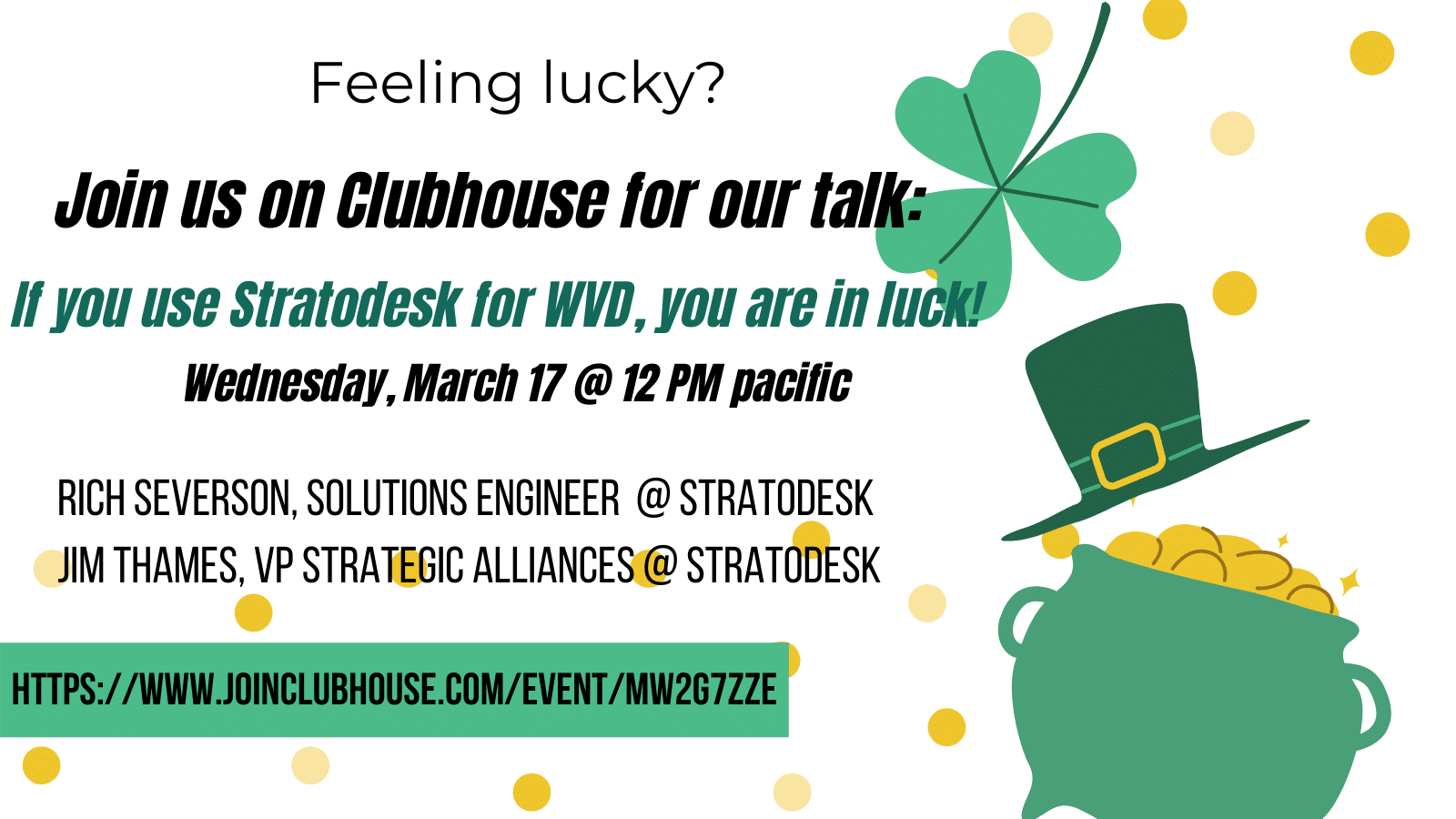 In honor of St. Patrick's Day – join us for a five o'clock somewhere chat about why you should use Stratodesk software for your Windows Virtual Desktop deployment!
Date & Time: Wednesday, March 17th at 12pm
WVD – An Emerging VDI Giant Hits the Field
Windows Virtual Desktop is one of the leading Cloud desktop platforms in 2021. And Stratodesk is the premiere way to deploy it across thousands of devices. Not only is Stratodesk a secure way to deploy WVD across endpoints, it was the first to enable the WVD Linux Client on both x86 and ARM/Raspberry Pi devices.
In this conversation, learn from WVD experts what the platform means for EUC and VDI moving forward, and what makes Stratodesk its ideal fit.
Date & Time: Wednesday, March 31st at 12pm
Stratodesk's Superhero Origin Story
Stratodesk software turns everyday IT workers into superheroes by making endpoint management super easy, enabling heroic configuration, letting users work from anywhere, and saving the day by saving you countless IT hours! But in order to help IT leaders become heroes, we first had to become a hero ourself. Learn the origin story of Stratodesk in this epic 30 minute talk.
Date & Time: Wednesday, April 14th at 12pm
We can't wait to see you there! Only on Clubhouse!