San Francisco, CA – May 14, 2021 – Stratodesk, the fastest growing EUC endpoint company, today announced the availability of Stratodesk NoTouch Center in the Microsoft Azure Marketplace. A historic achievement, Stratodesk is the first to globally offer a cloud native, self-provisioned thin client management solution, and the first to be available in the Azure Marketplace.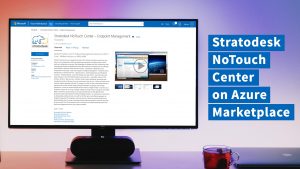 Thanks to NoTouch Center's availability in the Azure Marketplace, enterprises using Stratodesk software with Microsoft Windows Virtual Desktop (WVD) can now leverage their entire WVD deployment in one infrastructure and control plane. Additionally, Stratodesk NoTouch Center is now the easiest thin client management platform to deploy on Azure Cloud – available for enterprises to get started in just two minutes.
Stratodesk NoTouch, the leading thin client endpoint software, lets organizations transform any PC, thin client, laptop or Raspberry Pi device into a secure and centrally managed VDI/DaaS endpoint. NoTouch is a proven endpoint for Citrix, Microsoft WVD, Nutanix deployments and VMware Horizon, as well as many others – on-premises or Cloud. With its minimal hardware requirements, simplified deployment and ease of operation, customers save big by eliminating hardware refreshes, licensing of third-party software, and work hours.
"Stratodesk is the first to offer a cloud native thin client management solution, allowing Stratodesk users with Citrix, Microsoft or VMware deployments to be able to get started managing endpoints in just two minutes," says Patrick Coble, CTP, EUC vExpert and Security Nerd at VDISEC. "When you want the fastest setup for a thin client solution, you don't have to look any further than Stratodesk in Azure."
"Thanks to Stratodesk NoTouch Center's availability in Azure Marketplace – the first managed thin client OS solution to achieve this– enterprises can maintain continuity for their entire VDI within one infrastructure," says Stratodesk CEO, Emanuel Pirker. "By being the first endpoint management solution for the cloud and in Microsoft Azure Marketplace, Stratodesk once again proves our commitment not only to flexibility and innovation, but to our relationship with Microsoft and our channel partners, as well."
"This is such a breakthrough solution, customers are quickly preferring it over the current legacy options in the market," says Rich Severson, VP Solutions Engineering at Stratodesk. "We've chosen to align with VDI\DaaS providers, and make the endpoint solution easily now deployable from Azure as well." 
Accessing Stratodesk NoTouch Center in the Microsoft Azure Marketplace unlocks key new benefits for Stratodesk customers and partners, including: 
Availability:

Enabling enterprises across multiple solutions – Citrix, Microsoft WVD, VMware, and beyond.

Flexibility:

Any cloud, any endpoint, any solution.

Speed of Deployment:

Easily access, self-provision and deploy Stratodesk software in a matter of minutes while keeping everything within one control plane. 
Just bring your own NoTouch licenses and get started with your endpoint transformation today by deploying NoTouch Center in the Azure Cloud. 
For additional information about Stratodesk's Microsoft partnership, please visit www.stratodesk.com/plus/cloud-and-platform/microsoft.
About Stratodesk
Founded in 2010, Stratodesk is redefining end user computing by delivering an all-in-one solution for VDI, DaaS and IoT markets. Stratodesk's cutting edge Linux-based OS and management suite, NoTouch, is the hardware agnostic solution that enables companies to cost-effectively manage their entire secure digital perimeter. Stratodesk solution works seamlessly across x86 and ARM/Raspberry Pi based hardware products to provide a unified platform for all your endpoints. It increases endpoint security, simplifies user experience, and allows customers to maximize the benefits of their existing desktop hardware through PC conversion. Today with nearly one million licenses deployed across multiple industries including healthcare, finance, retail, and education. Stratodesk is the fastest growing EUC company with offices located across the United States and Europe. For more information, please visit www.stratodesk.com.