Authored by: Adam Cook and Sven Jansen
Stratodesk and deviceTRUST have partnered together to bring real-time, conditional access to Stratodesk endpoints.
Stratodesk endpoints are the most secure thin client endpoints on the market and with the integration with deviceTRUST, we work together to better secure the environment you are connecting to as well.
Introduction to deviceTRUST
deviceTrust uses an agent on the virtual desktop or RDS host that connects to a client extension over the virtual channels of the client of your choice (Citrix Workspace App, Horizon Client, Azure Virtual Desktop, etc.) to provide information about the client device in real-time. The client extension is a passive piece of software that needs no configuration and does not connect directly to a server, but only to the agent in the virtual desktop using the virtual channels.
This allows for actions on the remote session when the context of the client changes.
For example, if you have a policy that employees can only connect to the virtual desktop from a secured wireless connection, and they attempt to connect from an open SSID in a public place, the client will give the agent the wireless connection information and block the user from accessing the virtual desktop.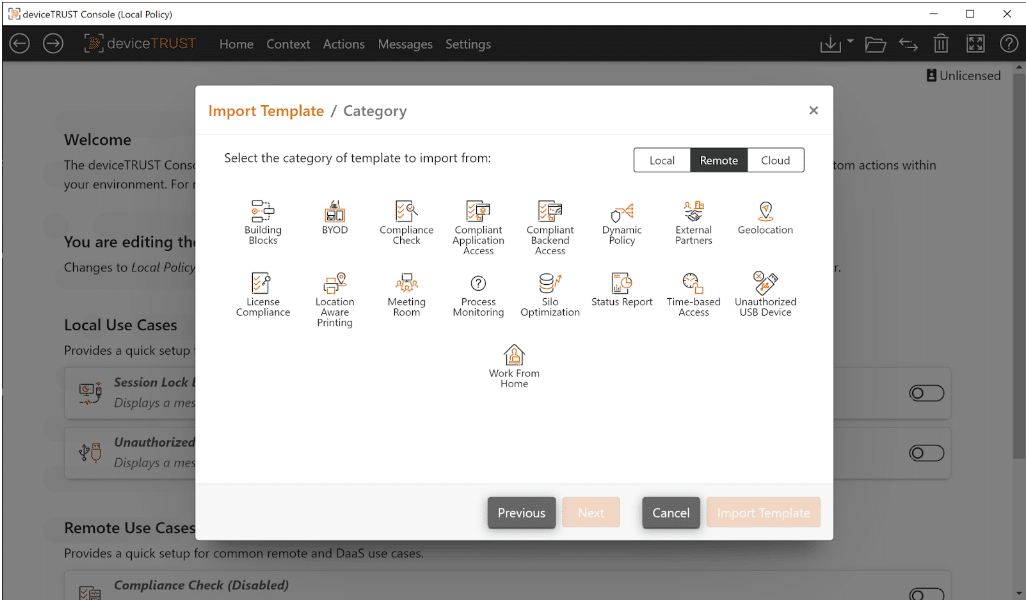 To learn more about deviceTRUST go to their website: devicetrust.com.
Stratodesk and deviceTRUST Integration
Stratodesk and deviceTRUST have worked together to integrate the deployment of the deviceTRUST Client Extension into NoTouch Center. The Client Extension was added to NoTouch OS in version 3.4.195. To enable the Client Extension, find the DeviceTRUST Client Extension parameter in the Horizon or Citrix connection tab and select On. The screenshot below is from the Citrix Workspace App connection.

Next, go to the services tab of the device or the group and find the DeviceTrust Citrix lib URL field and add the URL for the Citrix Library.

After announcing changes to your device and reboot, the deviceTRUST Client Extension will be active.
This article just scratches the surface of what the integration between deviceTRUST and Stratodesk can do to help you better secure your environment with real-time conditional access to your digital workspace. If you have further questions please contact your Stratodesk regional sales manager or fill out our contact form.