Stratodesk software unveils unprecedented new software product to broaden NoTouch Center endpoint management reach. It's called Stratodesk Cloud Xtension.
Announced just this week, Stratodesk Velma Lakes includes ground shattering new features, integrations and technology innovation that will have, and indeed have already had, a significant impact on the existing EUC market. Alongside these innovations is the brand new Stratodesk Cloud Xtension product available from Stratodesk.
Why Stratodesk Cloud Xtension?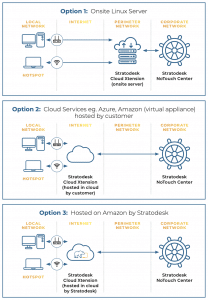 Stratodesk Cloud Xtension broadens NoTouch Center endpoint management through a standard internet connection to devices, wherever they are. Cloud Xtension comes with three easy implementation options that make it easy to connect and manage remote endpoints. This new solution is fully capable of being based in your perimeter network (in the DMZ), in your private cloud, or hosted by us.
One of the main advantages of the Cloud Xtension is its ability to validate connection and securely transmit confidential data in-between NoTouch Center and your endpoints. No VPN or leased line required. Additionally, shadowing and Webconnect work through Cloud Xtension, too.
What are the Benefits?
The new solution offers many benefits stemming from its security, speed, intelligence and ease of use. To begin with, there's the practicality benefits IT gain from eliminating the need for VPNs or leased lines. What's more, the solution eliminates redundant and wasted IT man hours by enabling effective endpoint administration over remote devices from a secure and central location. The management bonuses of Cloud Xtension cannot be overstated.
The immutably secure and intuitive management center takes advantage of secure HTTPS based protocols to encrypt sensitive communication between management and endpoints. At the same time, IT does not to have to compromise. Endpoint management is responsive, allowing IT to make changes in real time.
Ultimately, Stratodesk Cloud Xtension provides IT professionals worldwide a powerful, dedicated virtual tunnel for seamless endpoint management for both x86 and ARM based devices. The solution further proves Stratodesk's commitment to providing not only the best solution possible for VDI deployments, but also for those in the Cloud.