The EDUCAUSE Annual Conference brings the brightest minds in education IT together. By sharing ideas and collaborating with one another, EDUCAUSE helps IT professionals become even better at what they do. Stratodesk will be in the Citrix Booth during the show –#413. We will be showcasing how our NoTouch product suite unlocks the full benefit of Citrix VDI in an education setting and solves common challenges facing education VDI. 
Join us in Denver on October 30-November 2. Our team of knowledgeable tech professionals looks forward to visiting our customers and attendees in the mile high city. In addition to live demos, Emanuel Pirker, CEO of Stratodesk, will be giving daily, live 20 minute presentations on NoTouch Desktop and the Citrix ready workspace hub at the Citrix booth. Presentation times are TBD.
How NoTouch Desktop Solves Challenges Facing Education VDI
Amidst the Horizon of technological innovations in the education space, Stratodesk stands out as an all-in-one solution, covering everything from PC repurposing to endpoint management. Complete with the features that education IT professionals need, like managing user roles, live inheritance, and the ability to manage endpoints across multiple sites from one location, Stratodesk enables educational institutions to cut costs on securing and repurposing existing hardware, standardize endpoints, and even scale their environments.
Stratodesk includes the Citrix Workspace app (formerly Citrix Receiver) preinstalled on the OS. Easily connect to your Citrix Workspace Apps and Desktops (formerly XenApp and XenDesktop) directly out of the box. NoTouch is Citrix HDX Ready, includes a full native StoreFront implementation that allows easy access to contemporary and future StoreFront instances. Additionally, NoTouch supports multi-monitor (dual-screen) operation, USB device forwarding, local printers, smart cards, multimedia with Citrix HDX features including Flash redirection, and Skype for Business/HDX RTME.
The Citrix Ready workspace hub
Stratodesk is the only OS and management solution for the Citrix Ready workspace hub. The central piece to Citrix Workspace IoT, the Workspace Hub solves advanced and innovative use cases facing every day business challenges. It is built on the Raspberry Pi3 based and complete with full HDX capability including: Flash redirection, Skype for Business, dual monitor support, H.264 decoder and can be remotely managed with NoTouch Center or Citrix Endpoint Management (formerly known as XenMobile). Its unique roaming and casting features are highly appreciated by teachers and instructors and makes it easy for them to share their desktops with students.
A Few More Statistics on How NoTouch Benefits Educational Institutions: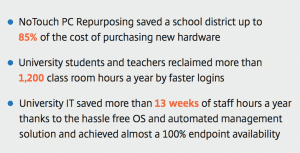 To learn more about how NoTouch Desktop benefits universities and higher learning, visit our resources page and download one of our case studies. Case studies are a great way to learn first hand from our customers what you can expect to achieve by using NoTouch Desktop. Until then, we look forward to seeing everyone at EDUCAUSE 2018!