Stratodesk is excited to exhibit at Citrix Summit. Our team of knowledgeable tech professionals will be present at our booth during the show demonstrating how Stratodesk software works with Citrix to solve everyday business challenges. Join us for an unforgettable few days in Orlando Florida. Get insight into Citrix's newest innovations and keep up-to-date on key players and partners. Learn from thought leaders on the topics that matter to you.
Why Attend Citrix Summit?
Summit is the essential business development and technical conference for Citrix partners. Partners that attend Summit average 30 percent more revenue than non-attendees. Here are a few more reasons why Summit is the must-attend event:
Set yourself up for success in 2019 by getting the first look at the Citrix vision for a better way to work.
Visit the Citrix Workspace Experience for live demonstrations to see the vision in action and experience the solutions for yourself in the Solutions Demo Sandbox.
Deep dive into topics that are most relevant to you during breakout sessions.
Connect with colleagues at the Welcome Reception and Partner Appreciation Party, and get down to business in the Networking Lounge.
At Citrix Summit, learning how to sell, support, and market innovation has never been easier.
With over 200 hours of content and hundreds of industry experts, Summit has content tailored to you specific role. Bring your whole team to absorb the full depth and breadth of the Summit experience.
How Stratodesk Software Benefits Citrix Customers
Stratodesk software is ready to connect to your Citrix Virtual Apps and Desktops directly out of the box and has the Workspace app (formerly Citrix Receiver) preinstalled
Stratodesk Software supports Citrix StoreFront.
Stratodesk software powers and centrally manages the Citrix Ready workspace hub.
Manage both Raspberry Pi based Citrix Ready workspace hubs and x86 devices in the same environment.
What Will Stratodesk Be Demonstrating During the Show?
Stratodesk will be at booth 404 demonstrating how Stratodesk is the leading endpoint OS and management solution for Citrix endpoints. This includes an inside look at NoTouch Desktop, the Citrix Ready workspace hub, and more.
Not only can customers get an inside look at what we have to offer, they will also get an exclusive look at upcoming releases that they won't be able to see anywhere else.
See more of what is on our product roadmap for 2019, only at Citrix Summit.
Special Summit Give Aways
As always, we will have the cutest schwag at the show –the famous Stratodesk Polar Bear on a keychain. Additionally, and new to this year, we will also be giving away our unique Stratodesk + Raspberry Pi = Thin Client Sticker, just to show how passionate we are about the Stratodesk Raspberry Pi Thin Client solution.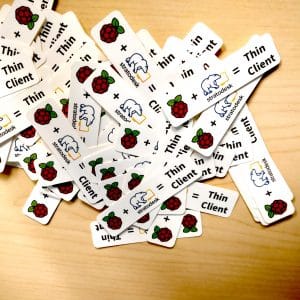 We look forward to seeing you at Citrix Summit booth #404!