VMworld 2019 is over. Here are some of our highlights.
VMworld 2019 was a truly exciting event filled with great discussions, meeting important Stratodesk customers and partners, and fun. Below are some of our VMworld 2019 highlights.
To start things off, Stratodesk raffled away tech prizes each day in the VMware Solutions Exchange Expo Hall. Congrats to our winners who brought home a Raspberry Pi Thin Client from ClearCube (powered by Stratodesk software), Raspberry Pi Keyboards, and a JBL Waterproof Speaker.
Also, we'd like to thank everyone who took part in the raffle, not just the winners.
VMworld 2019 Highlights
Attendees who visited our booth during the show were able to get an inside look at Stratodesk software running on the Raspberry Pi, LG Thin Clients, the NVIDIA Jetson Nano and more. They became part of the big discussions – how innovations in software are causing Thin Clients to be better, faster, more compact and more affordable than ever before.
Stratodesk Benefits for VMware Customers
VMworld 2019 customers who visited Stratodesk at booth 1763 learned about the many benefits Stratodesk software has to offer VMware Horizon customers.
VMware customers who use NoTouch Desktop can expect extensive benefits ranging from cost savings to boosted security. For example, in higher education, Stratodesk has saved an average of $30,000 per year by repurposing hardware and cuts approximately 13 weeks of redundant IT staff hours by eliminating the need for time consuming, manual maintenance and patching of endpoints. Additionally, 1,215 hours per year have been reclaimed by organizations thanks to faster log-ins.
Success in Healthcare Says it All
One of the industries that stands with much to gain from Stratodesk software is healthcare.
Take, for example, South County Health, who used a combination of Stratodesk Software and VMware Horizon to achieve incredible cost savings – cutting their budget almost in half!
Thanks to NoTouch Desktop, SCH found a solution that not only helps them defer hardware replacement costs until they are truly necessary, but also provides comprehensive support for the existing desktop hardware and mission critical peripheral devices presently used in the healthcare organization's IT infrastructure. South County Health now has over 400 NoTouch Desktop licenses in use throughout its 15 locations.
Lastly, Stratodesk boasts a feature-complete integration with Imprivata OneSign, making it the ideal complement for healthcare deployments.
Stratodesk Software Demos at VMworld 2019
During their demos of Stratodesk software, attendees got an inside look at how Stratodesk software:
Comes with the latest VMware Horizon Client included directly out of the box.
Replaces Windows on endpoint devices, saving on Windows licensing costs and malware/anti-virus contracts.
Cuts down on new hardware purchasing costs by allowing enterprises and organizations to leverage and repurpose existing hardware.
For more on VMware/Stratodesk benefits, you can download our full, joint white paper.
The Stratodesk & Liquidware Integration at VMworld 2019
Not only did Stratodesk cosponsor the Inside Track Event with Liquidware this year, we also garnered attention with our announcement of the Stratodesk and Liquidware Stratusphere UX integration. You can learn more about the integration and how it helps system administrators better manage their complex network of devices in this article from our blog.
The Coolest Shirt at the Show
During the hall crawl, VMworld attendees were blown away by our Stratodesk Raspberry Pi Thin Client Shirt – "Not your Grandma's Pie." Take a look at the shirt below, worn by several of our team members. Didn't get one? Reach out to us on Twitter and we might just send one your way!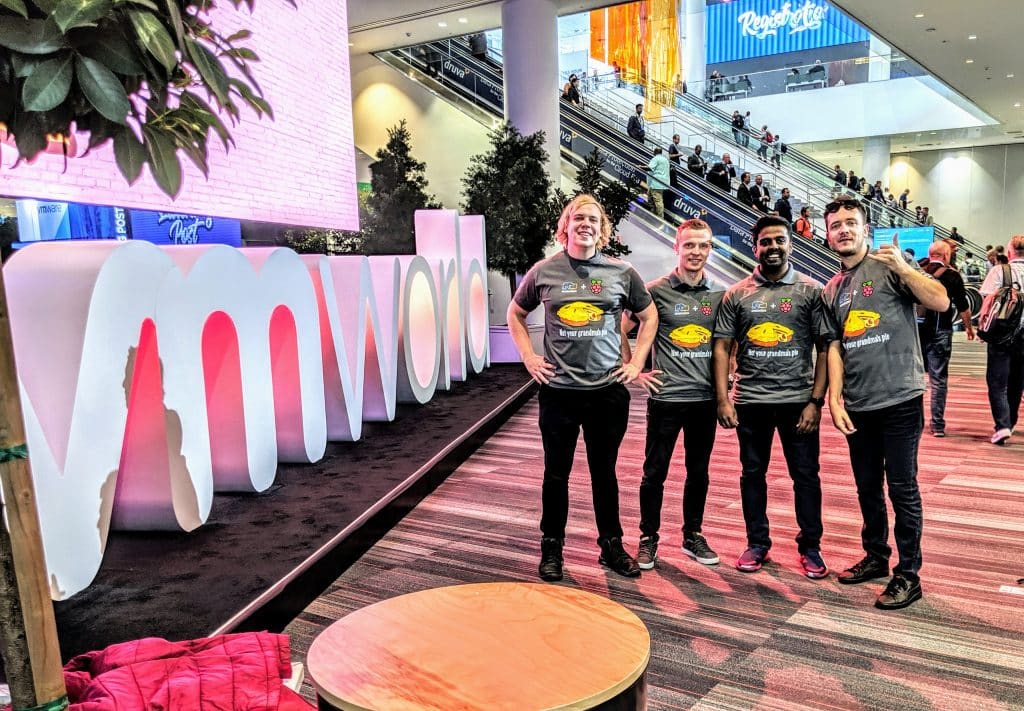 The Inside Track Event
The last highlight on this list was the exclusive event we sponsored with Liquidware. The Inside Track is an invite-only event held at VMworld where EUC influencers and insiders meet and greet one another, have a good time, and talk about cutting edge trends. This year, we took our Inside Track members to Anchor Steam Brewing for a tour of one of California's most revered brewers.
That's it for VMworld 2019! You can see us at .NEXT in October, or see us next year at VMworld 2020!