Have you ever wondered how Stratodesk is able to support the widest array of hardware, so that NoTouch Desktop runs on old and new hardware, thin client, laptops, netbooks and PCs alike? The answer is the multi-kernel OS.
Stratodesk provides one operating system, NoTouch OS, based on multiple kernels. That means there is just one NoTouch, one look & feel, one management tool, one known feature set, but you can get different "firmware images" (i.e. deployable "builds" of the software) of the same OS, based on different kernel and driver sets. They can run side by side, be placed in the same configuration groups, in fact you don't even need to think about what image is where, as NoTouch shields the hardware differences from you.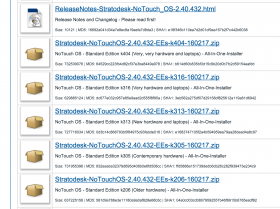 Choose the newest kernel (at the moment the k404 image class, based on Linux kernel 4.4) for very, very new laptops and desktop PCs or go with our most popular k305 for contemporary laptops, PCs and thin client devices. If you would like to run NoTouch on older hardware, the k206 version with linux kernel 2.6 and its driver set will be your image of choice.  
Write to [email protected] if you have any questions to the different kernel options—we are happy to help you determine the best image for your hardware.