More and more IT organizations need to weigh their options around if and how to proceed with Windows 11 updates. Should we? Is it essential? How will this impact us? When? How much will it cost?
Over the past few weeks I spoke with several individuals who attempted to update their existing devices from Windows 10 to Windows 11, only to be met with something like this: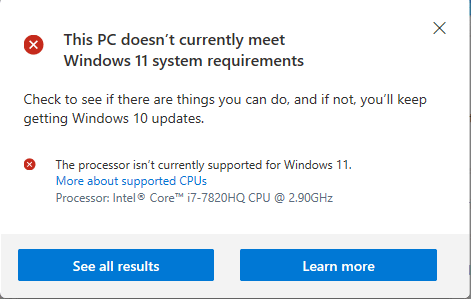 What amazes me most about this is many who will see this message have hardware that is still completely viable for today's workplace.  They have more than enough RAM/Disk and CPU to perform the needed tasks for VDI or SaaS based IT infrastructure. These discoveries are on PC hardware often less than five years old and likely cost between $500.00 to $1,200.00, depending on purchasing contracts. Why toss away this kind of hardware and expenditure?
Answer: Simply change the OS. You were about to do it anyway. Change it to a more optimized OS such as Stratodesk NoTouch OS, which also includes the ability to use today's Unified Communications (UC) tools such as Cisco WebEx Teams, Microsoft Teams and Zoom.
Stratodesk NoTouch OS is a secure, high performance Linux operating system, where from the user perspective, doesn't look or feel like Linux and comes with a highly scalable enterprise class management platform – Stratodesk NoTouch Center.
When deploying Stratodesk NoTouch OS using a wide range of deployment mechanisms, IT organizations can deliver today's VDI platforms (e.g. Citrix, Microsoft Azure Virtual Desktop and VMware Horizon) to their user groups and maintain, update, and support those devices deployed "on the network" or remote user scenarios.  As IT evolves, many find, due to the increasing maturity of web-based applications/SaaS, their users only need browser access using Google Chrome, Chromium or yes, even Microsoft Edge for Linux. And all of these browsers are available with Stratodesk NoTouch OS.
If you're considering updating the OS anyway, why not try Stratodesk NoTouch OS on your existing hardware?  This approach saves money (no need to replace existing hardware, simply repurpose), saves time due to new hardware shortages, and prevents adding to the hardware pile up.
For more information, please visit stratodesk.com and contact us, request a demo and/or a free trial.