Stratodesk NoTouch is the #1 Thin Client endpoint OS and management solution in the world. Comprised of both NoTouch OS and NoTouch Center, Stratodesk NoTouch lets you transform any PC, Thin Client, Laptop or Raspberry Pi device into a secure and centrally managed Thin Endpoint. You can also instantly deploy NoTouch OS onto thousands of devices and manage them from one browser.
NoTouch OS is the minimal footprint OS that installs from your server onto your PC, Laptop, Thin Client, or Raspberry Pi Device.
NoTouch Center is the #1 endpoint management software for your VDI endpoints. Manage, configure and update from your browser.
Stratodesk NoTouch Features and Benefits
Stratodesk Cloud Xtension broadens NoTouch Center endpoint management through a standard internet connection to devices, in remote locations or to those used by your mobile workforce.
Stratodesk software supports a wide range of VPN vendors including:
Cisco AnyConnect
F5
CheckPoint
Fortinet
OpenVPN
NoTouch Cloud lets you manage your entire VDI network from the cloud –no need for an on premises server.
Disk Encryption is an advanced functionality able to transparently encrypt the writable portion of the local storage medium on client devices where NoTouch is deployed.
Partners and Technology Integrations
Stratodesk has a large and ever growing family of leading technology partners. By working with so many, we are able to ensure the widest range of third party integrations and solve more use cases than any other solution on the market.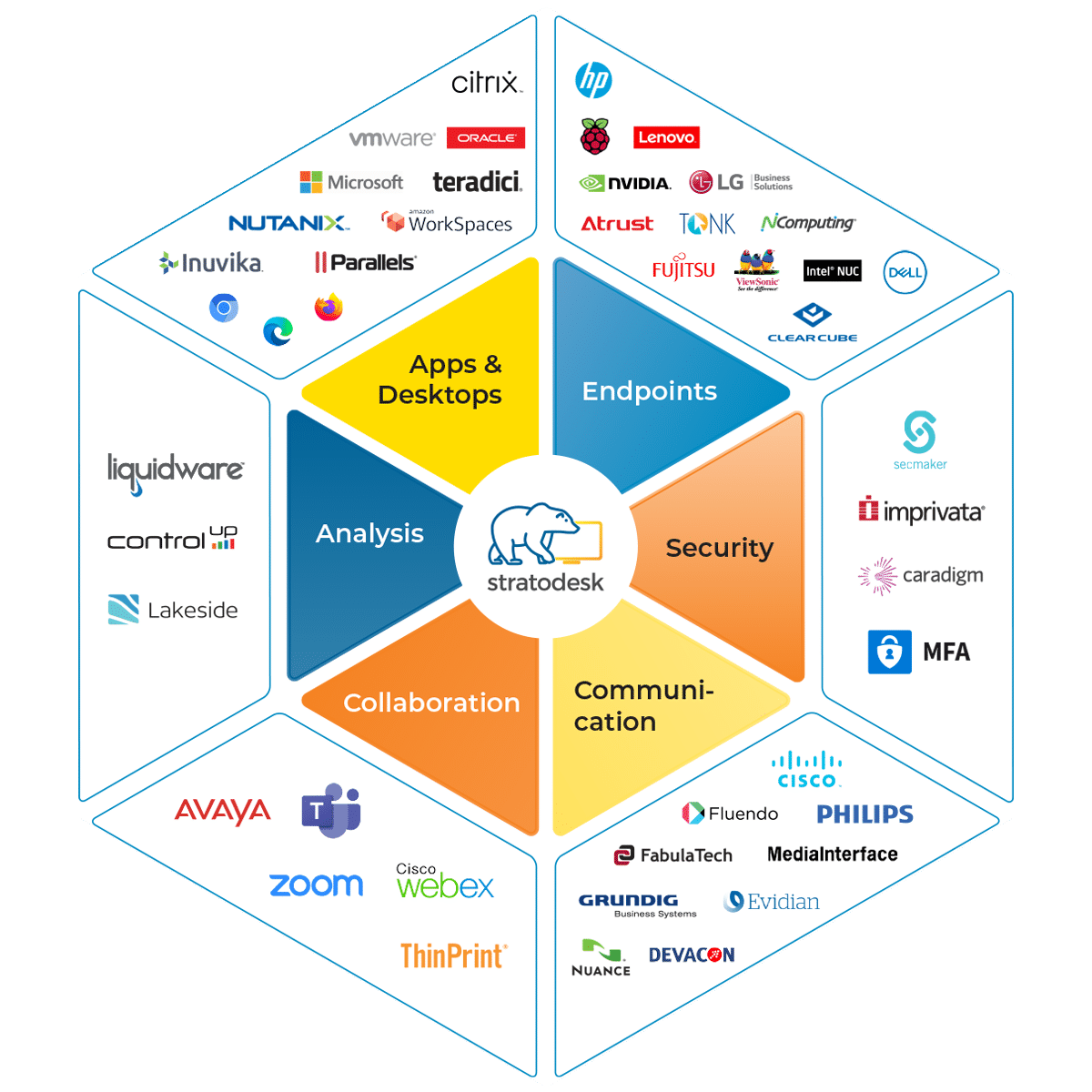 What are the hardware requirements for NoTouch OS?
NoTouch OS runs on 99% of all x86 desktop hardware including Intel (desktop and Atom), AMD and VIA CPUs. NoTouch OS also works on the Raspberry Pi and is the official operating system of the Citrix Workspace Hub, distributed by our OEM partners ViewSonic and NComputing. NoTouch OS prevents hardware lockdown and keeps you free to incorporate the widest variety of devices.
How is Stratodesk NoTouch installed and deployed?
NoTouch can be booted in Live Mode (without touching the underlying OS) or installed on the device's hard disk or flash drive. Live Mode boot options include booting from USB or CD-ROM or using PXE (Network) boot. The same options can also be used to install and deploy Stratodesk NoTouch. Most of our customers use USB boot for testing purposes and take advantage of the PXE boot server when rolling out NoTouch onto thousands of PCs. For enterprises that need to install at scale, we also offer a MSI installer package that can be rolled out without any third party tools or user interaction.
How does NoTouch save me money?
NoTouch OS saves on costs by eliminating the need for expensive Thin Clients or newly purchased devices. With NoTouch OS you also save on Windows licensing costs, Windows endpoint management software licenses and on anti-virus software. NoTouch Center saves you time and money by removing barriers to installation and management.
What VDI environments are supported?
Stratodesk NoTouch gives complete access to cloud hosted desktops and VDI infrastructures including Citrix, VMware, Oracle, Microsoft and more.
NoTouch OS is Linux based which means it is essentially impervious to common malware attacks and security threats facing PCs, Laptops and Thin Clients. It also defends against Third Party Applications, which makes it very unlikely for a security breach to occur.
How is Stratodesk NoTouch managed?
NoTouch endpoints are managed with NoTouch Center, the browser based administration software that helps IT administrators manage, configure and update converted PCs, Thin Clients, laptops and Raspberry Pis –all from one place. By supporting inheritance of settings, groups can be created, configured and kept in sync easily. NoTouch Center also supports multiple user roles, monitoring, asset management / inventory, Helpdesk and other features you would expect from an enterprise-grade product.
NoTouch is licensed on a one time payment based on the total number of machines in your VDI, along with an annual subscription fee.
Who Benefits from Stratodesk NoTouch
Resources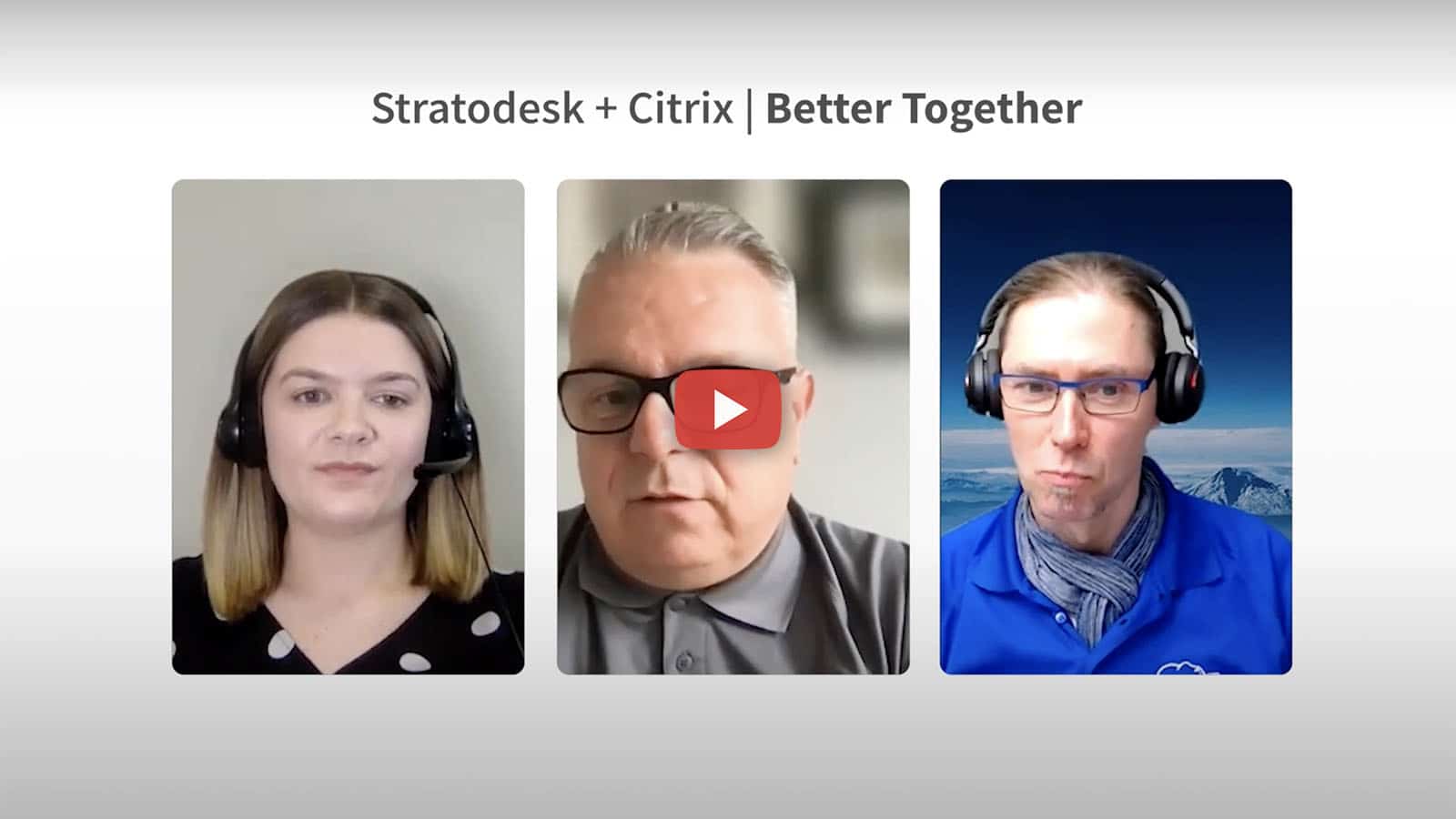 https://www.youtube.com/watch?v=BT2Tt9Nu6CM When it comes to why use Citrix Virtual Apps and Desktops™ 2203 Long Term…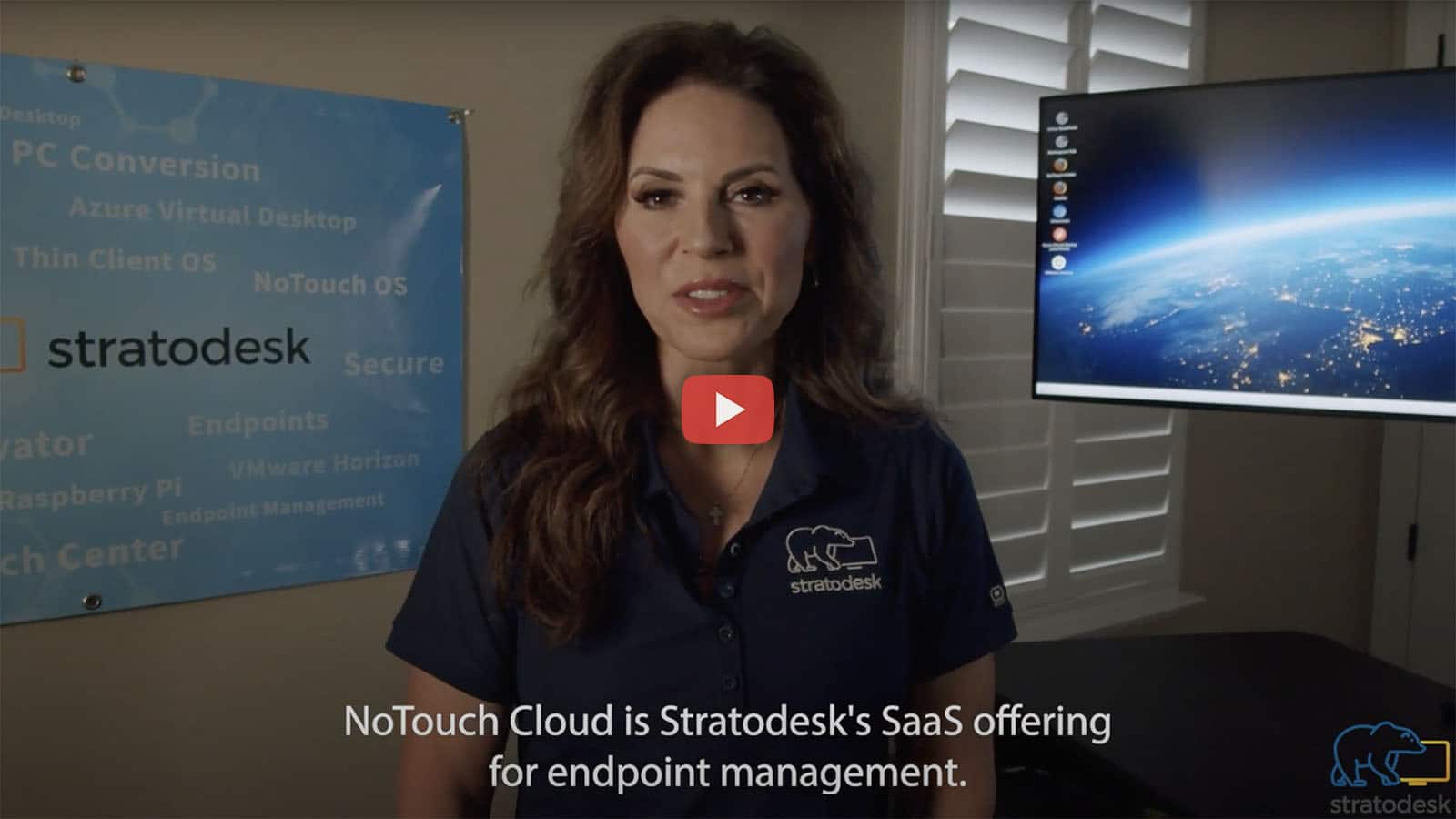 https://youtu.be/gwPjHCzmufA Effectively Stratodesk NoTouch Center in the cloud, Stratodesk NoTouch Cloud is Stratodesk's SaaS offering…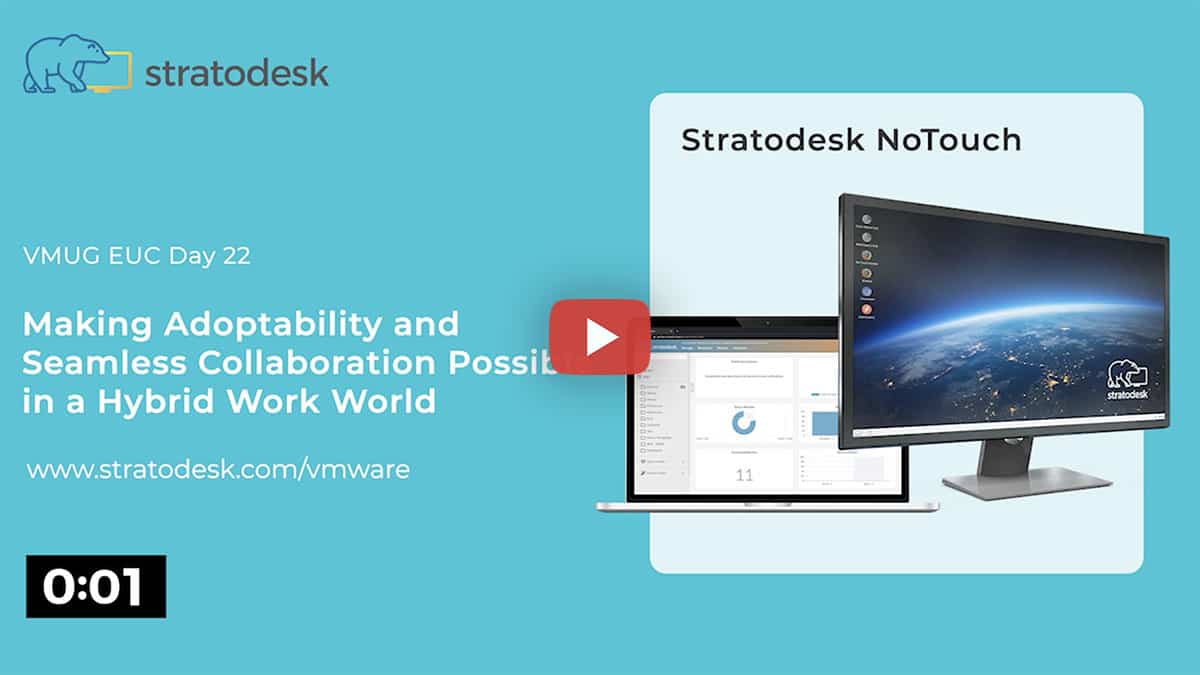 https://www.youtube.com/watch?v=CyyKZ8DcVlM Learn about Stratodesk NoTouch and how it works VMware Horizon. Learn more about Stratodesk's…
NoTouch is leading the way in intelligent VDI endpoint management. Download your free trial today.
Subscribe to our newsletter: