Today Amulet Hotkey announced the launch of the DX3240 high performance thin client that is optimised for Teradici's PCoIP Ultra technology.
With it's ultra-small form factor it's well suited to constrained environments both in the office and at home.
By connecting to remote workstations via Teradici's CAS (Cloud Access Software) the DX3240 delivers a highly responsive remote desktop experience with colour-accurate, lossless and distortion-free graphics – even for high frame rate 4K/UHD graphics workloads.
As such this is an ideal solution for those customers in the media & entertainment, medical & finance sectors who require a secure solution that provides the resolution, sound, and colour fidelity they need to create and work from anywhere.
Specifications
| | |
| --- | --- |
| Operating System | Stratodesk NoTouch OS |
| Processor | Intel Core i5-10500 (6 Core, 12M cache, base 3.1GHz, up to 4.5GHz) |
| Memory | 8GB DDR4 2666MHz (2 x 4B SODIMM) |
| Storage | 256GB PCIe NVMeClass 40 M.2 SSD |
| Network | 1Gbps RJ45 with optional WiFi |
| GPU | AMD Radeon Pro WX3200 (4 x 3840×2160 @ 60Hz) |
| Management | Stratodesk NoTouch Center |
Benefits & Features
Powerful Intel Core i5 CPU for local processing performance
Leverage PCoIP Ultra enhancements to provide an optimal remote desktop experience
Secure 256-bit AES encryption so only pixels leave the data centre, and the data remains secure
Support for up to 4 x 4K UHD displays (3840×2160) @ 60Hz
Remote management options via Stratodesk NoTouch Center
Multi-protocol support, including Teradici PCoIP, VMware Horizon, Amazon Workspaces & Citrix
Summary
The DX3240 running Stratodesk NoTouch OS offers an exceptional mix of flexibility and performance. Users will be able to securely & seamlessly connect to a variety of different hosts including hardware and software PCoIP, from both inside and outside the corporate network which can be centrally managed regardless of the endpoints location.
Join the Upcoming TechTalk #6 to learn more about the device
On Wednesday, October 27th at 10am PDT / 1pm EDT join us to learn about the recently announced Amulet Hotkey DX3240, a high performance ultra-thin client for hybrid work environments.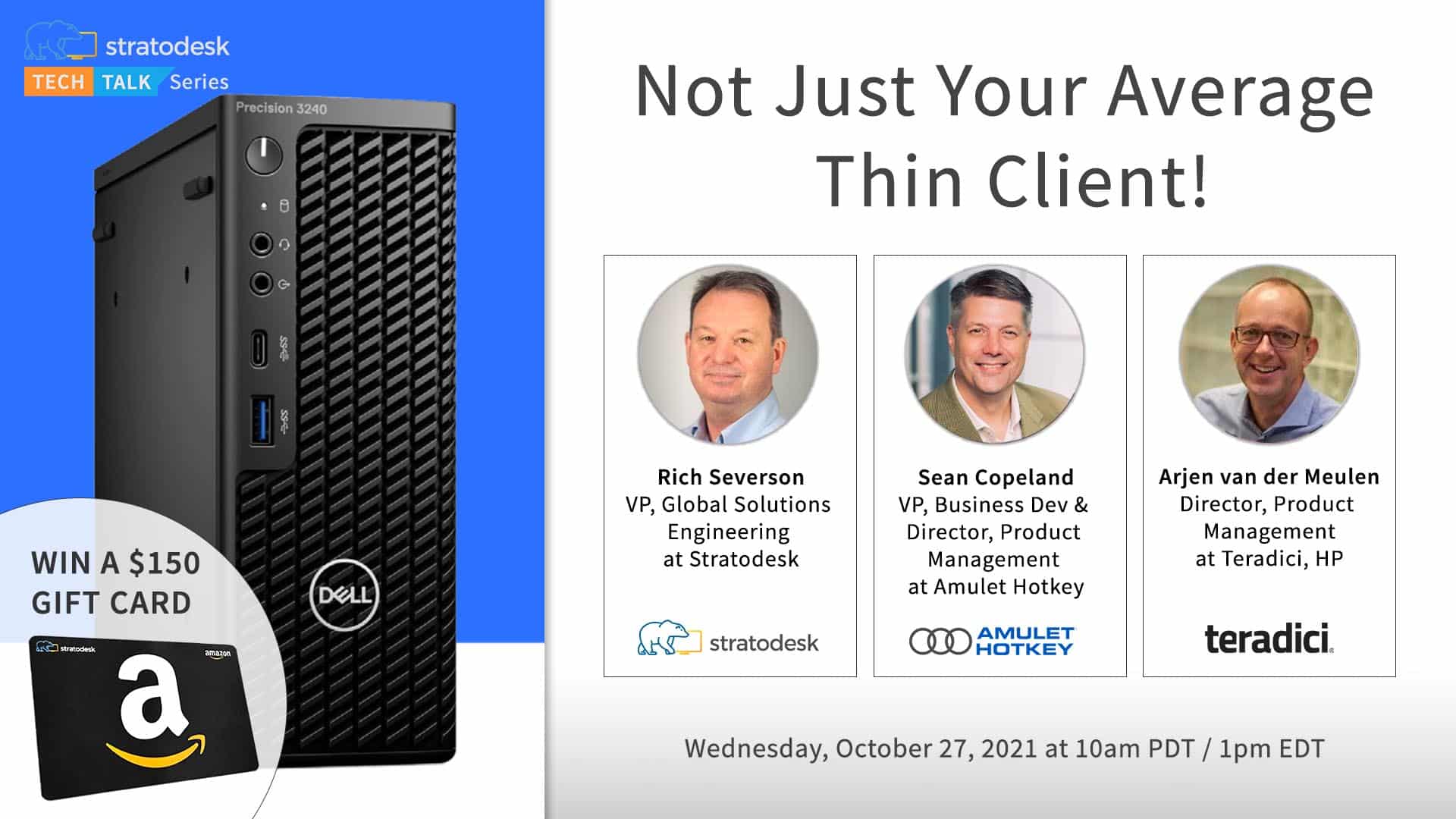 Stratodesk's Rich Severson, Amulet Hotkey's Sean Copeland, and Teradici's Arjen van der Meulen will discuss and answer questions about the World's Most Powerful Thin Client for hybrid workers requiring high performance, enterprise-grade security and a thin client operating system that is always up-to-date.