Nutanix and Stratodesk Customers Benefit from Seamless Deployments for Hybrid Work Environments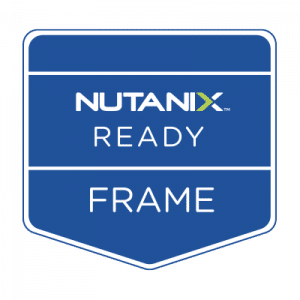 San Francisco, CA – September 1, 2021 – Stratodesk, the leading global innovator in EUC management and OS software, announced today that Stratodesk NoTouch is officially Nutanix Frame Ready for Nutanix Frame App (Linux) 6.0 and above– the first Nutanix Alliance Partner to achieve and announce this status. Achieving Nutanix Frame Ready status for the Nutanix Frame App signifies that Stratodesk NoTouch has reached the highest standard of Nutanix validation, having completed verification testing proving confidence in joint solution compatibility. Thanks to this airtight collaboration with the included Nutanix Frame App, Stratodesk and Nutanix will continue to work closely together to make remote and hybrid work a reality for enterprises around the world.
"Stratodesk NoTouch, a thin client management and OS software, and the Nutanix Frame Desktop as a Service are a great combination for IT organizations that wish to simplify the management of their hybrid work environments," says Nutanix VP of End User Computing, Carsten Puls. "Stratodesk's solution works seamlessly with the Nutanix Frame App making thin client deployments as easy as possible for our joint customers around the world. We're pleased that Stratodesk is one of the first to achieve Nutanix Ready status for Frame."
"As the leading distributor for Nutanix Frame in South Africa, it is integral that we partner with the best thin client vendors to ensure our customers have everything they need for a successful Frame deployment directly out of the box" says Johan Lotter, Head of Presales and Architecting Enterprise at Pinnacle ICT. "We are extremely impressed by Stratodesk's agility and ability to quickly deploy the latest Frame App within Stratodesk NoTouch OS, and are already seeing interest from our vast customer base. Stratodesk NoTouch OS Frame Ready for Nutanix Frame App 6.0 and beyond is a game changer for enterprises looking to boost productivity for their DaaS deployments while enabling hybrid work."
"Leveraging Stratodesk NoTouch and Nutanix together has helped us streamline our endpoint deployment and saved us money through PC Conversion," says Trey Ingram, System Administrator at Turenne PharmedCo. "The seamless integration between Stratodesk and Nutanix made the switch from Windows endpoints to Stratodesk NoTouch endpoints incredibly easy, and has saved our department countless IT hours from removing the need to manually patch, update and maintain endpoints."
Deploying the latest Nutanix Frame App directly out of the box on Stratodesk NoTouch OS makes secure, effective hybrid workforces possible without causing a nightmare for IT. Enterprises can simply ship endpoints to workers, convert existing devices, or enable personal devices seamlessly with Stratodesk NoTouch GO and benefit from a consistent look and feel and instant connectivity to their Nutanix Frame deployment via the Nutanix Frame App or browser.
"By delivering a solution for enabling remote work – like Stratodesk NoTouch GO – that also includes the latest version of Nutanix Frame App, Stratodesk is ensuring access to a truly secure remote work environment for enterprises of all shapes and sizes around the world," says Stratodesk Founder and CEO, Emanuel Pirker. "Stratodesk is the most agile and innovative EUC company in the world, which enables us to release updates to our users before anyone else."
Stratodesk NoTouch Center and Stratodesk NoTouch OS together are the leading thin client endpoint software letting organizations transform any PC, thin client, laptop or Raspberry Pi device into a secure and centrally managed VDI/DaaS endpoint. Stratodesk NoTouch is a proven endpoint software for Citrix, Microsoft WVD, Nutanix deployments and VMware Horizon, as well as many others – on-premises or Cloud. With its minimal hardware requirements, simplified deployment and ease of operation, customers save big by eliminating hardware refreshes, licensing of third-party software, and work hours.
To learn more about how Stratodesk NoTouch and Nutanix Frame make hybrid work productive in enterprise environments, join the upcoming webinar:
What: Hybrid Workspace Made Simple
When: Thursday, September 9th, 2021 11am PDT / 2pm EDT
Who: Carsten Puls, VP, End User Computing at Nutanix
Rich Severson, VP, Global Solutions Engineering at Stratodesk
Yangzhi Zhao, Director, Frame Product Management at Nutanix
Register Today: https://go.stratodesk.com/stratodesk-euc-tech-talk-series-nutanix
For additional information about the Stratodesk and Nutanix solution, please visit:
About Stratodesk
Founded in 2010, Stratodesk is the fastest growing global software company redefining end user computing by delivering an all-in-one solution for VDI, DaaS and IoT markets. Stratodesk's cutting edge Linux-based OS and management suite, Stratodesk NoTouch, is the hardware agnostic solution enabling companies to cost-effectively manage their entire secure digital perimeter. Stratodesk's software works seamlessly across all x64, x86 and ARM/Raspberry Pi based hardware products to provide a unified platform for all your endpoints. It increases endpoint security, simplifies user experience, and allows customers to maximize the benefits of their existing desktop hardware through PC conversion. Today with nearly one million licenses deployed across multiple industries including healthcare, finance, retail, and education. For more information, please visit www.stratodesk.com.