The EDUCAUSE 2019 conference brings some of the best and brightest minds in education IT together into one place. By sharing ideas and collaborating with one another, EDUCAUSE helps IT professionals become even better at what they do. Stratodesk will be in the Citrix Ready Partner Pavilion during the show at booth #1817. We will be showcasing how Stratodesk NoTouch software unlocks the full benefit of Citrix VDI in an education setting and solves common challenges facing education VDI. 
Join us in Chicago on October 14-17 for an insightful and fun event. Our team of knowledgeable tech professionals looks forward to visiting with old friends and new customers and attendees in the windy city. We're also excited to announce that industry veteran and legend, Rich Severson, will be present at our booth giving speaking sessions. Stop by our booth for a deeply insightful look into Stratodesk software, industry trends, and upcoming innovations. 
See How NoTouch Desktop Solves Challenges Facing Education VDI at EDUCAUSE 2019
Amidst the Horizon of technological innovations in the education space, Stratodesk stands out as an all-in-one solution, covering everything from PC repurposing to endpoint management. Complete with the features that education IT professionals need, like managing user roles, live inheritance of settings, and the ability to manage endpoints across multiple sites from one location, Stratodesk enables educational institutions to cut costs on securing and repurposing existing hardware while standardizing endpoints, and even enables them to scale their environments up or back on demand.
EDUCAUSE 2019 – Stratodesk for VMware and Citrix Deployments
Stratodesk software connects to major VDI deployments directly out of the box. It does this by including the latest Clients from leading VDI providers.
For Citrix deployments, Stratodesk software includes the Citrix Workspace app (formerly Citrix Receiver) preinstalled on the OS, allowing for easy connection to Citrix Workspace. NoTouch is also Citrix HDX Ready, includes a full native StoreFront implementation that allows easy access to contemporary and future StoreFront instances. 
Additionally, NoTouch supports multi-monitor (dual-screen) operation, USB device forwarding, local printers, smart cards, multimedia with Citrix HDX features including Flash redirection, and Skype for Business/HDX RTME.
VMware Customers Benefit From Stratodesk Software
Educational institutions benefit from Stratodesk software when it's used with VMware Horizon. Take, for example, the University of Alaska Southeast, who leveraged Stratodesk software in their VMware Horizon deployment to reduce their overall VDI budget by more than 40%!
VMware customers benefit from similar features as Citrix customers including multi-monitor/dual-screen operation, certificate handling, multiple boot options, as well as the added benefit of PCoIP, Blast Extreme, and RDP protocol technology.
A Few More Statistics on How NoTouch Benefits Educational Institutions: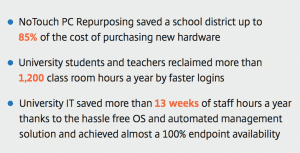 To learn more about Stratodesk software, download our white paper on how Stratodesk solves challenges facing education VDI. And add booth #1817 to your must see list of vendors at EDUCAUSE 2019 in Chicago!