The Stratodesk polar bear made a trip across the English Channel today on the journey from the Stratodesk European HQ in Austria to the UK VMUG event in Solihull, England.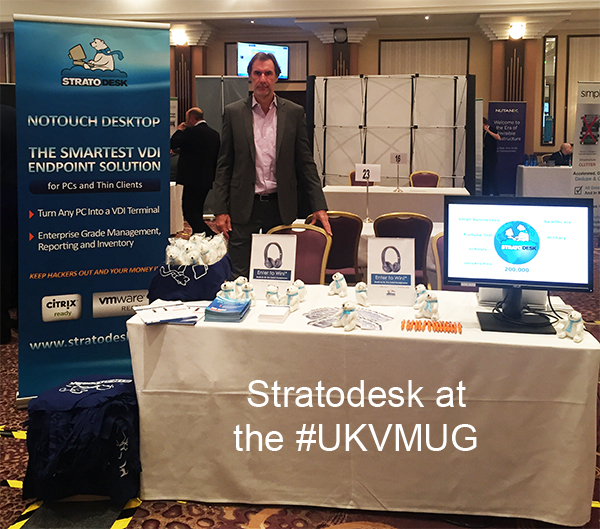 The show was a great opportunity for us to connect with VMware users in Great Britain and showcase how NoTouch Desktop is:
The leading VDI endpoint solution, offering a thin operating system and central management software
Easy to use, incredibly flexible, feature rich, customizable and highly secure
Hardware and vendor agnostic, with the widest desktop PC, laptop and thin client support ever
Infinitely scalable, which makes it ideal for both small and medium business and large enterprises
Linux-based, with built-in security, which means there is no chance for malware or hackers
We had a great time chatting with VMware users and partners at the event, sharing information on how NoTouch Desktop can help VDI users across various industries implement a strategic, hardware-independent and cost-effective approach to endpoint computing instead of vendor-lock-in, retaining the freedom to chose hardware suppliers at any point in time.
Next up on the VMUG event calendar, the Boston VMUG UserCon, which will take place on December 8 at the Boston Convention and Exhibition Center. Hope to see you there!