New Stratodesk Integrations with LG Thin Clients and Liquidware Diagnostics Announced
Stratodesk, a leader in VDI, DaaS and IoT endpoint solutions, announced today that it will demonstrate its latest innovations on its hardware agnostic EUC/IoT OS and management solution, NoTouch Desktop, and two brand new technology partner integrations with Liquidware and LG Business Solutions at this year's Citrix Synergy. As the leading software provider for the Citrix Ready workspace hub platform, Stratodesk will also be showcasing the Stratodesk Citrix Ready workspace hub at booth # 405 at the Georgia World Congress Center, Atlanta, GA, May 21-23, 2019.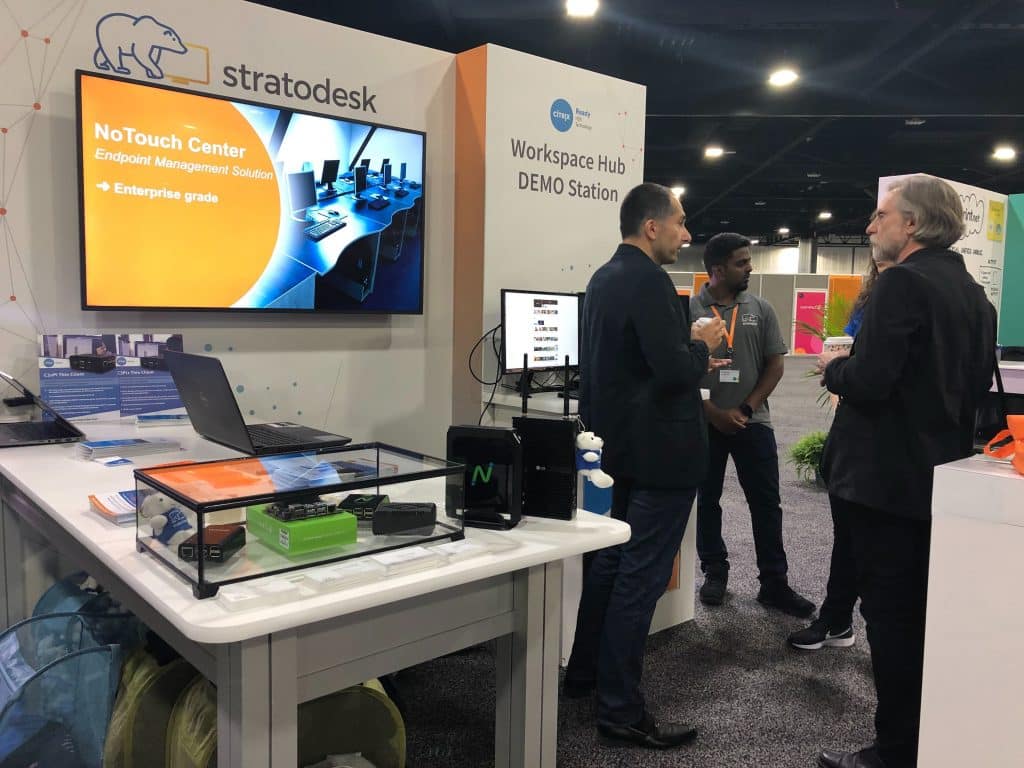 Stratodesk Citrix Ready workspace hub and NoTouch Desktop
"Stratodesk is the pioneer of the Citrix Ready workspace hub. Last year marked the workspace hub's availability to the general market. This year will focus on new developments and innovations to the platform," says Stratodesk CEO, Emanuel Pirker. "We are proud of our partnerships with Citrix, ViewSonic and NComputing that have helped bolster the workspace hub's success and establish it as a truly disruptive endpoint device. We are also proud of our relationship with ClearCube and the success we have seen working with them on the well received Raspberry Pi based C3Pi."
Stratodesk NoTouch Desktop is comprised of the minimal footprint NoTouch OS and the automated endpoint management solution, NoTouch Center. NoTouch Center is the leading endpoint OS and management solution for both x86 and ARM based devices. Stratodesk software is the fully hardware agnostic solution for VDI, IoT and Cloud endpoints.
Innovations at Citrix Synergy 2019
Innovations on display include the NVIDIA Jetson Nano powered by Stratodesk software and two brand new technology partner integrations with Liquidware and LG Business Solutions.
"We're excited to announce our new alliances with Liquidware and LG," says Hernan Contreras, Sales Director at Stratodesk. "Our partnership with Liquidware delivers advanced management and endpoint monitoring and diagnostics to your NoTouch ecosystem. Meanwhile, Stratodesk and Citrix customers will be glad to know that our software is now available on LG Thin Clients as well as classic and curved ultra-wide Thin Client monitors from LG Electronics."
Alliances with Liquidware and LG Business Solutions
The new integration with Liquidware brings advanced endpoint monitoring and analytics options to the Stratodesk ecosystem while the cooperation with LG further expands Stratodesk's OEM partner network. Customers can now easily upgrade their LG Thin Clients with Stratodesk software, connect them to NoTouch Center, or even purchase LG Thin Clients with Stratodesk software preinstalled.
"Bringing Stratodesk onboard as a preferred LG software vendor further enhances the capabilities of our most advanced Thin Clients," says Stephen Hu, head of commercial monitors, LG Business Solutions USA. "And we're proud that Stratodesk is featuring LG's All-In-One Thin Client in their Citrix Synergy booth this year."
"This Integration completes the end-to-end visibility story for organizations that choose NoTouch-based clients and Stratusphere UX," says Kevin Cooke, Product Director for Stratusphere Solutions at Liquidware. "Visibility to workspace consumption is important when looking to manage expectations and deliver the necessary user experience. We're excited to bring these metrics and information to Stratodesk customers."
See it all at Citrix Synergy booth 405 this week in Atlanta!