We are pleased to announce that NoTouch Center is now available in Azure Marketplace. You can now take advantage of automated endpoint management from Azure Cloud. Stratodesk is the first vendor to offer a cloud native thin endpoint management solution for VDI and IoT endpoints, NoTouch Center.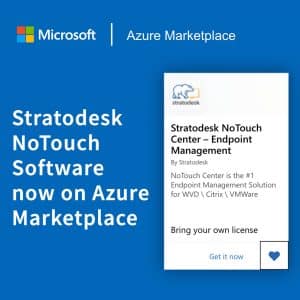 NoTouch Center is the most feature-rich endpoint management solution available – take advantage of automated endpoint discovery and onboarding, updating and upgrading for Citrix, WVD, VMware and other solutions.
NoTouch Center's availability in Azure Marketplace is especially beneficial for those already using Azure Cloud. This allows our customers to utilize their existing Azure resources all in one infrastructure.This added functionality expands Stratodesk's already flexible software, NoTouch. NoTouch Center can be run as NoTouch Cloud or on-premises.
Bring your own NoTouch licenses and get started with your endpoint transformation today by deploying NoTouch Center in the Azure Cloud.
Deploying NoTouch Center in Azure only takes two minutes
Thanks to the availability of NoTouch Center in the Azure Marketplace, you can get started with only a few clicks of the mouse. To deploy NoTouch Center, find NoTouch Center in Azure Marketplace here, or go to Azure Marketplace and search for "Stratodesk" or "NoTouch". Then select Stratodesk's offering and click "Get it now". A deployment wizard will appear. Follow the configuration steps. In as little as two minutes, you'll be good to go! When you login to NoTouch Center for the first time after it has been deployed, you will see a warning notification to update the administrator password.
Once these steps are completed you can begin to manage your NoTouch endpoints in Microsoft Azure.
How to deploy NoTouch Center in Azure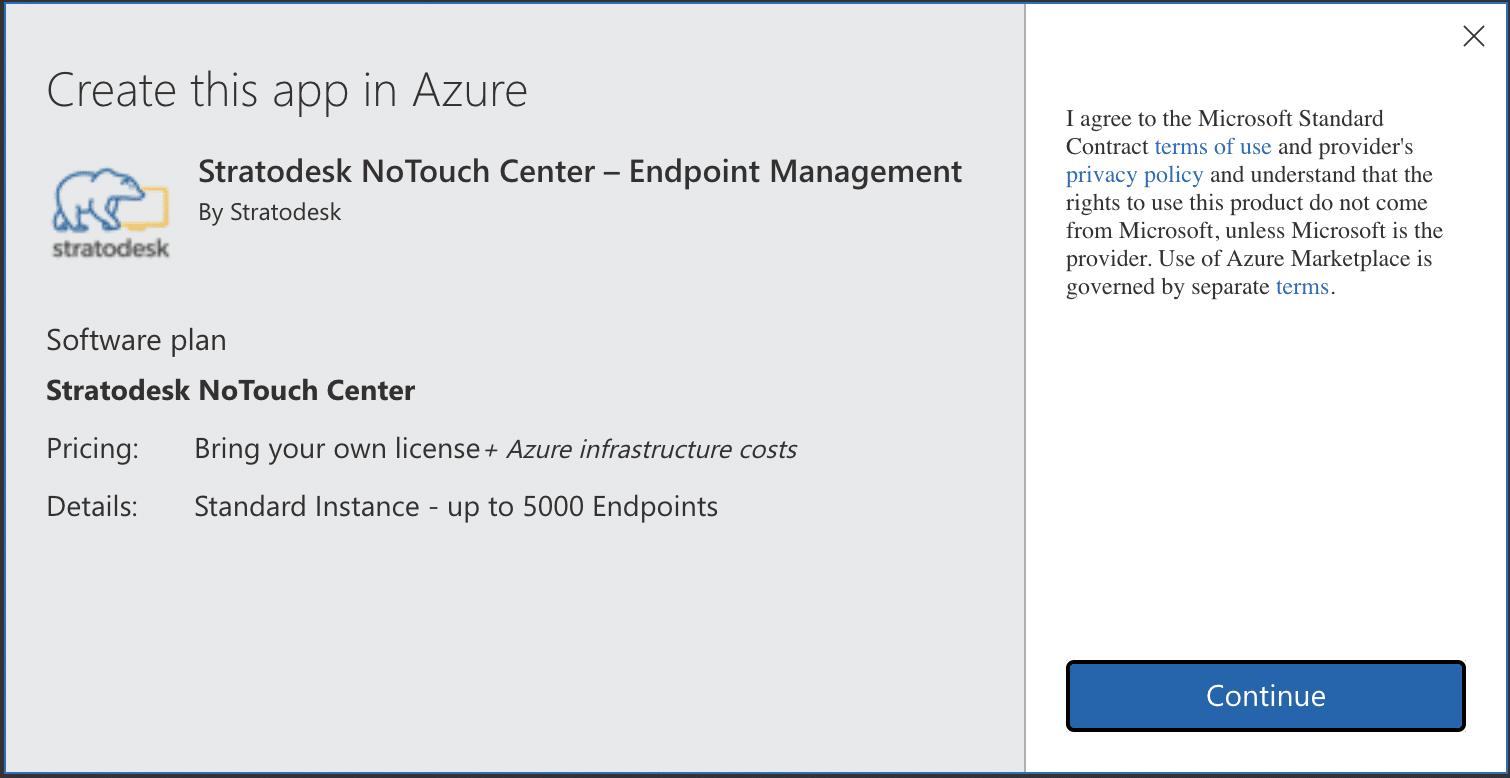 The Leading Thin Client Endpoint Software
Stratodesk NoTouch lets organizations transform any PC, thin client, laptop or Raspberry Pi device into a secure and centrally managed VDI/DaaS endpoint.
NoTouch is a proven endpoint for Citrix, Microsoft WVD, Nutanix deployments and VMware Horizon, as well as many others – on-premises or Cloud. With its minimal hardware requirements, simplified deployment and ease of operation, customers save big by eliminating hardware refreshes, licensing of third-party software, and work hours.