Blog post by Paul Craddock, Stratodesk Sales Engineer.
Stratodesk NoTouch OS

contains VDI clients for many different technology vendors like Citrix, VMware Horizon, Microsoft (AVD), Nutanix, Teradici, Amazon Web Services as well as Chromium & Firefox Browsers.
See all Stratodesk VDI & EUC Solutions
The main problem with supporting so many different VDI technologies is that each vendor has their own client release cycle. Some vendors including Citrix release new version of the Workspace App every month, others release once a quarter. In view of this, we typically release new firmware at least once a month, so our customers have day one support for the latest technologies that these updated clients include.
Why Should I Care?
We appreciate that every customer use case is different, and they certainly might not want to update their devices every month, after-all you must test each release before deploying to a production environment. You do test firmware before deploying right? 
That's okay, just because we release new firmware at least once per month doesn't mean you have to update your devices. You don't and it's your choice, but we do recommend it. 
To make things even easier we've now taken the steps to add our release notes to the Stratodesk knowledge base, although they've always been available in our customer portal and can even be access via the device configuration.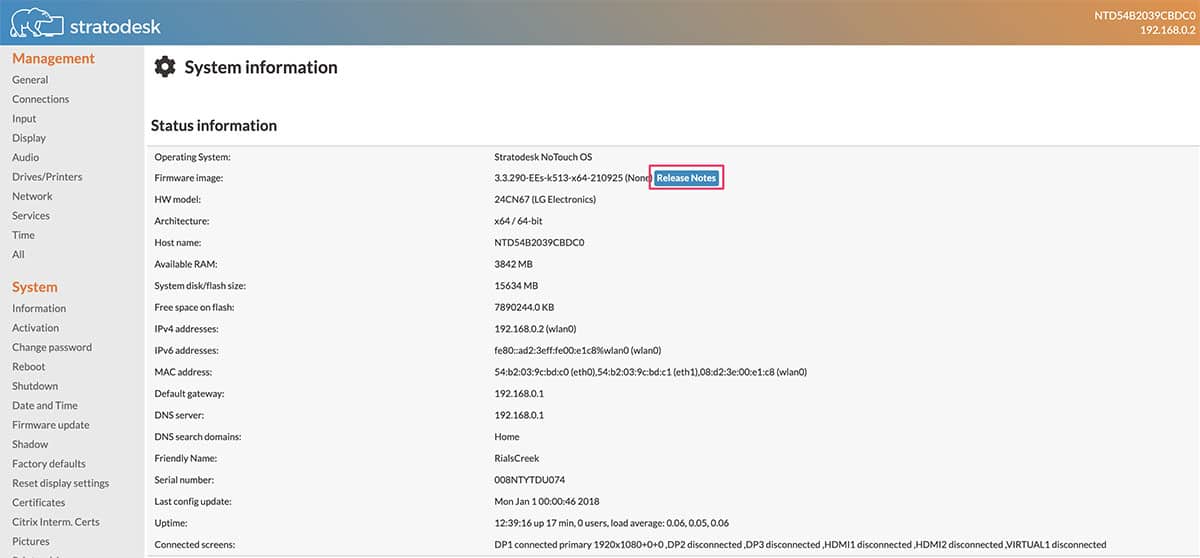 You can then review these release notes and decide if you need to update or not based on the information in them. Afterall if all we've done is update the Citrix Workspace App, but you use a different VDI technology, then you probably don't need to update. 
For example, Microsoft recently made changes to their Azure Virtual Desktop server side set up, which could cause functionality issues if the AVD client connecting was out of date. So, if you're using Microsoft AVD, then you should be updating your Stratodesk endpoint firmware. 
How Can I Check which Firmware is Installed?
NoTouch Center
This can be easily done in NoTouch Center by clicking on a device, and in the main screen, scroll to the bottom of the page which will show the current firmware version on that device.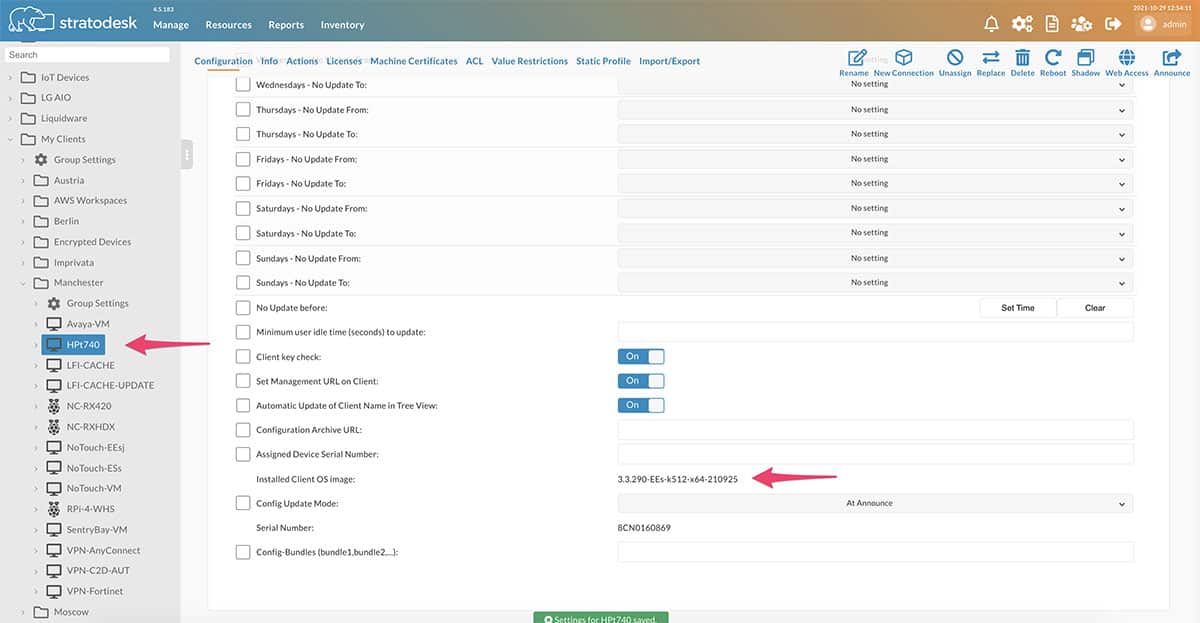 NoTouch OS
The second option is on the device itself via the configuration screen under 'System Information' in NoTouch OS.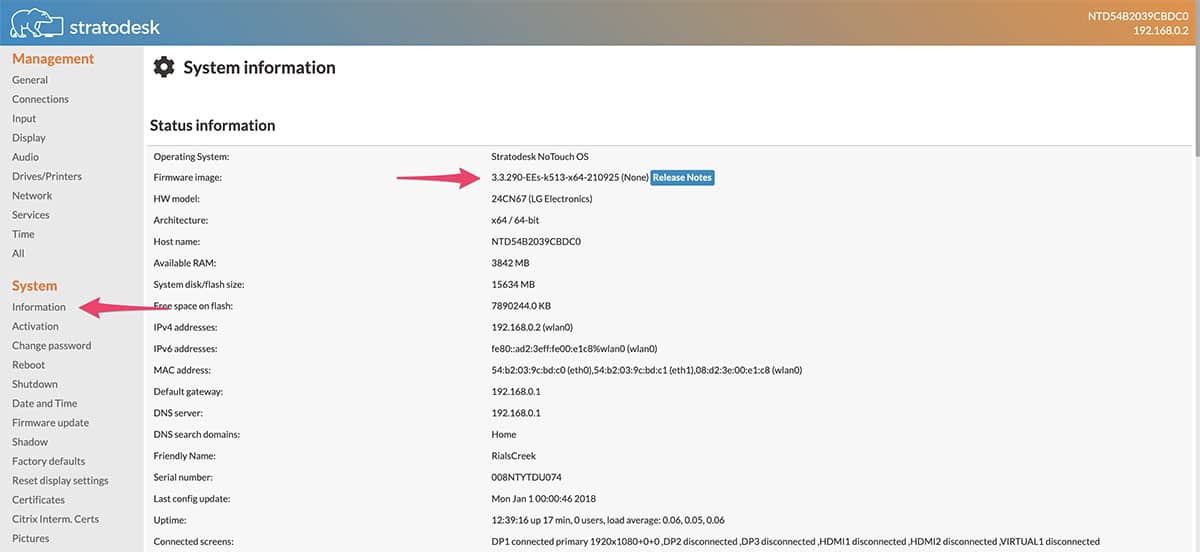 Hotkey combination
You can additionally view the version information on the End Point device itself by using the Hotkey combination of Ctrl+Alt+S.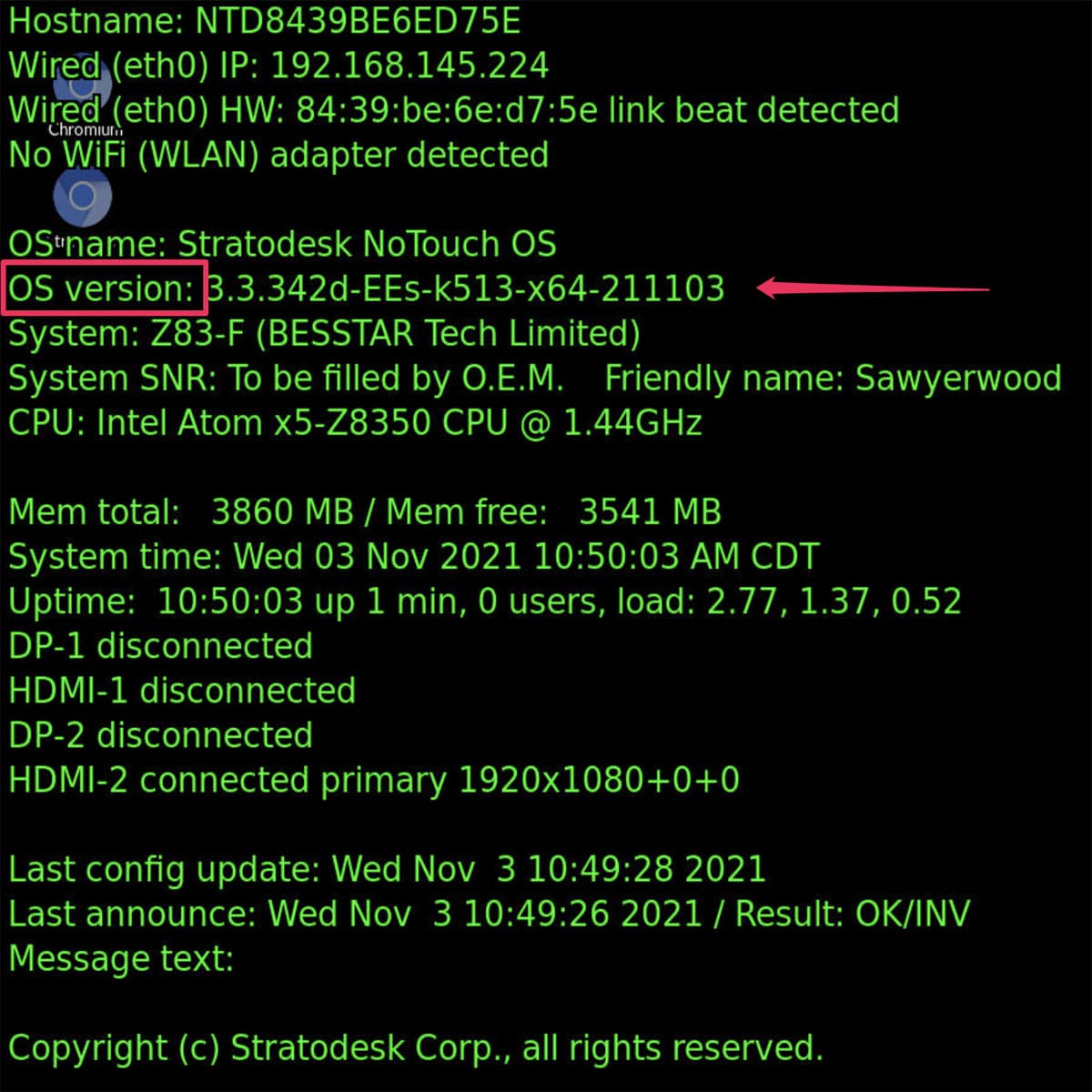 How Do I Access & Deploy Firmware Updates?
Updates for Stratodesk's NoTouch OS and NoTouch Center can be downloaded by customers with an active update subscription from our customer portal. Instructions for updating firmware found in the following knowledge base articles: