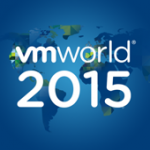 Coming off the successful release of the Cathedral Peak generational update, Stratodesk will be showcasing the newest features of NoTouch Desktop at VMworld 2015 US in booth 2536 of the Solutions Exchange. Taking place from August 30—September 3, 2015 at San Francisco's Moscone Center, this year's event brings together thought leaders, subject matter experts and IT professionals to immerse themselves in the latest in virtualization and cloud technology.
With the event just over a month away, 2
015 will mark the third year for Stratodesk at VMworld US, and there's a good reason why! Put bluntly, NoTouch Desktop is the endpoint operating OS and management solution for any VMware Horizon View environment in any organization operating within any sector. NoTouch Desktop helps educational institutions, governmental and military branches, health care providers and large and small companies alike not only save big on hardware costs, but also securely manage their VDI network simply and securely.
But what makes NoTouch Desktop ideal for VMware Horizon View users? For the answer, first ask yourself these questions:
Why maintain a full blown Windows on your PCs with the only purpose to connect via VMware Horizon View to your server environment?
Why pay for Windows anti-virus licenses, 3rd-party management licenses, Windows updates when switching to a Linux based endpoint is easy and painless?
Why worry about how to roll out VMware Horizon View clients on different versions of Windows, keeping it up-to-date?
Why purchase dedicated, expensive (Thin Client) hardware when re-purposing your existing PCs is so simple and affordable?
Why not benefit from an included endpoint management solution making desktop visits of support staff unnecessary?
NoTouch Desktop offers the answer to these questions, and that's why we want to meet any and all VMware Horizon View users at VMworld 2015 US! Some of the amazing benefits of NoTouch Desktop include:
Get a small-footprint OS for VMware Horizon View endpoints – with PCoIP support; without any 3rd-party dependencies, not even a Windows operating system
Run it on existing and new hardware, run it on PCs and various Thin Clients; don't even think about which machines are capable or not: they are ALL capable!
Don't let yourself being locked in by a traditional Thin Client vendor – separate hardware from software, retain or freedom to decide what hardware brand you want to buy, whenever you are ready to do so
Decide how you run it: installed on a hard drive, live from PXE/network, live from USB, live from CD-ROM and retain the freedom to change your mind at any time
Cancel your antivirus and Windows-PC-management-software contracts and save big bucks
Enjoy the peace of mind of a maintenance free endpoint solution
Enjoy the even greater peace of mind of a secure endpoint solution
Will you be attending VMworld 2015 US in San Francisco? If so, make sure to stop by booth 2536—we've got some special surprises and fun giveaways planned for this year's show, so don't miss out!