How best to enable effective collaboration in a hybrid world is a major challenge facing enterprise IT leaders around the globe. And while the shift to remote work may have had many unintended benefits, one of its main detriments was team collaboration. In fact, one study found that 75% of remote employees found team collaboration was hindered by the switch to remote work.
As the majority of enterprises shift to a hybrid work model, teams will find that meeting occasionally (a few times a week or more) might mitigate some of the challenges posed by working remotely. However, working with remote colleagues at least some of the time (if not all of the time) will remain a large part of our lives as the world becomes ever more comfortable with a hybrid work situation. 
Luckily, innovations made from leading technology companies make it possible to enable ongoing, seamless collaboration. 
Cisco Webex Meetings and Cisco Webex Teams, for example, are among  the most powerful solutions on the market to enable collaboration from anywhere. And it works seamlessly with Stratodesk software.
Better Experience Through Balanced Deployment and Execution of Software
Traditionally, there have been many issues with enabling effective team collaboration in VDI and DaaS deployments, especially video call collaboration, between workers as they access apps and data from remote locations. In a world where 79% of business leaders say that video calls are the most effective collaboration solution, however, it's clear that organizations looking to leverage VDI must find an effective way to make video calls possible.  
Video conferencing software has been a major burden in the past for IT teams as they seek to deal with the increase in CPU and RAM utilization they cause.
Technological innovation, however, can help IT overcome these issues better than ever before. With Cisco Webex Meetings and Cisco Webex Teams on Stratodesk NoTouch, IT leaders can benefit from the seamless video call performance they need alongside the added security and flexibility benefits of a VDI and DaaS deployment.
Access Seamless Video Collaboration with Stratodesk NoTouch OS, Cisco Webex Teams and Cisco Webex Meetings
Stratodesk NoTouch OS runs on virtually any endpoint device, making it possible for enterprises to leverage existing, local devices and provide stellar video call quality. By converting endpoints and running Cisco Webex locally, you don't have to have GPUS and additional CPUS in the data center, balancing existing resources to provide quality video call performance at minimal expense. 
In addition to making the user experience better when using Cisco Webex Meetings and Cisco Webex Teams in VDI deployments, Stratodesk NoTouch OS also adds a vital security layer that IT leaders need when leveraging their collaboration software.
Stratodesk NoTouch OS prevents unwanted third party applications from running on the device itself, while also preventing vital corporate data from being stored on the endpoint itself, in case the device is lost or stolen. To enable additional security, Stratodesk NoTouch also includes Disk Encryption.
Leveraging Endpoint Management and Configuration with Cisco Webex Teams, Cisco Webex Meetings and Stratodesk NoTouch Center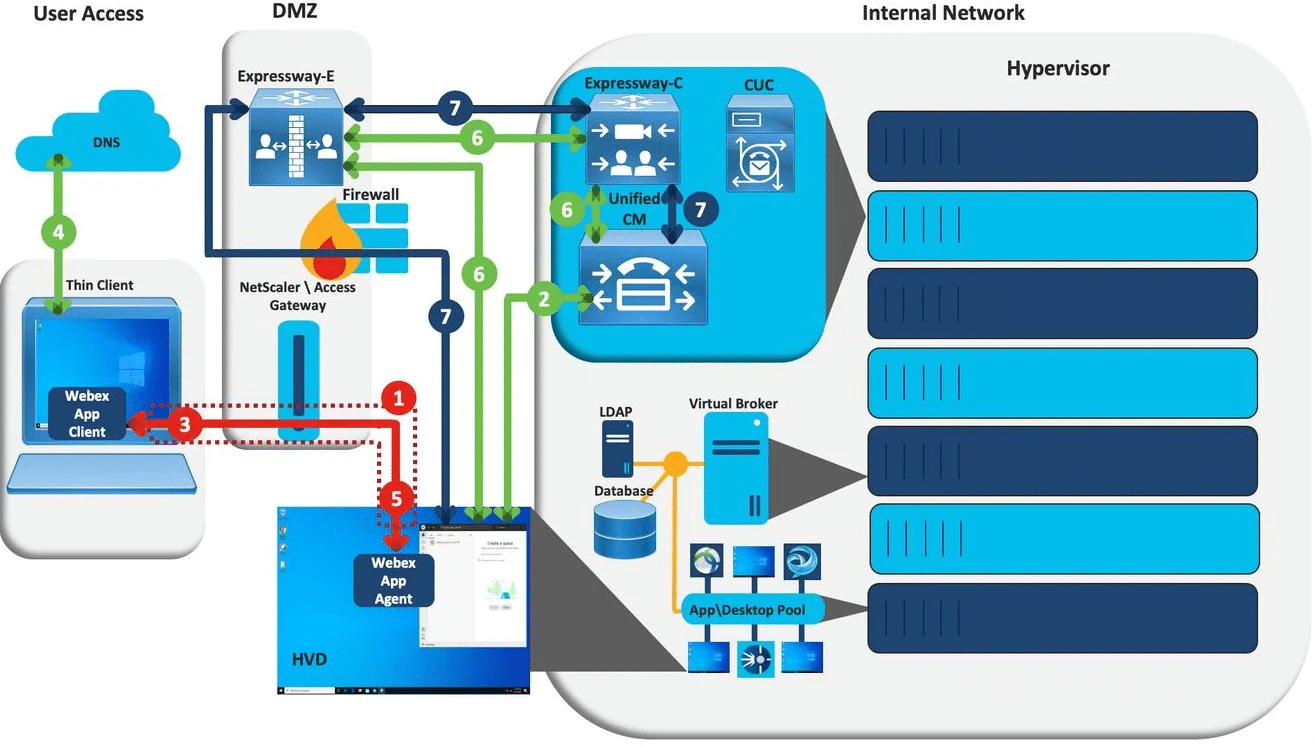 The final piece to the puzzle of enabling effective video call conferencing is effective endpoint management. Stratodesk NoTouch OS is manageable via Stratodesk NoTouch Center, making it easy to manage thousands of endpoints anywhere in the world. IT can set user roles, manage groups, and even enable MFA for added security for their entire fleet of endpoints.
In addition to easily managing all endpoints and peripheral devices in one place, admins can take advantage of our 'Extension Module' deployment feature built into Stratodesk NoTouch Center to easily deploy the Cisco Webex Teams and Cisco Webex Meetings plugin to endpoints at scale. Once deployed, Cisco Webex can be easily configured, updated and managed via Stratodesk NoTouch Center.
With Stratodesk NoTouch OS, Cisco Webex Teams and Cisco Webex Meetings, the Future of Hybrid Work Has Never Been So Plausible
In a hybrid world, seamless collaboration is more necessary than ever. Thanks to the Stratodesk and Cisco Webex Teams and Cisco Webex Meetings integrations, enterprises can reliably and securely ensure that all of their workers can stay productive and collaborate on mission critical projects no matter where they are in the world. 
Learn more about how to enable effective collaboration with Cisco Webex Teams, Cisco Webex Meetings and Stratodesk NoTouch OS in this how to guide.