Introduction
The annual VMware Explore event in Las Vegas has once again left attendees inspired and informed about the latest advancements in the world of virtualization and cloud computing. With a myriad of innovative solutions on display, engaging sessions, and the opportunity to network with industry experts, this year's event was undoubtedly a remarkable experience. It felt especially good to me to be back on the show floor, to be back with the great Stratodesk team, and to connect again with attendees, many of whom are long-standing Stratodesk customers, technology partners, and friends.
News and Announcements by VMware
VMware Explore 2023 was brimming with exciting news and announcements. The most game-changing announcements in my opinion by VMware were:
VMware Tanzu: VMware's flagship Kubernetes platform now offers enhanced capabilities for building, deploying, and managing containerized applications. The new features ensure that organizations can run and manage their applications with ease.
Project Monterey: This groundbreaking initiative promises to revolutionize data center infrastructure by enhancing security, performance, and efficiency. Project Monterey combines VMware's virtualization expertise with hardware innovation to deliver a next-generation infrastructure platform.
VMware Cloud: VMware Cloud continues to expand its reach, offering more flexibility and choice for organizations. VMware announced new partnerships and integrations to enable seamless multi-cloud and hybrid cloud deployments.
On the End User Computing (EUC) side of things, VMware also had a handful of exciting and relevant announcements in line with their Autonomous Workspaces vision. These updates span across a few different areas including:
Digital Employee Experience (DEX): New ways to measure experience, including synthetic network testing, Horizon in-guest sessions, and enhancements to the Workspace ONE Intelligence Insights feature, which uses machine learning to detect anomalous security, experience, and performance issues in an EUC environment.
Unified endpoint management and security: Including enhanced patch management for Windows devices using Workspace 1 UEM.
Apps Everywhere: This is VMware's vision for unifying app delivery and full lifecycle management across any VDI, DaaS, or published app cloud. The updates here included enhancements to App Volumes, support for Microsoft's AVD Remote App streaming, and AWS AppStream 2.0 (coming soon).
Stratodesk at VMware Explore
After being awarded the best product in 2022 in the category "Security Networking, Edge" we were especially looking forward to being part of the VMware Explore event 2023. Our booth was buzzing with activity as we showcased our cutting-edge EUC solution, which really is the ideal solution for so many organizations that offer VDI and cloud workspaces (such as VMware Horizon but also Citrix, Microsoft AVD, or Windows 365) for a distributed workforce.
NoTouch OS: NoTouch OS is a powerful, secure, Linux-based, easy-to-manage endpoint operating system, carefully created to seamlessly connect to Horizon View or any other modern, digital workspace.
NoTouch Center: The ultimate cloud-based or on-prem management platform enabling organizations to easily deploy, configure, and monitor their NoTouch-powered endpoints remotely, reducing operational complexity and cost and increasing security and endpoint manageability.
NoTouch Flex: We also got a lot of questions about our newest offering, NoTouch Flex. A real first, because Flex is the industry's first all-in-one SaaS offering that delivers cloud-hosted management of an organization's endpoints with no upfront capital investment and flexible monthly or annual licensing. The new NoTouch Flex service provides Stratodesk's managed and secure operating system for new or existing endpoints accessing modern workspaces on-premises and in the cloud – practically turning any PC into a cloud PC.
Networking and Interactions
As mentioned before, for us as a Stratodesk team, one of the most enjoyable aspects of VMware Explore 2023 was the opportunity to connect with fellow industry professionals. We had the pleasure of meeting many enthusiastic attendees, we gave countless live demos and had many meaningful discussions about Stratodesk products and integrations, the future of virtualization, and how to drive innovation in the (digital) workplace.
The "secret-code" game we organized in collaboration with ControlUp and LG was a huge hit, and it was a pleasure to engage with everyone who joined us to discover the Stratodesk code phase. Congratulations to all the winners!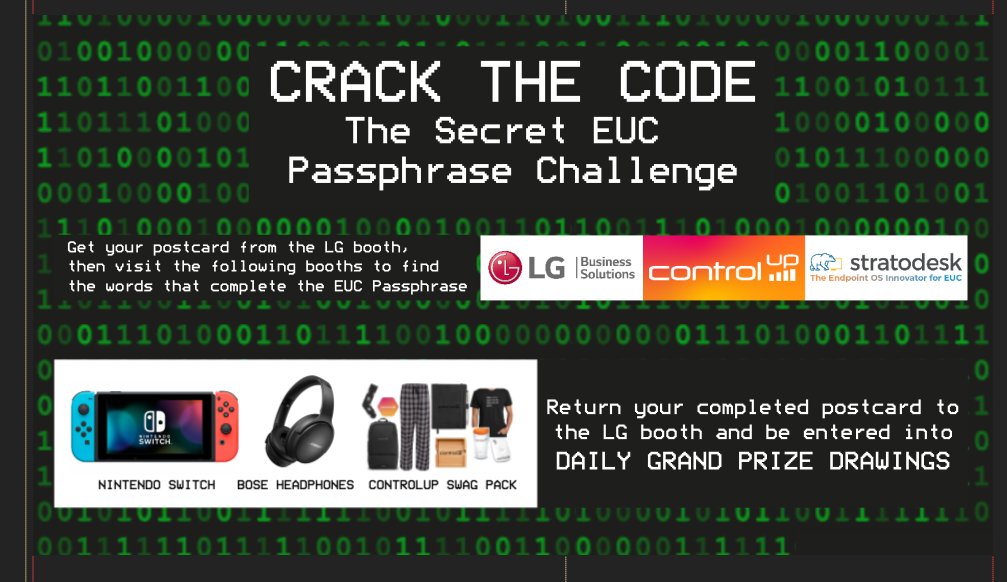 The Hall Crawl is one of the anticipated events at VMware Explore. It's a time to unwind, explore booths, and chat with others while enjoying refreshments. This year, Stratodesk added an extra layer of enjoyment by serving up cold beers at the booth. On Tuesday night, the sound of friendly conversations and laughter filled the aisle in front of our booth as people mingled and enjoyed their beverages. The team was thrilled to connect with so many attendees and share a cold beer while discussing the latest virtualization and EUC solutions. It was a great opportunity to unwind and build relationships that extend beyond the event itself. We look forward to continuing these conversations and partnerships in the months and years to come.
Session: Retail Store Modernization
A standout session at VMware Explore 2023 was the "Retail Store Modernization" session, ID: INDB1270LV. Rich Severson, VP of Solutions Engineering at Stratodesk, delivered an insightful talk on how Stratodesk's solutions are transforming the retail industry. Rich shared valuable insights on how retailers can leverage virtual desktop infrastructure to enhance customer experiences, streamline operations, and boost efficiency in the modern retail landscape.

Conclusion
VMware Explore 2023 in Las Vegas was an exceptional event filled with exciting news, innovative solutions, and valuable networking opportunities. It was truly inspiring to see so many like-minded individuals come together to share their knowledge and experiences. Stratodesk was proud to be a part of this event, showcasing our endpoint OS for any kind of X86 hardware and our endpoint management platform.
Personally, VMware Explore was not all just about technology; it was about forming relationships and the joy of coming together. As a team, I want to extend my gratitude to my awesome Marketing team – without your efforts, this show would not have been possible. I would also like to express my appreciation to the rest of the Stratodesk team, both on-site and off-site. Trade shows like this one remind me of the importance of community and camaraderie, even in a digital age where we meet through platforms like Zoom or Google daily. Throughout the event, we created meaningful connections with our colleagues at the booth, as well as with attendees and partners. We formed new alliances and rekindled existing ones, creating memories and forging new ones. As I reflect on this year's event, I am truly grateful for the opportunity to connect, share, and learn from each and every one of you.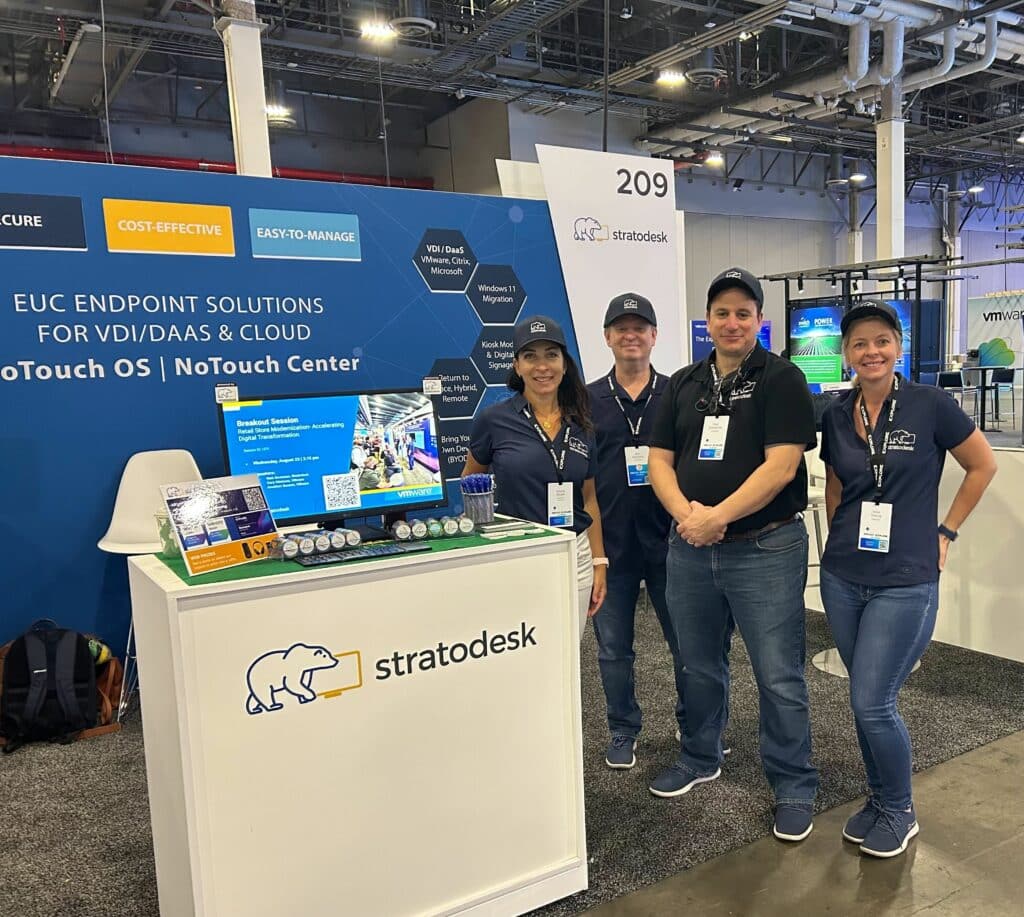 We are excited to embark on another chapter of exploration and teamwork in the realm of EUC and virtualization. We extend our gratitude to all those who joined us; it was an absolute delight getting to know each and every one of you! We look forward to seeing everyone at VMware Explore Barcelona in November!