Anticipation was high for HIMSS 2022 as healthcare leaders from around the world gathered once again to weigh in on the biggest trends in healthcare IT. 
As is often the case at major trade shows, what happens on the showroom floor – the questions asked by attendees, and the conversations had between vendors, participants and even customers looking for solutions and innovations – is more telling of the current issues facing healthcare IT than the big keynote speeches. 
Here's the inside scoop we got from the ground floor, talking to actual vendors and attendees, either through casual conversation, or thanks to scheduled and planned meetings. 
In 2022, Healthcare IT is More Mobile than Ever
Interestingly enough, mobility in healthcare settings continues to be a challenge for IT to solve. Prior to the pandemic, when we discussed mobility in healthcare settings, we mostly were referencing the need to provide healthcare workers with seamless access to apps and data throughout the confines of the hospital.
Today, however, healthcare IT is looking beyond the physical hospital perimeter towards enabling mobile healthcare workers. Things like enabling home visits, COVID-19 testing clinics and telehealth have prompted the need for enabling access to apps and data from beyond the hospital. 
Managing these devices, and ensuring that they are secure, is one of the most pressing challenges on the minds of healthcare IT leaders. 
Healthcare IT is Looking Beyond Dependency on Windows Endpoints
In addition to the mobility and management challenge, IT leaders are recognizing the need to step out of the looming shadow of Windows endpoints. Here are a few reasons why:
Windows endpoints are difficult to secure and manage:

IT leaders find that when they run Windows on endpoints, different endpoints house different versions of Windows, and are time consuming and expensive to update and ensure security for.

Windows endpoints – orphaned by Windows 11:

Windows devices are quickly orphaned, with the majority of existing devices not even capable of meeting

the lofty standards for compatibility

with Windows 11. 

Easing licensing requirements

: It's difficult to ensure Windows endpoints are properly licensed as well as up to date and in compliance with both internal and external policies.
The Chip Shortage is Ever Present on the Minds of IT Leaders
Another key issue discussed at our booth in the Citrix Ready Partner Pavilion at HIMSS22 was the looming chip shortage. Expected to continue on into 2024, healthcare IT is finding it challenging to acquire new devices, let alone affordable ones.
IT leaders are looking for an answer.
Of course, the lowest hanging fruit option is to simply invest in cheap, underperforming devices. Although these devices might not be able to meet the full demand of a modern workplace, they are "good enough". 
However, once deployed across a diverse range of home sites, COVID clinics, hospitals and offices, it becomes abundantly clear that these devices are in fact adding more management complexity as enabling things like video streaming, collaboration, and advanced software applications is a problem. 
Stratodesk NoTouch OS is the Secure Endpoint OS for your Hybrid Healthcare Deployment
As we shared at our booth, Stratodesk NoTouch software helps healthcare IT overcome these current challenges facing a productive healthcare endpoint deployment. 
Enable remote endpoints with Stratodesk Cloud Xtension: Stratodesk Cloud Xtension Enables seamless access to corporate apps and data wherever the endpoint is located. By making it easy to connect to the corporate network from anywhere, IT get remote users up and running on new devices in a matter of minutes, enabling their mobile workforce.
Remove Windows Dependency: Stratodesk NoTouch OS is Linux based and replaces Windows on endpoints. This means healthcare IT can reuse existing devices, and because Stratodesk NoTouch OS includes the latest VDI clients for AVD, Citrix, Nutanix and VMware, these workspaces look and feel like new, helping IT to overcome the chip shortage. 
In fact, organizations have reported saving as much as $400 per endpoint thanks to PC Conversion – effectively turning outdated devices into healthy and technologically sound endpoints. 
At Our Topgolf Event, All Eyes Were on the Cloud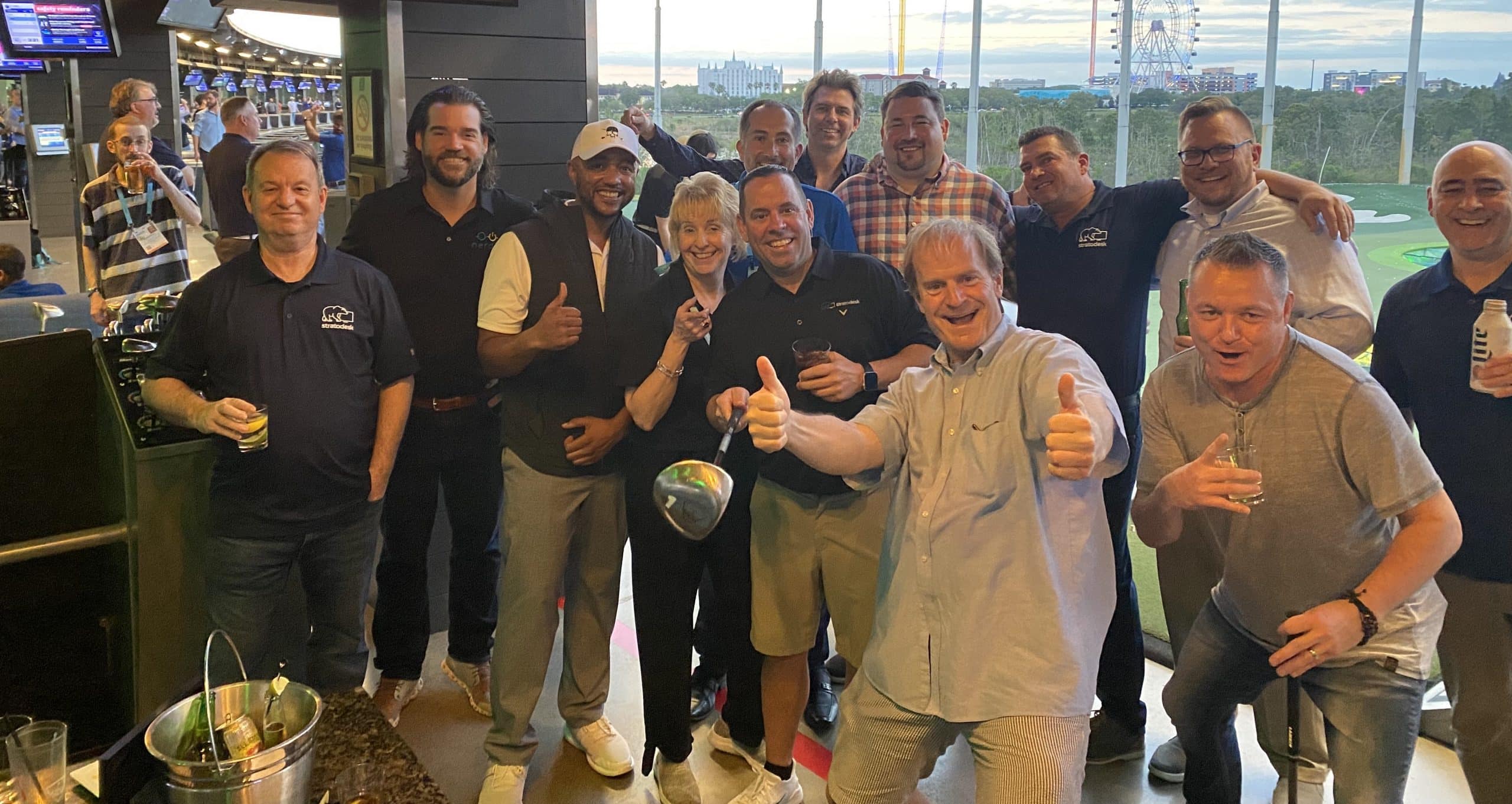 Sometimes, the best discussions also happen off the showroom floor at partner hosted events. This year, we were able to host an event with Nerdio, Login VSI and Liquidware. At the event, not only did we play Topgolf and enjoy a good time, we also discussed how our solutions work with leading Cloud providers like Microsoft Azure Virtual Desktop, making it possible for anyone to connect to the cloud workspaces they need wherever in the world they are located.
On the hardware side of things, LG All in One Monitors were the star of the show as they demonstrated how their advanced thin clients enable healthcare use cases, working on carts, and aiding the mobile workforce. Thanks to our partnership with LG, Stratodesk NoTouch OS is deployable on LG thin clients directly out of the box. This makes it even easier for IT to get users up and running quickly.
Find the Cure For Your Endpoint Deployment with Stratodesk NoTouch OS
We enjoyed meeting with everyone at HIMSS22 and we can't wait for next year's show! Until then, however, the best way to move forward with finding the right cure for your healthcare endpoint deployment is to get in touch with one of our knowledgeable tech professionals. 
Click the button below to schedule a meeting with us today!