Stratodesk is showcasing the leading healthcare endpoint OS and management solution at HIMSS 2020. At our booth, you can take part in the Citrix Ready Partner Passport Program, learn about our history making solution from one of our knowledgeable tech professionals, or join us for a live presentation on Stratodesk software and how we help healthcare providers get fast and secure access to patient data, wherever, whenever. It's all happening at HIMSS 2020 booth 1741.
Stratodesk Provides Secure Connection to Virtual Desktops –HIMSS 2020
No matter what solution you use, Stratodesk has you covered. Our powerful, next-evolution software based solution quickly converts endpoints into high powered Thin Clients, regardless of make model and manufacturer. Stratodesk software also includes the latest software client for all major VDI solution providers, including Citrix Workspace app and VMware Horizon Client.
Healthcare Providers Get Instant Access To Important Apps and Data
Most importantly, Stratodesk helps healthcare providers get their work done and save lives. Our software seamlessly integrates with third party authentication solutions like Imprivata. This way, healthcare providers can quickly and safely access confidential patient data. Because Stratodesk software is Linux-based, endpoints are secure. Confidential data is not housed on the endpoint device.
Also, Stratodesk software replaces Windows on endpoints. That's right – cancel malware and anti-virus contracts. Stratodesk software is impervious to common security exploits. For more specific challenges, Stratodesk also offers the Disk Encryption add-on.
Healthcare Cuts Costs with Stratodesk Software
Besides the obvious security benefits, healthcare chooses Stratodesk to reduce budget costs. For example, healthcare organizations can expect to reduce costs by more than 40% thanks to Stratodesk PC Conversion. Additionally, healthcare organizations are able to save 13 weeks of IT personal hours. Lastly, healthcare IT saves an incredible amount of time with Stratodesk software.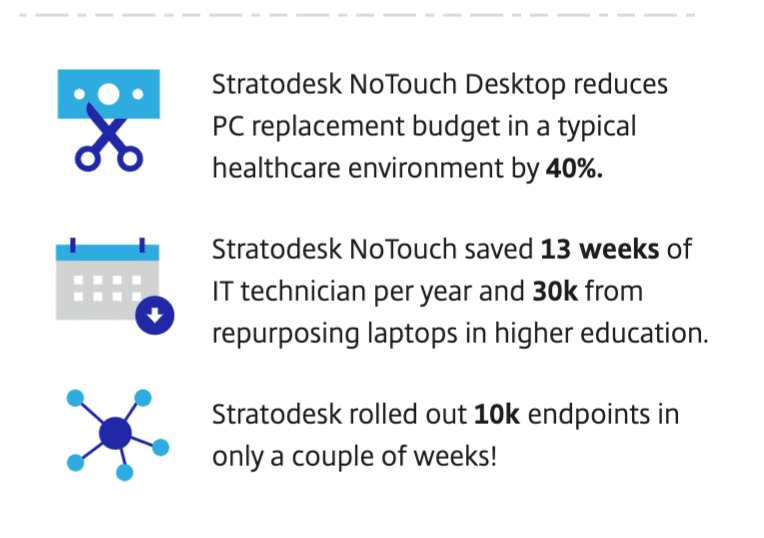 Healthcare IoMT Is Ripe for Innovation – See it at HIMSS 2020
Finally, Stratodesk software is perfectly poised to innovate healthcare IoT. Also known as the internet of medical things, or IoMT, Stratodesk is the first solution able to streamline VDI, Cloud and IoT workspace deployment across your healthcare environment. IoMT's use has been on the rise, and will continue to grow as we head into the 2020s. Most importantly, the use of IoT technology in a healthcare deployment can improve the quality and efficiency of patient care.
We will be at booth 1741 at HIMSS 2020 in Orlando. Visit us in the Citrix Partner Pavilion and learn how we help innovate endpoint deployment for VMware, Citrix, Oracle, Nutanix, Teradici, Amazon Work Spaces deployments and beyond.
Image credit: Total Shape