Enhanced Stratodesk NoTouch OS 3.3 leverages the most up to date Linux Kernel; Comes with updated collaboration support for Avaya, Cisco WebEx, ControlUp, and TigerVNC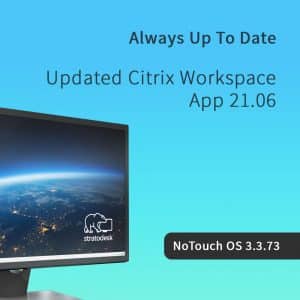 San Francisco, CA – July 13, 2021 – Stratodesk, the leading global innovator in EUC management and OS software, today announced NoTouch OS 3.3 — part of the game changing "Emerald Bay" software generation that made its original debut with NoTouch Center 4.5. With NoTouch OS 3.3, Stratodesk extends its Stratodesk Plus ecosystem by supporting new and updated third party modules including Avaya, Cisco WebEx, ControlUp, and TigerVNC. NoTouch OS 3.3 is built on Linux kernel 5.12 and includes the ability to run Microsoft Edge natively in addition to previously supported Chromium, Firefox and Google Chrome browsers, as well as day one support for Clients from Citrix, Microsoft Azure Virtual Desktops (AVD), Nutanix and VMware. With unparalleled innovation at its core, NoTouch OS 3.3 promises to establish a new era of harmonized EUC integration and innovation.
"Stratodesk NoTouch OS 3.3 proves Stratodesk's commitment to enabling our technology partners while providing the most complete, managed thin endpoint operating system in the world," says Stratodesk Founder and CEO, Emanuel Pirker. "By continuing our legacy of innovation, NoTouch OS 3.3 includes the ability to solve virtually endless use cases through a truly massive conglomerate of technology partners imaginable."
Beyond extending the Stratodesk Plus ecosystem, NoTouch OS 3.3 solidifies Stratodesk's record of lightning fast innovation by including the newly released Linux kernel 5.12. The only true Multi-Kernel-Operating System in the thin endpoint industry, Linux kernel 5.12 has the widest hardware support, stretching from ultra-new 64-bit devices back to the 32-bit ones based on kernel 2.6. NoTouch 3.3 brings Linux kernel's advanced functionality into the Stratodesk solution's long history of supporting innovations like ARM based Raspberry Pi and Jetson Nano devices coherently with x86 devices.
NoTouch OS 3.3 builds on a history of innovation by including support for Avaya, Microsoft Edge for Linux, as well as vital collaboration tools like Cisco WebEx, Microsoft Teams and Zoom — raising the bar for what IT leaders have come to expect from EUC companies. In addition, NoTouch users will benefit from enhanced monitoring options via ControlUp, as well as security benefits thanks to the CrowdStrike Falcon support.
"NoTouch OS 3.3 goes beyond anything the industry has seen so far by delivering a truly all-in-one solution for any enterprise deployment," says Stratodesk VP of Strategic Alliances, Jim Thames. "By bolstering interoperability between complementary solutions, the new generational update breaks new boundaries and further establishes Stratodesk Plus as the industry leading, EUC Technology partner program."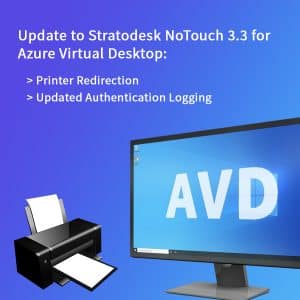 Stratodesk NoTouch Center and NoTouch OS together are the leading thin client endpoint software letting organizations transform any PC, thin client, laptop or Raspberry Pi device into a secure and centrally managed VDI/DaaS endpoint. NoTouch is a proven endpoint software for Citrix, Microsoft AVD, Nutanix deployments and VMware Horizon, as well as many others – on-premises or Cloud. Additionally, NoTouch OS 3.3 highly enhances customers' AVD experience with updated authentication logging and printer redirection. With its minimal hardware requirements, simplified deployment and ease of operation, customers save big by eliminating hardware refreshes, licensing of third-party software, and work hours.
"By leveraging Avaya with Stratodesk, we were able to empower our workforce to work effectively from anywhere in the world," says Marlon Beltz, Director of Work At Home and Virtualization at Teleperformance. "Additionally, Stratodesk worked seamlessly with our deployment, securing endpoints and making endpoint management a synch for our entire, dispersed and hybrid deployment."
In addition to these benefits, integrations and features, NoTouch OS 3.3 also includes a variety of additional features and benefits for enterprises including support for custom connection icons, a new monitor control tool, and a floating toolbar for Free RDP deployments.
"Stratodesk's NoTouch OS 3.3 solves many of the challenges facing organizations in enabling dispersed workforces and continues to build upon the integration with ControlUp's Real-time product suite," says JD Helms, VP of Channel and Alliances at ControlUp. "ControlUp's RemoteDX and EdgeDX deliver the visibility into user-side telemetry that impacts their Digital Employee Experience. Our mutual partners and customers benefit greatly regardless of their preferred VDI/DaaS deployment."
"The future of work is flexible" says Simon Burgess, Enterprise Business Manager at Raspberry Pi (Trading). "While the Raspberry Pi continues to break new ground, and is used around the world to solve issues caused by the pandemic that plague industries like healthcare and education, Stratodesk has continued to innovate on the Thin Client side, delivering a multi-kernel operating system capable of deploying both x86 and Raspberry Pi devices in the same, enterprise production environment. NoTouch OS 3.3 builds on this legacy of excellence and continues to deliver the unparalleled ability of IT leaders to deploy any device they need to get the job done."
Stratodesk customers interested in accessing the latest major release from the EUC leader should visit their Stratodesk customer portal and download the latest NoTouch OS 3.3 release.
For those interested in trying Stratodesk for the first time, a free trial is available.
About Stratodesk
Founded in 2010, Stratodesk is the fastest growing global software company redefining end user computing by delivering an all-in-one solution for VDI, DaaS and IoT markets. Stratodesk's cutting edge Linux-based OS and management suite, NoTouch, is the hardware agnostic solution that enables companies to cost-effectively manage their entire secure digital perimeter. Stratodesk solution works seamlessly across x86 and ARM/Raspberry Pi based hardware products to provide a unified platform for all your endpoints. It increases endpoint security, simplifies user experience, and allows customers to maximize the benefits of their existing desktop hardware through PC conversion. Today with nearly one million licenses deployed across multiple industries including healthcare, finance, retail, and education. For more information, please visit www.stratodesk.com.