Healthcare IT faces many challenges managing day-to-day operations of their hospitals. And it is hard to imagine a more complex VDI environment with a more intricate set of demands. The high performance level required stems from the incredibly hardened security standards placed on hospitals. But hospitals are also busy places. Doctors are always on the go, moving from patient to patient, and must be able to access important and protected patient information at different places throughout the day. For this reason, Healthcare IT needs a balanced approach between security and convenience, allowing Healthcare professionals easy access to the apps and data they need wherever and whenever they need it.
In order to achieve these goals, there is no better solution for Healthcare IT than the combination of VDI, Stratodesk software and Imprivata Single SignOn solutions. For this reason we partner with the #1 Digital Identity solution provider in order to allow Healthcare professionals and organizations to leverage the full benefit of a truly powerful endpoint network.
Key Challenges Facing Healthcare
The Windows Issue
The first obstacle is overcoming the Windows issue. In order to allow for VDI, Healthcare organizations need to house Windows on each of their endpoint devices. In addition to
installing Windows, they must also maintain and manage them. Not to mention providing antivirus and malware protection for each and every device. To make things worse, different devices house different versions of Windows, so standardizing these devices can be a huge challenge. The costs associated with all of the above is high and poses a significant difficulty.
The Problem with Security 
The key concern for Healthcare IT, system admins must not only increase security but must ensure that they are compliant with HIPAA regulations that dictate precisely what can and cannot be done with patient information. And yet, Healthcare professionals must be able to quickly and conveniently access this information on the go, whenever and wherever they need it. This causes great concern for IT administrators who now have an equally high demand put not only on budget and security, but also on accessibility.
Data and Application Delivery 
Accessibility is the third point, and cannot be stressed enough. Without an endpoint solution in place that is convenient to access and one that offers a seamless user experience, Healthcare staff cannot function. In a Healthcare setting, technology that saves seconds is of paramount importance. Healthcare demands a solution that is as effective as it is secure, and as affordable as it is accessible.
Stratodesk/Imprivata Integration Solves these Key Issues
Through the integration of Stratodesk and Imprivata, Healthcare organizations can get the full benefit of their VDI –harnessing the power of secure endpoints, cost savings, and convenient and secure access to patient data and applications.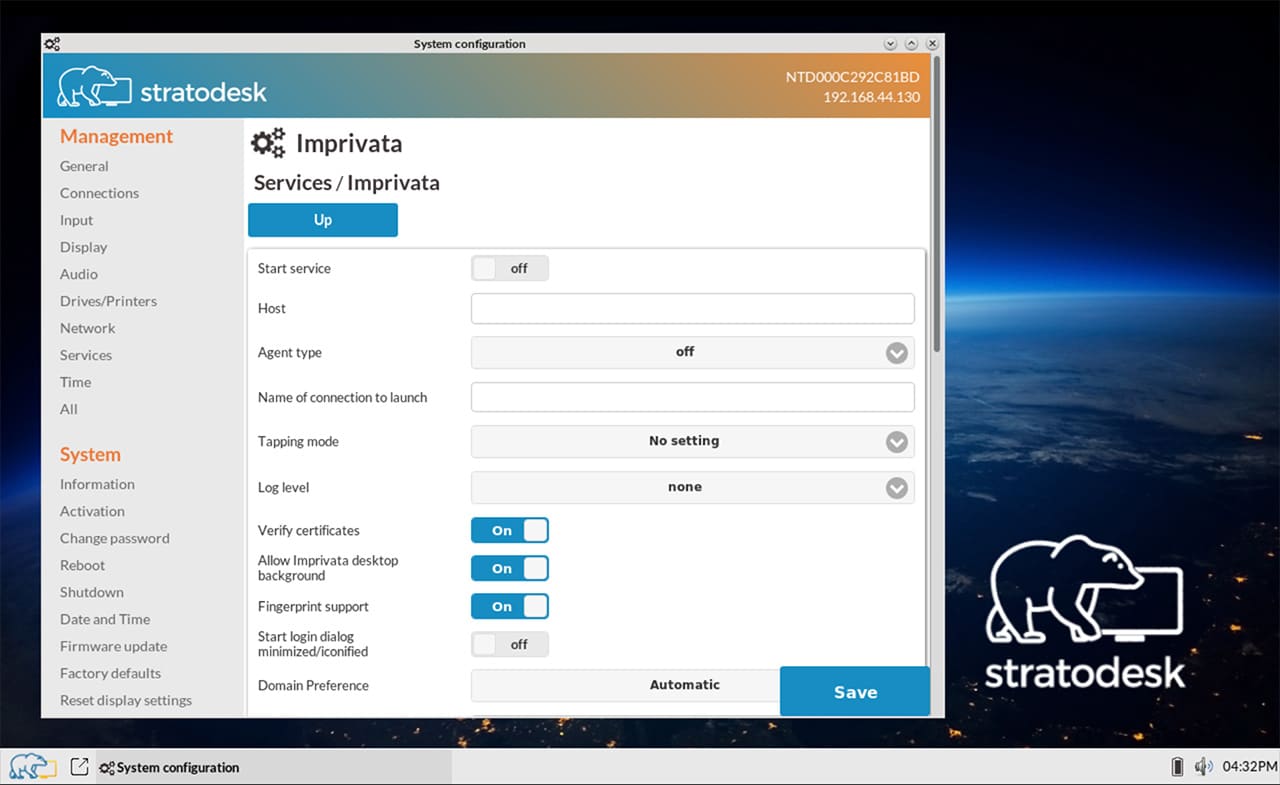 No Need for Windows 
Because Stratodesk NoTouch OS is Linux based, you do not need to have Windows installed on your device. This effectively removes the costs and overhead needed to update, maintain and secure Windows based endpoints in your VDI. NoTouch can, however, run alongside your device's native operating system. Simply boot it from a USB and you are ready to securely access apps and data.
Boost Security and Accessbility 
With Stratodesk software, no information is stored on the endpoint device at all. It is instead kept securely on your server where it cannot be harmed by theft, misuse, or common security exploits. By supporting Imprivata on NoTouch OS, we ensure that your healthcare professionals get easy and secure access to their information whenever and wherever. This includes Single SignOn, secondary authentication methods, Fast User Switching and more. The integration of Imprivata on NoTouch is one of the most complete integrations available on the market today.
Save on Costs
NoTouch Desktop provides a solution that easily repurposes PCs, Laptops and Thin Clients in your Healthcare VDI into NoTouch endpoints, operating on NoTouch OS. For Healthcare, this is massively important. Not only does NoTouch OS save money by eliminating the need for capital purchases of hardware while eliminating common security threats, our integrated management suite, NoTouch Center, gives complete control over all VDI endpoints. Reduce IT staff hours and hassle with a single endpoint management solution for your entire VDI.
Read our white paper to get an in-depth look at how Stratodesk and Imprivata work together to overcome the significant challenges facing day-to-day Healthcare operations, or visit our Imprivata solutions page for more details.