Blog post by Paul Craddock, Stratodesk Sales Engineer.
In July, Stratodesk announced changes to the way NoTouch updates devices with the new NoTouch Cascade feature. Since then, we've been developing a new and improved way for  firmware updates to be applied to devices. This is especially difficult in large environments where organizations have hundreds or thousands of devices in a single group. Originally introduced in NoTouch Center version 4.4.169, this cutting edge feature applies a limit to the number of devices that will be updated at any point in time. It is incredibly simple to set up. To do so follow these steps:
Step 1: In NoTouch Center, go to the settings for the group that you would like to update devices in and look for the 'Concurrent Update Limit' parameter in the main screen, as shown in the example below. By default, this parameter is set to zero which also means that it is disabled.

Step 2: To enable the feature simply enter a the maximum number of devices that you would want to update at any point in time to the 'Concurrent Update Limit' parameter along with the 'Image Version' & 'Client OS Update Image Mode'. Once that's done, simply announce the change. The example above shows that no more than 20 devices will update at any one point in time.
Setting Times for When Updates Will Occur
In addition to this, you can also restrict when devices will update using the No Update From and To parameters. With these set, you will ensure that devices will NOT update during these hours. However, please bear in mind that the time stamp of the endpoint and not NoTouch Center is referenced here . Keep this in mind if you have multiple devices in different time zones.
The screenshot below provides an illustration of a group updating devices to image version 3.2.579d and will do so after a reboot. However, devices will not update between the hours of 08:30 & 17:00 hours Monday to Friday, and the schedule will not start until after the 2020/12/1 at 12:00AM.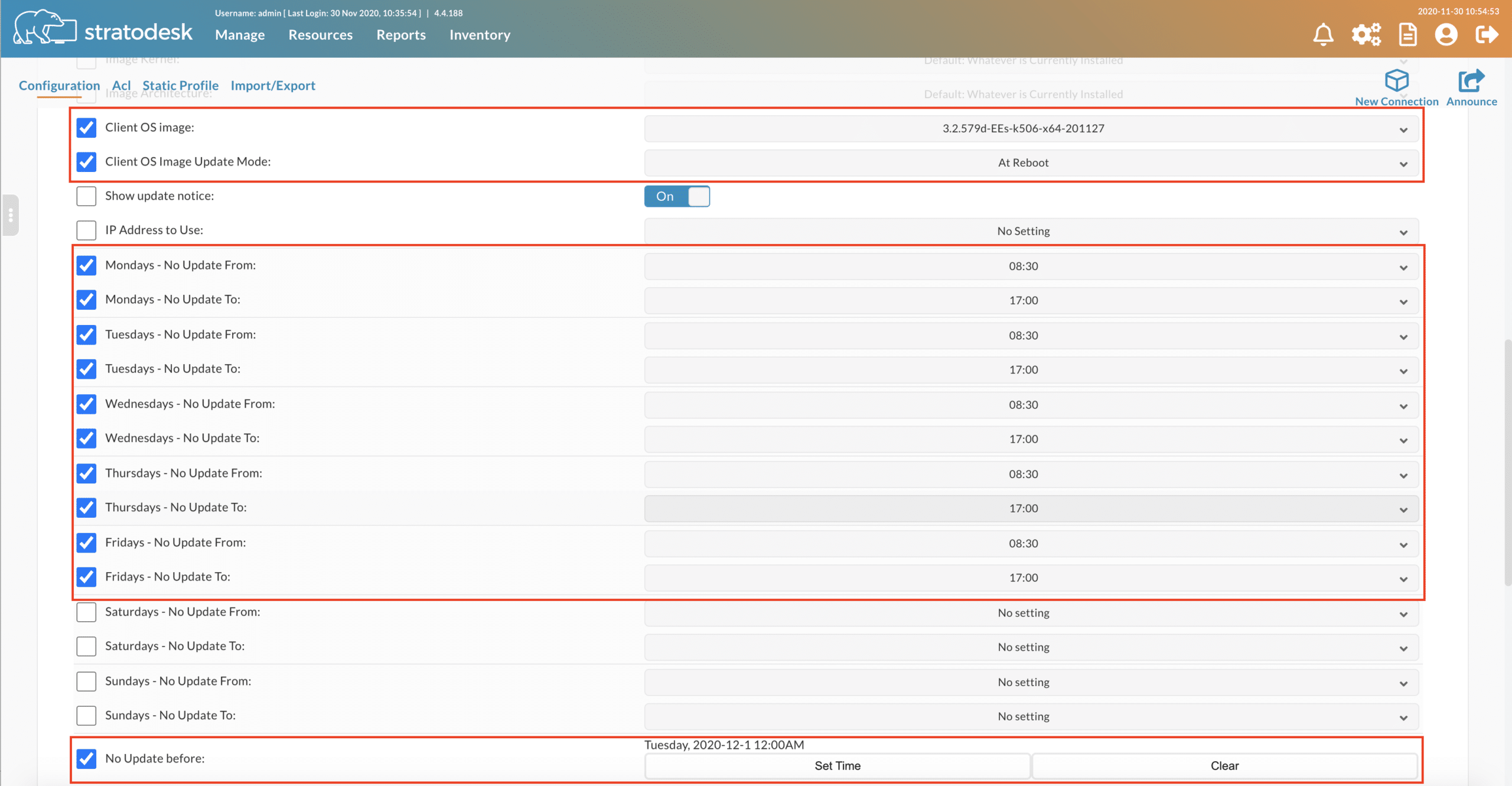 This schedule ensures that devices will not try to update during the work day. You could also create a Cron task to power cycle devices out of hours and further information on how to create Cron tasks can be found in the following Stratodesk kb article.
Hope you enjoy this new, terribly effective feature from Stratodesk – it will make managing your entire fleet of devices that much easier!