Unlocking New Frontiers with Raspberry Pi 5 and Stratodesk's Secure Operating Systems
Stratodesk, an innovation leader in secure operating systems and endpoint/edge management solutions for over 10 years, has been part of the Raspberry Pi ecosystem since 2017. Originally chosen as the software provider of the Citrix Ready workspace hub, Stratodesk was integral in the adoption of the Raspberry Pi platform as a high-performance, manageable, enterprise-ready 
Thin Client. Today Stratodesk continues to collaborate with the Raspberry Pi Foundation and various hardware and solution partners such as ClearCube, Continuum, and NComputing to deliver cost-effective, secure, scalable access to virtual workspaces, VDI, and DaaS solutions that power the productivity of workers across industries, large enterprises all over the world.   
With the introduction of the Raspberry Pi 4, the Citrix Ready workspace hub, having overcome a lot of enterprise hurdles such as native dual display support up to 4K resolution, continued its advancement into a mixed-use case device. 
"Much more than a thin client, the Citrix Ready workspace hub leverages next-generation Citrix Workspace IoT technology, like Citrix Casting and Proximity Authentication, to enable intelligent workspaces of the future," said Vice President of Emerging Solutions at Citrix Systems, Chris Fleck.
With an exciting set of new capabilities, Raspberry Pi 5 now extends the opportunity for  VDI, Cloud, IoT, Edge, and even more creative use cases for combined technologies. Raspberry Pi 5 and NoTouch, a lean but remotely manageable edge/VDI OS and a device management platform are the ideal combination to take any vision to new frontiers. Stratodesk's commitment to the Raspberry Pi platform and Raspberry Pi ecosystems remains as strong as on day one. 
"Even more disruptive than its predecessor the Raspberry Pi 5 will set new standards in economical but highly powerful hardware," predicts Emanuel Pirker, Founder and CEO of Stratodesk. "We are very committed to the Raspberry Pi ecosystem and Raspberry Pi and we are looking forward to offering NoTouch to our partners and customers as the Raspberry Pi 5 OS and management platform of choice for their VDI, DaaS, and IoT projects." 
"Stratodesk is a longstanding and valued strategic partner. Our pre-existing relationship encompasses the delivery of complete corporate desktop solutions," said Roger Thornton, Director of Applications with Raspberry Pi Ltd.  "This partnership is now extended by bringing the power of Stratodesk NoTouch software on the new and high-performance Raspberry Pi 5 helping our customers to build exciting new workspace and IoT experiences at the edge."

Introducing the Raspberry Pi 5: Unleashing Unprecedented Performance and Enhanced Interfacing Capabilities
Raspberry Pi 5 is here and builds on the phenomenal success of Raspberry Pi 4. In comparison with its predecessor, it delivers a 2-3x increase in CPU performance, and a significant uplift in GPU performance, alongside improvements to camera, display, and USB interfacing.
These interfacing improvements are delivered by the RP1 I/O controller 
chip, designed in-house by Raspberry Pi. This is not news that the Pi silicon in a flagship product was designed in-house.
Raspberry Pi 5 key features:
2.4GHz quad-core, 64-bit Arm Cortex-A76 CPU, with 512KB L2 caches and a 2MB shared L3 cache

VideoCore VII GPU

LPDDR4X-4267 SDRAM (4GB and 8GB SKUs available at launch)

2.4 GHz and 5.0 GHz 802.11ac Wi-Fi

Bluetooth 5.0 / Bluetooth Low Energy (BLE)

Micro SD card slot, with support for high-speed SDR104 mode

2 × USB 3.0 ports, supporting simultaneous 5Gbps operation

2 × USB 2.0 ports

Gigabit Ethernet, with PoE+ support (requires PoE+ HAT)

2 × 4 lane MIPI camera/display transceivers

PCIe 2.0 x1 interface for fast peripherals

5V/5A DC power (PD enabled)

Raspberry Pi standard 40-pin header

Real-Time Clock (RTC), powered by an external battery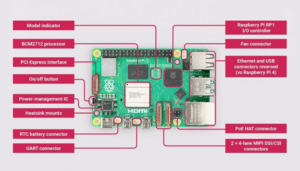 Transform your Raspberry Pi into a powerful PC alternative with Stratodesk NoTouch OS

Stratodesk NoTouch OS has been supporting Raspberry Pi devices for more than 6 years. During this time, the OS has been optimized to deliver a PC-like experience for VDI use cases on these devices. NoTouch OS transforms a Raspberry Pi into a viable PC alternative endpoint for connecting to virtual desktops, cloud PCs, DaaS, and cloud workspaces.  
Some key capabilities for a Raspberry Pi 5 using Stratodesk NoTouch OS include:
Certified support for Citrix Virtual Apps and Desktops and Citrix DaaS

Certified support for Microsoft Azure Virtual Desktop and Windows 365

Certified support for VMware Horizon and VMware Horizon Cloud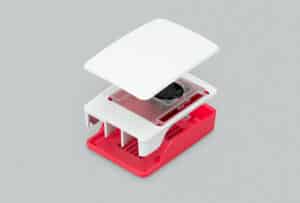 The Ultimate Solution for Cost-Effective and Efficient Computing
While there are many alternatives, Raspberry Pi devices running Stratodesk represent the pinnacle of the concept to replace a costly traditional PC running a Windows operating system with a more efficient and cost-effective device. This concept continues to be true with the new Raspberry Pi 5 due to its expanded hardware capabilities, and the possibilities driven by the latest and greatest version of Stratodesk NoTouch software. Some of the key variables include:
Use case segmentation

–In any given company, there are various types of users, each with their own set of needs and use cases. Now, imagine having the ability to assign the appropriate hardware for each scenario, without any added management complexity. This approach ensures a great end-user experience, without any compromise on budget or resource allocation.

Security

–Small devices do not translate into security risks when you run Stratodesk. NoTouch OS is a Linux-based operating system with a minimal attack surface, an encrypted and lockdown file system, and all interfaces executed through secured protocols. No data user or company data resides in the device



Cost-effective

–The incremental hardware advances in the Raspberry Pi 5 make it a unique value proposition as an end-user endpoint. It will be hard to find another device with a better initial price of $80.00 (8Gb RAM board only).

Environmentally friendly

–Once requirements are met, customers using Raspberry Pi devices experience savings in three key areas:  1/ more efficient than traditional PCs in their power consumption, 2/the longer life span of the device allows for fewer refresh cycles, and 3/ less waste when the devices come to their retirement point in time

Simplified deployment and unified management

–Stratodesk delivers amazing value to customers bringing Raspberry Pi 5 devices into their environments. First, NoTouch OS runs on both Raspberry Pi devices but also on traditional x86 PCs, laptops, and thin clients acting as the homogenizer or common denominator for all devices in the environment.  Here is where NoTouch Center (our management software ) comes into play. All devices (Pi and x86) are deployed, updated, configured, and managed from a single pane of glass and in the same way. NoTouch Center automation works on all devices independently of hardware saving hours for desktop administrators.

From virtual desktops to IoT

– The flexibility of the combined solution drives value for a wealth of use cases within the world of virtual and cloud desktops. Our customers have also extended the use of Raspberry Pi together with NoTouch software in industrial IoT to advance their implementation of supervisory control and data acquisition (SCADA) systems. Stratodesk NoTouch OS is powering today's HMI and PLC devices in manufacturing environments. Together Stratodesk and Raspberry Pi 5 devices increase the efficiency of operations and improve data security and employee safety while lowering implementation and operational costs.
Conclusion
Our customers love their perfect pairs, like peanut butter and chocolate or cheese and wine. And for them, Raspberry Pi 5 and Stratodesk NoTouch are the ultimate match. We are waiting for the arrival of the sample boards and our engineering team will test them upon receipt. We'll keep you posted with the latest updates as we put the Raspberry 5 Pie devices through their paces across all the use cases that our customers expect. Additionally, we'll collaborate with our hardware partners to help them deliver complete products using Stratodesk NoTouch. Stay tuned for more exciting news!
More information