The latest evolution of Stratodesk software eases adoptability while increasing user experience
San Francisco, CA  –  June 7, 2022 (5:04am PT) – Stratodesk, the leading global EUC innovator of endpoint OS software, today announced the general availability of its latest software evolution, Stratodesk NoTouch OS 3.4. Answering top challenges facing enterprises in a new hybrid work world, Stratodesk NoTouch OS 3.4 increases the adoptability and useability of high performance, hybrid cloud workspaces. Stratodesk's newest operating system accomplishes this through the addition of capabilities enabling simpler end-user experiences, advanced, high resolution protocols, and integration of the latest Cloud and VDI solution provider software releases.
"According to our primary research, 81% of technology-based workers perform at least some job tasks outside of the physical office," noted Steve Brasen, Research Director at Enterprise Management Associates. "Most legacy technologies are not equipped to securely deliver IT services to remote users without impeding their productivity. Stratodesk NoTouch OS 3.4 works with existing IT infrastructures to create consistent user experiences, and the newly released self-service capabilities enables broad deployment with ease."
Stratodesk NoTouch OS 3.4 Addresses Challenges Facing IT by Enabling Hybrid Work
In 2022, ensuring the effectiveness of secure, high performance, hybrid cloud workspaces is a key challenge facing IT leaders. Businesses continue to seek new and better ways to provide their workers with workplace flexibility. In fact, a recent study found 100% of IT leaders polled desired a hybrid work model.To achieve this without making sacrifices in productivity, enterprises require a more powerful, more adoptable, and easier to use endpoint OS than any previously available on the market.
Stratodesk addresses this need with a new evolution of Stratodesk NoTouch software. Stratodesk NoTouch OS 3.4 boasts critical features to enable the new, secure hybrid work world. It also includes the biggest graphical user interface (GUI) update since the last major update released in 2021 – a new first-time installation wizard and sleek new design elements that streamline end user experience. Together these improvements will reduce helpdesk requests for large enterprises by making the endpoint easier to set up and interact within remote work scenarios.
A Simpler Out-of-the-Box Experience for Stratodesk NoTouch OS Enabling Customers to be Self Intuitive
Updates made to the GUI will deliver a simpler out-of-the-box experience of Stratodesk NoTouch OS. First time Stratodesk NoTouch admins remain in full control, all while end users can take a simpler self-serve approach. The updated installation process will guide system admins step-by-step through a process that will make endpoint deployment across thousands of devices easier – delivering on Stratodesk's mission to ease adoptability for enterprise customers.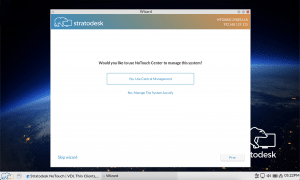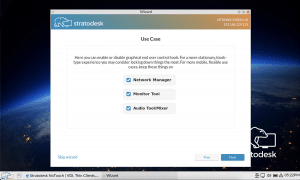 New graphical elements include several additional icons to compliment the minimalistic design of Stratodesk NoTouch OS . An ideal alternative to the traditional "hotkey" approach, these icons are an easy and intuitive way for remote workers to manage their networks, enable multi-monitor display, and access their sound settings.
Natively Cloud Friendly Updated Clients to Enable Cloud Workspaces are Included
Ultimately, updates made to the Stratodesk NoTouch OS out-of-the-box experience will embolden Cloud and traditional VDI workspaces.
"In 2022, we expect to see more businesses look to the cloud to enable hybrid work," says Stratodesk Strategic Alliances VP Ricardo Antuna. "Regardless of the physical locations of endpoints, Stratodesk NoTouch OS 3.4 is designed to ease challenges in scaling hybrid deployments and the adoptability of hybrid workspaces."
To achieve easier adoptability and scalability for secure cloud workspaces, Stratodesk maintains its historic first day deployment for brand new Linux clients as they become available from VDI/Cloud solution providers including Citrix, Microsoft, Nutanix and VMware. Stratodesk NoTouch OS and NoTouch Center are fully cloud native, and let customers choose any on premises or cloud-based solution to empower their hybrid workspace deployments.
"Adoptability in a hybrid work world is a greater necessity than ever before," says Stratodesk founder and CEO, Emanuel Pirker. "By ushering in a new evolution of Stratodesk software, we are effectively saying 'we're here for it'. Hybrid work has never been so compelling an offering, enabling everything from retaining better talent, increased productivity, all while providing a better work-life balance. Of course, making the user experience for remote workers as seamless as possible is vital to the productivity of any organization. Updates made to Stratodesk NoTouch OS reflect changes in the modern work world as we all jointly seek a new and better way for hybrid work."
Furthering the advancement of scalability in hybrid work deployments are the latest updates to Stratodesk Cloud Xtension. Stratodesk has enhanced the already extensive capabilities of Stratodesk Cloud Xtension, effectively improving scalability performance for hybrid cloud deployments.
Stratodesk NoTouch OS is the First EUC Endpoint Software Support to Support Mechdyne TGX
Adding to its history of firsts, Stratodesk NoTouch OS 3.4 includes the availability of Leostream within Stratodesk NoTouch OS. Available natively, Stratodesk NoTouch OS is the first endpoint OS to enable Mechdyne TGX via Leostream, natively, allowing for powerful high powered graphical content for remote endpoints. Advanced use cases benefiting from these enhancements range from media and entertainment to oil and gas, and the highly demanding (from a graphics perspective) world of editing production houses.
A US government defense contractor initially seeking a PCoIP solution capable of handling high resolution content, opted for Mechdyne TGX and its inclusion within Leostream and are working closely with Stratodesk to enable this solution within their Cloud deployment.
"By partnering with Stratodesk, we are able to provide a seamless experience to workers around the world," says Karen Gondoly, Leostream CEO. "Stratodesk customers can take advantage of connecting to their virtual and cloud desktops via their preferred display protocol. Our joint relationship with Mechdyne also makes it possible to leverage the powerful TGX protocol for high end resolution."
"By integrating with Stratodesk and Leostream, we are able to deliver the world's first iteration of a Thin Client OS that includes our powerful TGX protocol for high end graphics displays," said Cathy Lascara, VP of Software at Mechdyne. "TGX is ideal for demanding scenarios in energy, engineering, entertainment and loves high resolution and multi-monitor – making it ideal for the enterprise."
Compressed Imaging Makes Stratodesk NoTouch OS Faster than Ever Before
Additionally, Stratodesk NoTouch OS 3.4 uses a new compression technique that leads to improved performance, making Stratodesk NoTouch OS faster than ever before. This advanced speed allows IT to maximize the time saving benefits they have already come to expect from imaging and deploying new devices with Stratodesk NoTouch OS across entire deployments, and thousands of endpoints.
Customers wanting a deeper look into what Stratodesk NoTouch OS 3.4 offers can access via their Customer Portal the release notes for a full rundown of new features. Business and IT leaders new to Stratodesk NoTouch can schedule a 20 minute demo of our software.
"By making it easier than ever before for end users to self-service within Stratodesk NoTouch OS, our customers have another unique selling point from the EUC innovator," says Sonia St. Charles, CEO of Davenport Group. "Additionally, as a Dell Technologies Titanium Partner, we are excited for what these latest updates mean for our customers leveraging new and existing Dell PCs, laptops, and thin clients – enabling them to be repurposed with the latest clients from VDI/Cloud vendors to look and feel like new."
"We have a shared mission to deliver secure hybrid cloud workspaces to workers everywhere and our partnership with Stratodesk brings Stratodesk NoTouch OS high security, and adoptability to our DX Series thin client solutions," says Sean Copeland, Executive Vice President at Amulet Hotkey. "Our clients are compact and feature rich, providing advanced features that supports PCoIP, Blast, and other remote display protocols, for high end use cases in global enterprise, defense, and government markets."
For more information, visit Stratodesk's recap of the latest release.
About Stratodesk
Founded in 2010, Stratodesk is the leading global EUC innovator of endpoint OS software. Stratodesk's agile and customer-centric, Linux-based managed OS software, Stratodesk NoTouch, is defining end user computing with its freedom to transform any device into a cloud-ready and highly secure endpoint, enabling companies to cost-effectively manage their unified VDI endpoint deployments and secure digital perimeters. Stratodesk's software works seamlessly across all x64, x86 and ARM/Raspberry Pi based hardware products, increases endpoint security, and simplifies user experience. Today, with nearly one million licenses deployed globally across multiple industries, Stratodesk prides itself on its authenticity and dedication to delivering the most innovative software solution to its customers. For more information, please visit www.stratodesk.com.
Contact:
Allison Darin
[email protected]
831-359-8208