HP Thin Clients remain the industry standard for seamless, reliable end user computing. When it comes to endpoint management, however, what solutions is right for you? Stratodesk software is tailor-made for managing VDI and Cloud endpoints, regardless of make, model or manufacturer. When combined with HP hardware, enterprises have access to a modern, secure and easily managed digital perimeter. This is why we partner with them to come preinstalled on HP Thin Clients.
How does the HP ThinPro solution stand-up against Stratodesk?
We ran a technical analysis of the two solutions and compare them side-by-side for you below.
As it turns out, Stratodesk software is the preferred solution. Here's why.
Technical Analysis
Stratodesk boasts decisive advantages over HP ThinPro in the areas of GUI, endpoint management and security. Our team of technology experts did a deep dive into the performance of each platform. Here are their findings.
When it comes to graphical user interface, Stratodesk has the edge
For one, Stratodesk software includes an incredibly new, cutting edge interface. Part of the latest software generation, the new graphical user interface allows IT to seamlessly manage all devices within their secure digital perimeter. There is simply no endpoint management solution as graphically advanced as Stratodesk software.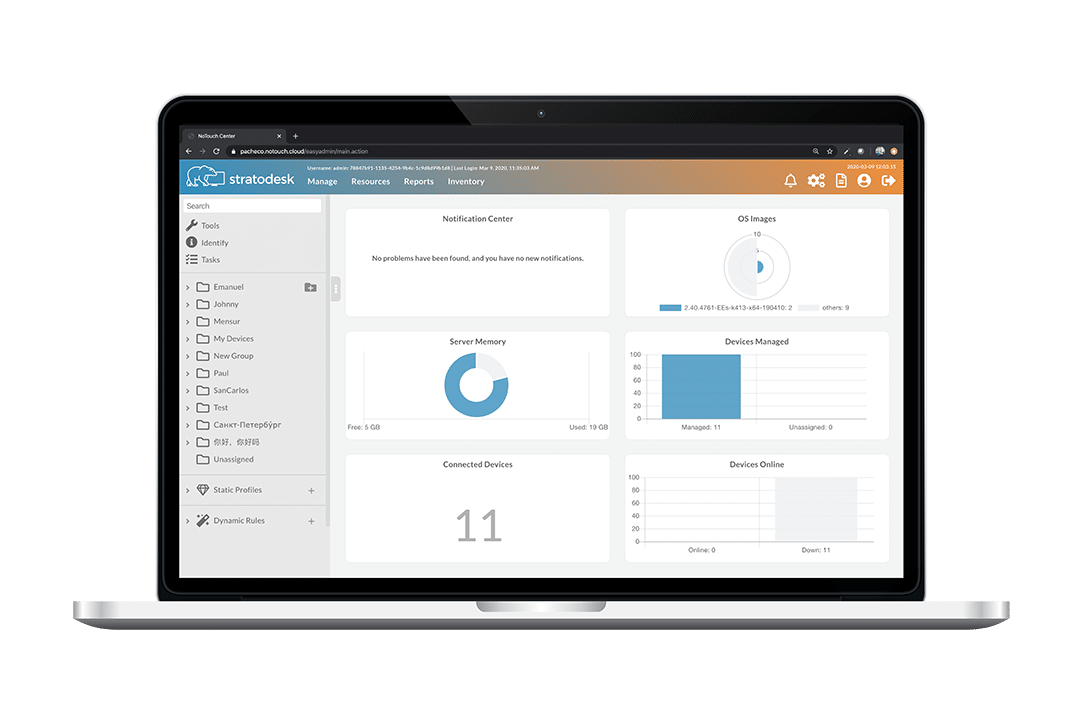 Stratodesk software takes the cake in endpoint management
In addition to managing a plethora of different devices, Stratodesk also provides endpoint management options that are far beyond what ThinPro is capable of. In a single pane of glass, IT can manage x86 and ARM devices, set license limits, and have flexible and complete control over user roles. In addition, NoTouch Center can be run on-premise or in the cloud.
Stratodesk offers unequaled security
Stratodesk software is immutably secure. Its unquestioned security stands up to the most demanding tests from the government, healthcare, and beyond. NoTouch offers added security with Disk Encryption.
An Alternative to Windows
Stratodesk NoTouch OS deploys onto endpoints bare metal. This replaces Windows, or can run side-by-side Windows in BYOD scenarios. NoTouch OS converts endpoints with the Linux-based OS. It requires no maintenance or extra security.
Stratodesk Software Vs HP ThinPro
Stratodesk software is easier to install
It is hard to compete with Stratodesk's easy-to-use software suite. IT managers love its ability to quickly install on all endpoints in their digital perimeter.
The same can't be said for HP ThinPro. In fact, our in-depth technical analysis of the HP ThinPro software platform revealed several deficiencies in this area. These include  HP ThinPro's reliance on downloading a windows installer. Once the MSI installer is downloaded, it is then imperative to manually download the image in order to create either a bootable USB drive, or mass deployment installer. If this weren't hassle enough, you also have to apply a license file at the time of image creation.
To make matters worse, you have to launch the windows installer via command line with switches so -f -r is the recommended. This is not intuitive for all system administrators, IT managers or the variety of professionals, with varying levels of technical knowledge, expected to work with NoTouch Center.
Stratodesk, on the other hand, is seamless to install. Available via multiple boot methods, you can deploy it onto all endpoint devices in a matter of minutes. No hassle, no multi-step, complex manual tasks.
No Way to "Drive Before You Buy"
At Stratodesk, we aren't afraid to put our money where our mouth is. We know our NoTouch software suite is the best there is. This is why we give full transparency into our products – you can always try the intuitive and powerful Stratodesk NoTouch Center before you invest in it. Similarly, we are more than happy to help our customers through the buying process by enabling things like Live Boot.
HP ThinPro, on the other hand, doesn't give you the chance to try the management side of the software before you invest. What gives? How do you know it is the right solution? Can a business really rely on an untested software that they haven't tried themselves? Can they really be expected to roll out THOUSANDS of license when they've never seen the extent of what that software can do?
By the time our customers download NoTouch Center, on the other hand, they know exactly what they are getting, and have perfect confidence in the solution, bolstered by hands-on experience with it.
By 04/2020, HP Thin Pro Proved to be Out of Date
Our tech team's analysis of the various differences between Stratodesk software and HP ThinPro also gleaned an incredible look into how out of date ThinPro is, especially in regards to the latest versions of in-demand technology integrations. See for yourself below: vital integrations like Citrix Workspace app, VMware Horizon, Imprivata and beyond are unforgivably behind.
| | | |
| --- | --- | --- |
| Client Software | Stratodesk | HP Thin Pro Software |
| Citrix Workspace App | 19.12.0.19, 19.10.0.15 & 19.8.0.20 | 18.10.0.11-2 |
| Citrix HDX RTME | 2.9.0-2330 | 2.7.0-2113-HP1 |
| VMware Horizon | 5.4.0.15805449 | 4.10.0-11053294 |
| Virtualisation pack for Skype for Business (VMware) | 11.0.0-61315574653 | N/A |
| FreeRDP | 2.0-c157067ccf | 1.1.1-hp16.3 |
| Firefox Quantum | 74.0 | 60-5 |
| Chromium | 80.0.3987 | N/A |
| Screen Shadowing | NoVNC (HTML5), VNC & TeamViewer | VNC Only |
| Teradici PCOIP | 20.01.1-18.04 | N/A |
| Amazon Workspaces | 3.0.6.444 | N/A |
| Parallels RAS | 17.1.21669 | N/A |
| Nutanix Frame | 3.6.0 | N/A |
| Inuvika | 2.8.0 | N/A |
| Imprivata OneSign | 1.0-320 | 1.0.429768 |
HP Lacks Necessary Integrations
Stratodesk software provides seamless connectivity to all major VDI/Cloud solution providers, and the widest possible range of third party applications. This is because as a company, we have unparalleled vision. We have seen the need for a next-evolution solution as the future of work expands and changes, and we have delivered.
HP Thin Pro, however, still only offers a limited selection of connectors. These include: Citrix, RDP, VMware Horizon and Firefox web browser. Many of the connectors that we include directly out of the box, however, they do not.
Stratodesk is more than just a Thin Client solution.
Unlike HP ThinPro, Stratodesk software is not only for thin clients. On the contrary, Stratodesk runs on and manages cross-platform – both x86 and ARM devices. Our vision goes far beyond any basic thin client solution.
Stratodesk's Close Relationship with Leading VDI Vendors
Thanks to a phenomenal working relationship with VDI leaders, Stratodesk software is able to achieve things competing solutions cannot. For example, our OS is updated in tandem with updates to all major clients and protocols. This is something that no other solution can compete with.
Free Yourself From Vendor Lock-In
Unlike HP ThinPro, Stratodesk software is not tied to make, model or manufacturer. Instead, our software can run on and manage any device, anywhere. This means the most minimal, ARM-based device (like the Raspberry Pi), and the most powerful x86-based gaming PC.
A Broad Range of Hardware Partners
While Stratodesk can convert basically any device into a Thin Client, it also comes pre-configured on many devices from many different manufacturers, thanks to our software's versatility, and our large family of hardware partners. It is also the OS of choice for many devices, including LG All-in-One Thin Clients.
Additionally, thanks to Stratodesk's ability to straddle both VDI and IoT technology, our software is able to power hybrid solutions. Devices like the Nvidia Jetson Nano, the Raspberry Pi, the Citrix Ready workspace hub and others work with Stratodesk software. Simply put, our software is too good to be limited to traditional x86/VDI scenarios.
Stratodesk is also compatible with any private or public cloud. Combine all of this and you get a hyper-powerful, hyper-versatile solution able to solve a wider range of complex challenges than HP ThinPro.
In Conclusion
You've seen for yourself how Stratodesk software compares to other EUC solutions. The choice is up to you. But it should be pretty easy. Stratodesk is the only solution able to stand the test of the modern work challenges.