Thin Clients can be expensive. This is especially true when you need to overhaul your existing network of devices and replace them with new ones. Not to mention you also have to invest in countless IT man hours in order to maintain and secure your endpoints. The costs quickly add up. Are there any alternatives? Or are you roped into paying for one of these high cost, thin machines?
To help you in your search, we've compiled this list of the top five alternatives to Thin Clients that are perfect for your VDI/DaaS environment. Stratodesk works with a wide variety of devices. With Stratodesk, you have the option to scale your network indefinitely, repurpose devices, and more.
Without further ado, here is our list of five alternatives to traditional, x86 Thin Clients.
The Raspberry Pi Thin Client
The Raspberry Pi Thin Client is indeed a real alternative to x86 Thin Clients. The tiny and affordable motherboard has grown in popularity in recent years. It's grown beyond a handy computer used by enthusiasts into a powerful platform for innovation. In fact, leading technology innovators like Citrix, NComputing and ViewSonic use it as the basis for next generation, IoT endpoints.
Raspberry Pi devices are perfect for DIY Thin Clients. However, you will need to invest in an enterprise ready OS that comes with all your applications and clients pre loaded. This will ensure seamless connectivity to your VDI & DaaS deployment.
In addition to a Thin Client OS, you will also need a management solution for your Raspberry Pi Thin Clients that is able to monitor and configure your devices. This management solution should also come with enterprise features such as certificate rollout, inventory, reporting tools and Single Sign-On capabilities. NoTouch Desktop comes with all these features and more. Lastly, NoTouch OS is the only OS certified on a Raspberry Pi for VMware.
Convert Any PC Into a Thin Client – PC Repurposing
Did you know that you can repurpose your existing PCs and laptop devices into high performing Thin Clients? PC Repurposing is the process of replacing the native operating system on your existing endpoints with a small footprint Thin Client OS. For example, NoTouch Desktop is fully PC Repurposing ready. Deploy it onto thousands of devices instantaneously and watch your ROI soar!
All on One Solutions From LG
Are you in need of a space saving Thin Client option for your desks or medical carts? You may even want to consolidate your devices –instead of having two, just have one! If that's the case, you'll want to explore the All-in-One Thin Client Monitor.
LG offers a 24-inch widescreen Thin Client monitor or even a 38-inch curved ultrawide Thin Client monitor, that's specifically designed for a Thin Client environment, with a built-in camera, and wireless/Bluetooth connectivity. The large, curved screen boosts productivity by displaying large amounts of information at once, and eliminates the hassle of Windows management that comes with a small monitor or multiple monitors.
You can deploy Stratodesk onto LG Thin Client Monitors or any other thin client monitor easily.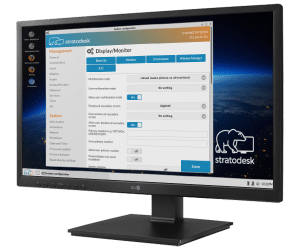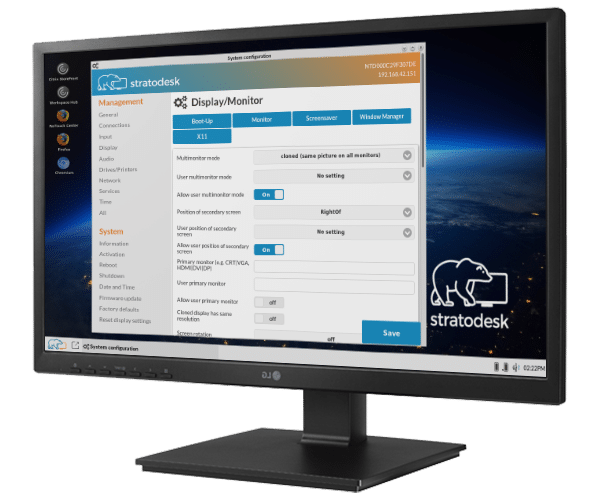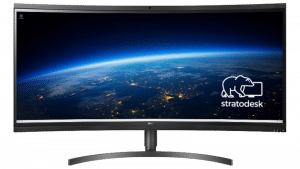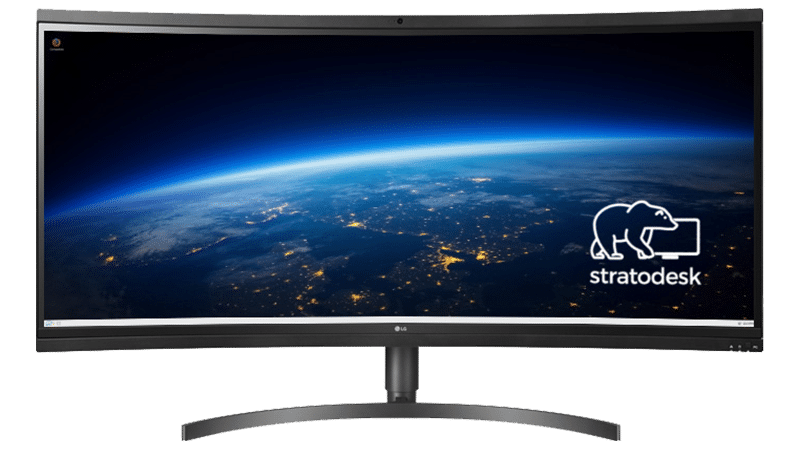 The Citrix Ready workspace hub
The Citrix Ready workspace hub is another optimal alternative to traditional x86 Thin Clients. With many of the same advantages you'd expect from a Raspberry Pi Thin Client, the workspace hub comes with several additional advantages. For starters, unlike do-it-yourself Raspberry Pi devices, the Citrix workspace hub comes ready to connect to your network directly out of the box. The Citrix workspace hub, with Stratodesk OS and management suite, is available through our partners, Ncomputing and Viewsonic.
Lastly – Buy Thin Clients – and Run NoTouch OS
Okay, so not exactly an alternative to traditional Thin Clients. But if you are going to purchase brand new and shiny Thin Clients, you might want to consider Stratodesk NoTouch OS as your OS of choice instead of Windows or any other Linux.
Or maybe you already have a solution in place. HP, Dell, 10zig and Igel all provide solutions for your Thin Clients, but they might just not cut it. The bottom line is: you're in the market for a new solution.
NoTouch OS works out of the box on any Thin Client device, legacy or new, has all the newest clients, apps and protocols included, is Imprivata and Caradigme compatible and much more. A NoTouch powered Thin Client also has the advantage of reduced IT maintenance time. In fact, no on-site maintenance is required.
NoTouch also comes with a superior, user friendly automated management solution. It can be run either on premises or in the cloud. And it also has many enterprise features tailored for your business and unique use case. The automated management solution is called NoTouch Center. And it allows you to manage all of your devices (Repurposed PCs, Laptops and Thin Clients) from the convenience of one location.
Are there any other alternatives that you use? A few more notable mentions include that Stratodesk also runs on the Intel NUC and Intel Compute Stick. NoTouch Center is the only management solution that manages x86 and Raspberry Pi devices in one management suite.