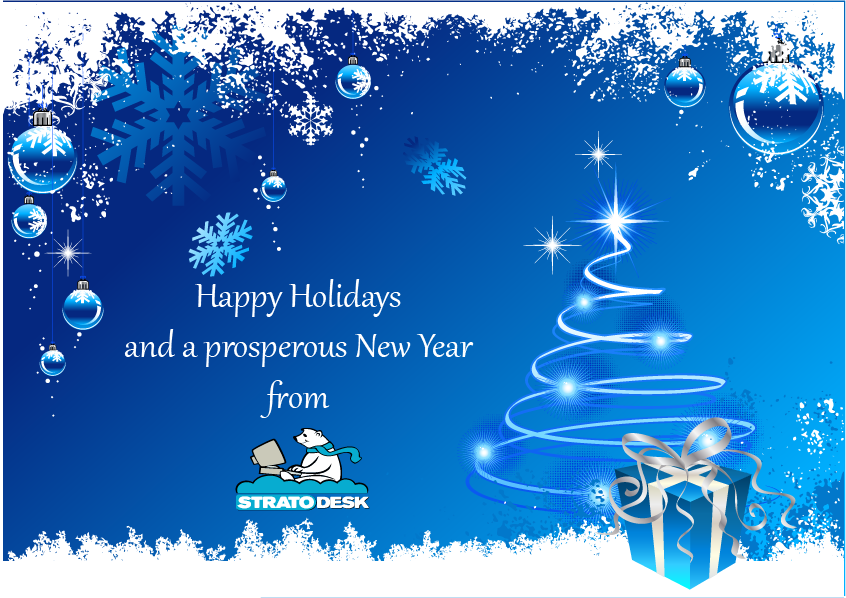 It feels as though the year has only just begun, and now 2015 is already coming to a close. As the new year approaches, we would like to take this opportunity to look back on 2015, a very successful year for Stratodesk. Our innovative products, our great team, and a constantly growing number of enthusiastic customers and partners make Stratodesk the successful company that it is today, and we are proud to have received two distinguished awards in just one year.
What happened at Stratodesk in 2015?
We started the trade-show season in February at the VMware Partner Exchange in California, and many other events followed in the months to come. Within the framework of the VMUG events, the Stratodesk team pounded the pavement in both the US and Europe, in an attempt to inspire event visitors with information about the overwhelming benefits of using NoTouch Desktop as the endpoint solution for their VDI environment. In autumn, at the height of the trade-show season, we visited two VMworld events that make up the biggest highlights of our trade-show calendar: VMworld San Francisco and VMworld Barcelona. At the Stratodesk stand, we presented our products to a total of more than 40,000 VMworld visitors, including numerous existing customers, business partners and friends. We offered a spectacular prize to go with our VMworld iPad game—the winner received a sightseeing Cessna flight over San Francisco Bay with Stratodesk CEO Emanuel Pirker.
We finished this year's event dance with several smaller events, such as those with a focus on the education sector and start-up environment. We would also like to point out the various panel discussions and roundtable talks such as that took place within the framework of the "Austrian Science Talk" or within the startup environment, in which Stratodesk CEO Emanuel Pirker was able to share some of the valuable knowledge and experience he has gained as a successful business founder.
Are you familiar with Cathedral Peak?—For any Stratodesk customer it will ring a bell, as the mountain in California's Yosemite National Park serves as the namesake for our most recent product generation, which was released in the middle of this year and served as a true milestone in the (product) history of Stratodesk. With great new features and benefits, Cathedral Peak impresses even the most stoic sys-admin. A brand new reporting engine, a new scripting tool that allows well-versed programmers to write scripts into NoTouch in his/her language of choice, and a completely new Auto-assign mechanism make Cathedral Peak unique.
Product-wise, 2015 was the year of increased security. In a time in which one must be be on heightened alert with regard to hacker attacks and stolen data, client security is a particularly hot button issue. With the release of Stratodesk NoTouch High Security Version in August, which offers total encryption of all local data and enhanced VPN support, customers in sensitive sectors such as healthcare, finance and the public sector can be further protected from data theft. The product's success has proven our case, as shortly after its release it was put into use at a large US agency.
While the ever-increasing number of Stratodesk satisfied customers and partners are incentive enough, we are also proud to have been recognized for our successes by the outside community. This year we receieve not just one, but two prestigious awards. In August, the Austrian Federal Economic Chamber recognized Stratodesk as a "Born Global Champion." This prize recognizes the company's for its success across global markets dating back to soon after the company's inception. Since its founding 5 years go, Stratodesk successfully serves the global market out of offices in San Francisco and Klagenfurt, and we are very pleased to have received the recognition. A further distinction was received more recently. In November, Stratodesk took home first place in the IT/e-commerce category of the GEWINN start-up prize, a special recognition of which our entire team can be particularly proud.
2015 was an incredible year for Stratodesk, and we are already looking forward to our work together with both customers and partners in 2016.
We wish you happy holidays and a prosperous new year, from your Stratodesk Team.